OPEN YOUR HEART CHAKRA FROM
DEPAK CHOPRA "NAMASTE" NEWSLETTER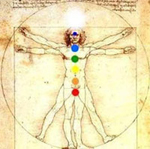 We have seven chakras, or energy centers, located along the axis of our spines. Each of the seven chakras is associated with a sound vibration and a color. In this exercise, we will focus on opening our heart or Anahata chakra, located in the center of the chest. This is the chakra of love, compassion, peace, and acceptance. The sound vibration associated with the heart chakra is "yum" and the color is a vibrant emerald green.
Begin by closing your eyes and focusing on your heart. Visualize a beautiful green light that nurtures and bathes your heart in pure love. Take a deep breath, and on the exhalation, say "yuummmmm" aloud in one long syllable.
Feel the sound vibration in your body and notice the energy flowing effortlessly from the base of your spine through your heart chakra. Continue breathing deeply and repeat the sound yum on each exhalation until you feel infused with a feeling of peace and safety.
---
KINARA MAKES YOU A STAR IN YOUR OWN SKIN
LA'S Secret Weapon Rolls out the Red Carpet Facial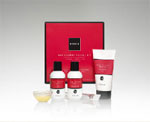 Before stars show up for events, they arrive at Hollywood's Kinara Skin Care Clinic and Spa for its must-have signature treatment. Debuting its Kinara Red Carpet Facial kit nationwide, everyone can now get instant gratification with lasting rewards and no side effects - delivering poreless, flawless, lit-from-within skin that is close-up ready to the faces of America.
Skin alchemist and spa co-owner Olga Lorencin-Northrup brought her hours of treatment practice to the lab to put the very best ingredients into ideal formulations that reveal star radiance without risk. 
"Our clients don't have the luxury of any recovery time," Olga says. "I adjust every ingredient, proportion and combination until they are just right."
The kit is simple, yet the formulations are anything but.
Lactic- and malic-acid peel plus calming argenine

Awakening neutralizer with pore-cleaning power

Multi-ingredient mega mask reveals a firm radiance plus soothing anti-inflammatories

A Kinara bowl-and-brush apply spa-style
"Even the way this works and feels is different," says Olga. "The combination of the peel and neutralizer actually 'steam cleans' the pores, creating an awakening, effervescent sensation that feels as amazing as skin looks."
Smoothing, firming, hydrating, clarifying, line-hiding, light-shining, oxygenating, and just about perfecting, this kit delivers an airbrushed result asap, while building a far more improved and high-functioning skin over time.  "I don't believe in bad skin, I believe in the wrong skin care," said Olga. "The balanced formulations make it safe and ideal for any skin type, achieving its best with weekly use."
You've seen the results on screen, now see them in the mirror. Retailing at $145 and available at select retailers and on www.kinaraspa.com, the Red Carpet Facial was tested on Hollywood's A-list, not animals.
---
OCOTAL BEACH, NICARAGUA RETREAT
Morgan's Rock Hacienda & Ecolodge, one of Latin America's leading agro-tourism operations located south of Granada, the oldest city in the Americas, welcomes Erika Bloom and Laura Ball who will be conducting a combination of Yoga, Pilates and Relaxation retreat entitled "Align Body and Mind."
 
The Morgan's Rock Hacienda is designed for travelers in search of luxury combined with the excitement of Nicaragua, the new Central American venue. A pristine beach and a unique 4500 acre protected primary dry forest environment surround the resort and provide the setting for the Yoga experience. The secluded beach is the location of a newly designed Yoga studio where students can learn self-awareness, physical strength, confidence, compassion and self discipline against the background sounds of the waves and wildlife while contemplating the crashing surf.
 
Popular New York City instructors Master Erika Bloom and Laura Ball offer this combination of disciplines starting on October 22 for 5 nights.  The daily program will include Good Morning Pilates class and Sunset Yoga class, beach runs and hikes as well as Pranayame and Meditation classes.  There will be plenty of time for relaxing by the pool or on the beach. Erika Bloom and Laura Ball are certified practitioners in their professions; Bloom has her studio on Madison Avenue and holds summer sessions in The Hamptons. This program will include transfers from Managua, all meals, daily classes, a massage, local artisan and school tours, plus a special champagne and lobster dinner with salsa and meringue lessons for $2425 (single) and $2225 per person (double). Taxes & service are included.
 
Morgan's Rock Hacienda & Ecolodge features fifteen hand-detailed private bungalows made of exotic tropical hardwoods with decks open to spectacular views of the ocean and forest and feature a king-size bed, a sofa bed, hammocks and an open-air shower. The restaurant, which features all local produce grown on the resort's farm and fish caught by its own boats, overlooks a beautiful pool and the Pacific beyond.
 
Morgan's Rock is easily reached by American, Delta, TACA and Continental who all fly to Managua with arranged transfers.
---