HAWAIIAN ESCAPES
SPA MOANA, Hyatt Regency Maui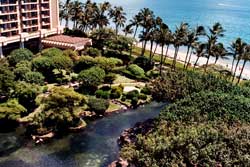 Escape to the ultimate relaxation of Spa Moana on Maui, and discover experiences that cultivate a spirit of healing and well-being for body and mind. This exquisite facility offers a milieu of treatments and services ranging from a traditional Lomi Lomi massage to a variety of body scrub and salt treatments. Every type of massage, facial, body treatment and beauty treatment are waiting for you at Spa Moana; many of them with true Hawaiian style, including the use of locally grown items like Maui sugar, ginger, mango, passion fruit and Kaanapali coffee. The therapists are highly skilled, and many of them also teach yoga, meditation, and body work classes at the spa. I attended a meditation class early one morning, and I was amazed at how fast the stress melted away. The spa also offers massage and manicure treatments in private cabanas on the beach.
The Moana Spa was recently enlarged to include additional private rooms for manicures/pedicures and specialty mud and wrap treatments. The spa maintains a quiet and peaceful environment at all times and offers one pre-service area with an open wall overlooking the ocean, where guests relax on comfortable lounges, enjoy herbal tea, and merge into the oncoming waves. The spa also has a 'Boot Camp' to help guests get into shape, which can be coordinated with an indivudual diet designed by Executive Chef Jon Benson. The new Spa Moana product line includes delicious skin care items, and big soft bathrobes that come in dreamy pastel colors.
The Hyatt Regency Maui pool is a great venue for water aerobic classes, and is big enough to do long laps in the morning. The Paradise Café by the Spa and pool area is a smashing spot for a light lunch, and also offers a great buffet breakfast that is affordable of a family of five.
HOT TRAVEL TIP – HAWAIIAN AIRLINES SAYS
"NO MORE LUGGING YOUR BAGS"
New Service Picks Up Your Luggage from Home or Hotel – And Delivers Your Boarding Passes! BaggageDirect driver picks it up day before or morning of your flight and presents you with your boarding passes and baggage claim receipts. Now you can go straight to the Gate! For information on this innovative new service go to www.hawaiianair.com