TEN THOUSAND WAVES
A Japanese Spa & Resort for all Seasons
by Bonnie Carroll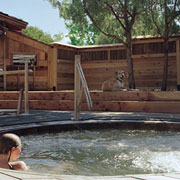 The Ten Thousand Waves is a sweet escape to Japan in the unlikely outskirts of the city of Sante Fe, New Mexico. The authentic architecture and gardens are reminiscent of scenes in Osaka, complete with individual Japanese bath houses, where guests are welcomed to shed their kimono and enjoy a hot soak in their own private open-air tub, before a signature treatment.
The spa gift shop offers healthy lunches, beverages, and bevy of snacks, as well as a full selection of Japanese inspired gift items, including everything from inspirational books to kids toys and signature skin products and T-shirts.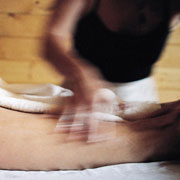 A variety of private treatment rooms, next to the sauna offer privacy, comfort and convenience to guests. Blue Bird, a magical and talented lady provided moi with an unforgettable massage therapy treatment that had me practically dancing on air for days. The menu at TTW is quite varied to fill the individual requests or specific needs of visitors. This spa is a wonderful after ski venue, where guests may sit by a fireplace sipping tea, or soaking in a hot outdoor bath before their specialized spa treatments.
Private hotel accommodations are also available to patrons who wish to come for a health inspired vacation or weekend, and the rooms are in keeping with the clean Japanese theme of the spa. A world of wonderful restaurant venues are located just minutes away by car, and they also will deliver menu items to TTW guests.
The list below provides you with an idea of the special seasonal packages designed by the therapists at Ten Thousand Waves for guest enjoyment throughout the year.
WINTER Treatments
HOT & STEAMY (December 1 - February 28)
When the weather is cold and bitter, that's not the way you want to be. For the coldest depths of winter we offer this steamy hot special: any regular private hot bath or herbal wrap, and a Japanese Hot Stone Massage. On check-out you receive a Senor Murphy chocolate to warm you up on a future occasion. $205.
HOT & DREAMY (December 1 - February 28)
It takes a couple of days to really banish the cold. Stay two nights with us and try this special:
Two nights in the Houses of the Moon lodgings
A Hot & Steamy package (see above)
An additional Regular Private Tub (for your second night)
A giant hinoki tea bag for your home bath Starting at $398 per person, based on double occupancy, subject to availability.
SRING Treatments
Spring Renewal (March 1 - May 31)
In the Spring, it's always great to do something new to kick-start the season. Try either an Indo-Asian Hot Oil Massage or a Thai Massage. You'll also receive a Yasuragi Head & Neck Treatment, a Regular Private Tub, and a Cherry Blossom Notebook. $209
Asian Dreams (March 1 - May 31)
Experience Santa Fe in the Spring. March has some of the best skiing of the year in the mountains, but the trees start to leaf and flower in town. This package includes:

everything in the Spring Renewal
two nights lodging
a regular private tub on the second night
a wooden Japanese body brush Starting at $424 per person, double occupancy
SUMMER Treatments
Buddha Treat (June 1 - August 31)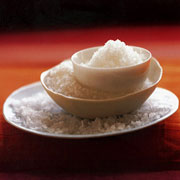 The Buddha Treat is always our most popular combination, bringing enlightenment within range of us mere mortals. Start with a Regular Private Bath, then be exquisitely surrounded by an Herbal Wrap, followed by a 55-minute Therapeutic Massage, and polished with a Salt Glow. It's three hours in another state of consciousness. You leave with a Buddha soap to remember it by. $209.
Bed & Buddha (June 1 - August 31)
After experiencing the Buddha Treat, most guests just don't want to leave. You don't need to if you stay with us. This combination includes:
a Buddha Treat on one day
a Regular Private Bath on another day
two nights lodging
a celadon Buddha Based on double occupancy, subject to availability
Starting at $424 per person
For reservation information call 505-992-5032 or visit www.tenthousandwaves.com.