SPA BABY SECRETS .  .  .
AVA SPA FOUR SEASONS PRAGUE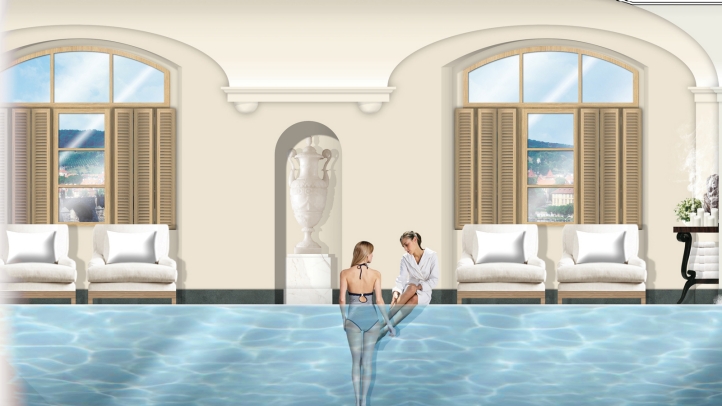 AVA Spa opening at Four Seasons Hotel Prague this summer.

Ava is, according to historic studies, the Celtic name for water. To this day it remains part of the names of many Czech rivers, including the Vltava River that flows by the new AVA Spa. Water and Czech Republic's historical spa traditions have therefore become the theme for the new concept spa.

VA Spa by Four Seasons is the epitome of luxury, renewal and beauty. This is where guests will experience an authentic Bohemian spa encounter. Highlights include mineral baths, five large treatment rooms including a couple's suite, plus two spa baths, a vitality pool, separate steam and sauna rooms, a lounge area, and unique treatment menu provided by three cosmetic lines.
Unique Cosmetic Lines Swiss Perfection and Sodashi Available Only at AVA Spa by Four Seasons
AVA Spa by Four Seasons features a range of options available nowhere else in the Czech Republic. Swiss Perfection features high-tech and high-touch exclusive anti-ageing facials. Focused on immediate and lasting visible results, Swiss Perfection encourages the production of new and healthy cells. Young and radiant skin results from a signature treatment featuring products high in enzymes and protein in combination with a special skin caring device. Not only does it accelerate the regeneration of skin cells, it also provides optimal skin hydration. Ideal for all ages and skin types, Swiss Perfection has positive effects on mature skin, by reducing the signs of ageing, as well as on younger skin, by preventing premature lines and wrinkles.
Also unique to AVA Spa is Sodashi, a chemical-free Australian cosmetic line featuring natural essential oils and plants with anti-ageing, nourishing and balancing properties. Formulated using a special combination of aromatherapy and Ayurvedic principles, treatments using Sodashi include aromatic warm facial compresses that soften and exfoliate, and transformational facials that increase firmness, diminish the appearance of fine lines and give a youthful glow. Sodashi also offers products for invigorating massages. Featuring soothing warm oils, mineral salts and moisturisers, the result is a refreshed and energised body.
Finally, guests can choose a treatment that includes the Central European Omorovicza brand, which is based on mineral rich waters. Special products from the Omorovicza line include facials featuring Hungarian moor mud that detoxifies the skin and organic oats and wheat for a smooth finish.
Traditional Czech-Inspired Bath Treatments
The Czech Republic is known for its healing spa towns, flowing with rejuvenating waters and hot springs. Now a trip to Karlovy Vary or Mariánské Lázně can be replaced by scheduling a healing bath treatment at AVA Spa. Imagine the feeling after a deeply relaxing and nurturing bath enhanced with essential oils and flower petals. The water used in the bath treatments has been specially produced according to the original water compositions from the towns of Karlovy Vary, Mariánské Lázně and Teplice.
From the authentic design to the bespoke amenities and exclusive treatment menu, not to mention views to Prague Castle, AVA Spa by Four Seasons will be the idyllic place to renew both body and soul.
---
---