HOTEL GRAND RIMINI OPENS FIRST SPA
ON THE BEACH IN ITALY
By Bonnie Carroll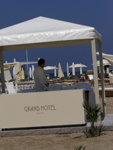 Comfort Zone, a full service spa on the beach, celebrated its grand opening June 14 on the beach space of the Grand Hotel Rimini, located in central Italy on the Adriatic coast.  The open air spa is the first of its kind in Italy, and offers hotel guests spending the day at the beach the convenience and pleasure of spa services in an artistically designed canvas and metal structure, which provides complete privacy while allowing the cool ocean breeze to blow through. Gu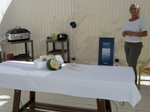 est may enjoy exposure to the sun during treatments if desired. The Comfort Zone will operate from June to September. 
This outdoor spa offers a state-of-the-art vichy room, and lounge area where guests may enjoy a cool tea or tonic before or after appointments. Experienced therapists provide the latest massage options and skin treatments to beach guests. According to the hotel manager Andrea Greggio, "the hotel was recently pur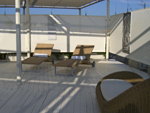 chased by the Batani family, who are planning to build a new hotel spa structure in 2009."
 
Rimini was the birth place of renowned film director Federico Fellini, who made the 5 star Grand Hotel famous worldwide in his film Amarcord. The seaside property recently celebrated its 100th anniversary, and was one of Fellini's favorite vacation destinations unitl his death in 1993. The hotel was established as a national monument in 1994. 
Visit: www.grandhotelrimini.com.

---