SPA AT THE WESTIN MAUI
"Where Heaven and Aloha Meet"
by Bonnie Carroll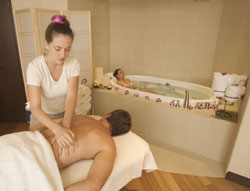 In 2003 I visited the Spa at The Westin Maui, and had a wonderful massage, but this year, after a $5 million renovation to the 14,000 square foot oasis of relaxation, I found the beautiful new surroundings to be my favorite place to enjoy the trendiest in spa baby treatments. The quite and relaxing waiting area overlooks the Kaanapali boardwalk and beach, as well as Tropica, the hotel restaurant. Sixteen treatment rooms offer a myriad of pampering services, as well as saunas, whirlpool tubs, and a full work out area, filled with state-of-the-art equipment. I was delighted with the gorgeous new dressing rooms, but especially enjoyed the ocean view lounge, before and after treatments. A variety of tea and juice, along with fresh fruit are served to waiting guests. The hotel has created a bevy of Westin Maui Heavenly Packages for guests to enjoy.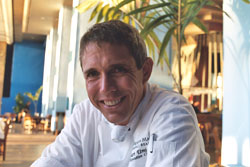 I had the pleasure to enjoy a treatment in the new Jacuzzi tub, featuring synchronized colored lights meant to ease your stress and open your aura. Relaxing music streamed out of speakers in the room, and the massage effect of the Jacuzzi was an instant stress buster. I loved it! I also was given the best facial I have ever had anywhere in the world at the Westin.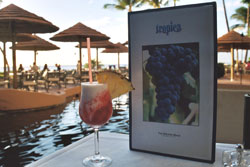 Breakfast or lunch at Tropica, before or after a treatment is perfect. Chef Bart Umidi, one of my favorite chefs on the island of Maui, has designed a new menu that has something to please everyone, and the tropical drinks are island perfect and delicious. The Brunch at the Westin is served poolside, and offers everything imaginable. A new addition was a children's table, complete with little bears in wagons. Perhaps this new "just for kids" touch was the result of the new baby girl that joined the Umidi family this year. Congratulations to Chef Bart Umidi on a very successful 2004... keep up the good work! For reservations 1-800-Westin-1.