TUSCANY'S RENOWNED TERME DI SATURNIA SPA RESORT ELEBRATES 50 YEARS OF PROVIDING ANCIENT ROMAN HERAPEUTIC TRADITIONS DERIVED FROM ETRUSCAN THERMAL SPRING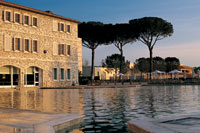 -- Terme di Saturnia offers an assortment of therapies and treatments based upon properties originating from 3,000 year-old natural thermal waters
For the past 50 years, travelers have sought out the pools of Terme di Saturnia to benefit from the natural healing qualities ofthe 3,000 year old thermal pools it houses. As the world-class luxury spa resort celebrates its 50th year of providing guests with exclusive beauty, fitness, diet and well-being programs, the spa announces special summer and fall packages to its guests. Located at the foot of the medieval Tuscan village of Saturnia, Terme di Saturnia Spa Resort is surrounded by picturesque and natural, untamed scenery. The rolling hills of the Tuscan Maremma region of Italy, an area southwest of Florence and Chianti, provides an idea and serene setting for the world-class luxury spa resort. The resort features 140 guestrooms, including 65 junior suites and 8 suites, state-of-the-art spa with 60 treatment rooms, three restaurants, a conference center, six outdoor and two indoor pools, a replica of a traditional Roman bath house, fitness center, tennis court, practice green, boutique and art gallery, and an 18-hole golf course that will be completed by the end of 2006. A true medical spa with a staff of 45 therapists and five medical doctors, the spa features therapies for beauty, stress management and thermal and hydrotherapy treatments based on the area's unique thermal waters which date back to the Etruscan period. The 3,000-year old thermal pool has been flowing continuously into the natural crater nestled at the center of the resort, containing precious minerals and salts which were found to have healing effects on aches and pains of the ancient Romans.
Celebrating it 50th anniversary as a spa company and as one of Europe's most renowned thermal spas, Terme di Saturnia is offering a "50th Anniversary Package" to let guests enjoy the natural and thermal healing waters of the spa. The package includes:50th Anniversary Package· Accommodations for seven nights in a luxury junior suite for two· Six spa treatments per person including the Hydralight treatment, Saturnia Stone therapy, Saturnia Four Hand Massage Shower, Shiro Bass, Gommage and Thermal Plankton, and a Specific Face treatment.· Daily Access to the Saturnia Fitness Program, including guided hikes, tennis, golf driving range and biking· Daily Bed & Breakfast meal plan accommodations· Daily Access to the resort's thermal pools, Roman Bath House, and thermal water falls· A complimentary bottle of champagne with a 50th Anniversary infusion cup.
Terme di Saturnia is an exclusive resort and member of Small Luxury Hotels of the World located in the heart of the Tuscan Maremma region of Italy in the medieval village of Saturnia. The resort is owned and operated by Manuli Resort S.r.l. The four-star hotel consists of 140 rooms, which includes 8 suites and 65 junior suites, the Villa Montepaldi Restaurant, 2 bars, fitness center, a meeting room for up to 250 people, and the 3,000-year-old thermal pool nestled in the center of the resort. Terme di Saturnia is a leading spa resort dedicated to providing quality spa treatments and to promote complete well being has 60 rooms for beauty, stress management, thermal and hydrotherapy treatments. The spa also offers diet and fitness programs. For more information, please visit our website at www.termedisaturnia.com
---
Intercontinental Resort And Thalasso Spa Bora Bora Now Open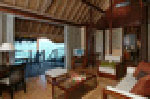 InterContinental Resort and Thalasso Spa Bora Bora, the newest resort in one of the world's most idyllic locations, is now open and about to rewrite the definition of luxury accommodation in the Pacific.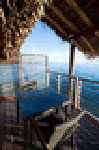 The new InterContinental Resort will lay claim to being the first in Bora Bora to have every one of its 80 rooms sitting over the clear waters of the lagoon and, with each one measuring over 100 square metres of floor space, guests won't even have to leave their bungalows to enjoy the location. Each bungalow features its own expansive private terrace and separate bathing deck, and is fitted out with everything you'd expect – and some things that would surprise – of a luxurious island retreat.
InterContinental Resort and Thalasso Spa Bora Bora will also be the first to introduce an environmentally friendly seawater air conditioning system, cooling every part of the resort with deep sea water and reducing electricity consumption, pollution and greenhouse gas emissions.
The May opening is a precursor to the official September opening of the Deep Ocean Spa – a full spa facility that guests can use for day or residential treatments. It will be the only Thalasso Spa facility in the South Pacific, managed by the renowned French marine cosmetic laboratory, Algotherm. To book, visit call 1-800-221-335 from Australia or visit www.borabora.intercontinental.com.