BEGIN A HEALTHY 2006 ON HISTORIC SANTA MONICA BEACH
by Bonnie Carroll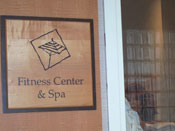 Ocean Boulevard in Santa Monica is dotted with destination hotels that boast excellent spa services for visitors. Like a string of pearls they run along the ocean from the Santa Monica Pier toward Venice Beach. The Casa Del Mar Hotel opened as a beach club in the early 1920s, and is still an elegant venue for beach lovers. The Shutters Hotel opened in the 80s, was an inspiration of New York and LA restaurateur Michael McCarty.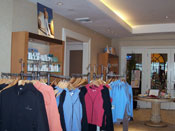 Loews Santa Monica Beach Hotel and Le Merigot Hotel stand side-by-side on the hotel strand, and both offer a variety of inviting amenities to guests, including renowned restaurants, beautiful accommodations, and great spa services. The Ocean Spa and Fitness Center in Loews Hotel is a wonderful place to peruse the latest in designer workout apparel, and new skin products, as well as get a super workout in the gym. The Ocean Spa treatments include a variety of body treatments, facials, along with hand and foot treatments, followed by a pedicure or manicure. I was given one of the best massages ever at the Ocean Spa. The therapists really understand the balance between relaxations and muscle function. Other Spa options include scheduled cardio kickboxing classes, yoga, water aerobics, pilates I & II, treadmill and total body toning classes. Despite the busy location of the Ocean Spa, it has a very quite ambiance, and is very private.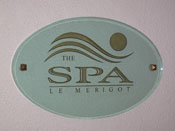 The SPA Le Merigot is very inviting, and offers opulent comfort in their waiting areas, and privacy in their many treatment rooms. I always enjoy a visit to Le Merigot's Spa because scented candles are always burning, and the aroma is gently blown by the ocean breeze through the dressing room and waiting area, creating a lovely welcome for guests. Their menu is extensive and includes all massage therapy treatments, including Hot Stone Therapy, Reiki, Cranial Sacral and Reflexology. Esthetic services include a variety of wonderful facials, including a caviar & pearl lifting facial. Eye, lip smoothing, glycolic acid, micro-crystal, and neck treatments are offered. The body can be polished, peeled, covered with mud or green coffee or wrapped in aromatic Moroccan rassoul.
A bevy of nail services await you at SPA Le Merigot including a solar manicure using sweet almond and sea salt, and the Raw Earth "Spa Pedicure" enhanced with vitamins and minerals to promote beautiful looking feet. Kneipp herbal baths provide an opportunity to indulge in a variety of wonderful herb baths to unwind.
Yes, both these renewing venues are waiting for hotel guests on the Ocean Boulevard strand to find a renewed body and spirit to bring in 2006. January is a wonderful month at the Santa Monica beachside hotels, and they all offer unique services and activities to help bring in the New Year with a focus on good health. For information visit www.LeMerigotHotel.com or www.loewshotels.com.