OJAI VALLEY INN & SPA - AN OPULENT EXPERIENCE
FOR BODY, MIND AND SPIRIT
by Bonnie Carroll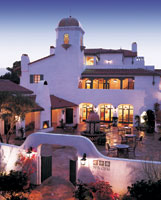 The drive to Ojai from Los Angeles is a most enjoyable journey from the hectic city buzz to the charming countryside of a beautiful valley, where tree lined streets and people who protect their simple existence rule. It is a highly artistic community, where the arts are of primary interest. The annual Shakespeare Festival is just one example of where these locals direct their energy, and it is not surprising that the community is dotted with a bevy of wonderful art and antique galleries.

Another major interest in Ojai is good health, and the Ojai Valley Inn Spa, which opened in 1997, is among the most luxurious in the country, with 31,000 square-feet of graceful Spanish Andalusian architectural space, filled with fountains, fireplaces and terraces, where guest sip herbal tea between treatments.

The elegant interiors reflect the Moorish influence on Spanish Colonial architecture, where twenty-eight treatment areas feature decorative tile and hand-stenciled walls, filled with warm and inviting tones. The inspiration for many of their treatments came from the Chumash Indians, who were the first inhabitants in Ojai. Fresh fruits, vegetables and herbs, along with organic honey and orange blossoms from local growers are used in the treatments given in the spa. The Elderberry and Ginger detoxification wraps use the Chumash traditions for hydrating the skin.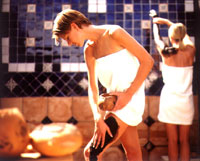 The signature treatment here is the Kuyam (koo-yahm), a native American Chumas word meaning "a place to rest together." The Kuyam can be shared by up to eight participants, and is a truly amazing ritual to cleanse and release body toxins. My favorite treatments at Ojai Spa are the Pumpkin and Melon Scrub, and the Orange Blossom Facial. The Pumpkin Scrub is done in November, when the pumpkins are in season, and the fresh pumpkin is turned into a scrub to exfoliate the skin, and then a melon oil is massaged into the skin. During this treatment I took a mental trip back to every Thanksgiving dinner of my life, and every pumpkin pie I tasted. It was simply wonderful, and I highly recommend it.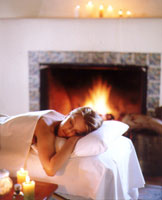 The 3,500 square foot penthouse, which can only be accessed by a private elevator, has four private guest rooms, tow living areas, and a mediation loft. It houses its own treatment room, sauna and outdoor terrace with a whirlpool. This is a favorite haunt with celebrities from Hollywood. A variety of art, yoga, and relaxation classes are offered in the studio, located next to the beautiful lap swimming pool, and poolside café, Acorn.

The accommodations are extremely comfortable, with every amenity, and beautiful views of the golf course. It is cool in the evenings, and the fireplaces are used at this venue, with pleasure. The Ojai Valley Inn & Spa Golf Course has hosted seven Senior PGA TOUR events and EMC2 Golf Skills Challenges, which were seen on NBC. It is considered the finest golf course in the western United States, has a splendid golf shop, and talented pros to assist players. The course has received numerous awards from renowned travel publications, and is a favorite site for corporate tournaments.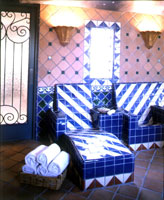 Maravilla, the fine dining resort restaurant, offers guests an elegant, but comfortable venue to enjoy gourmet dining, and outstanding wines that have been praised by the Wine Spectator. A hillside herb garden provides 65 different fresh herbs used throughout the day by the Inn's chefs. The mostly indigo blue room is dreamy in design, and is located above the golf course, which provides a lovely view over dinner at sunset. The Oak Café is a fun place for appetizers, salads, pizza, pasta and great desserts. Breakfast, lunch and dinner are served in the lively outdoor café, where families are found enjoying meals together.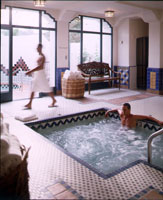 My daughter and I were surprised to find horseback riding facilities at Ojai Valley Inn. The Inn's Ranch has rustic stables that provide the perfect venue for Western-themed group or company events, as well as a peaceful ride in the country with a friend. The view of the Ojai Valley from a horse will take your breath away, and the natural beauty of Ojai makes your ride a truly unique experience. Children are welcome at the stable, as they are throughout the Inn. Family style residences are perfect for family reunions, land there are a variety of activities designed just for children, and baby-sitters for parents who need a break.

Conde Nast Traveler considers this one of the top U.S. resorts, and so do I. Treat your mind, body and spirit to an amazing renewal by planning a magical visit to the Ojai Valley Inn and Spa. Reservations 1-800-422-6524 (OJAI).