SPA LUCE
Secret Sanctuary in the Heart of Hollywood
by Bonnie Carroll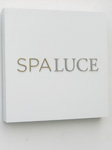 White and wonderful, with cozy little alcoves filled with pillows, tiny candles glowing throughout, soothing music softening your heart – no it's not heaven – It's Spa Luce in the Renaissance Hollywood Hotel. Being a spa baby who frequents
all the star-studded spas, I predict this blissful sanctuary will become a celebrity hotspot in a New York minute.
Hollywood is exciting, but sometimes so crazy that it is overwhelming, and the designers of Spa Luce have created this amazing palace of peace to rejuvenate the walk of fame warriors and the overworked moguls. From the moment you enter the front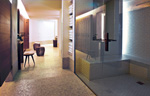 door it is obvious you are in a special space. Everything is white and light, with comfort being key.
The dressing and steam areas are immaculate and designed for conform and ease of the senses. The therapists are helpful, but not intrusive, and the signature massage treatment I experienced was outstanding. The Spa Luce has a healthy and delicious menu to provide sustenance to starving patrons and it includes a quinoa salad, fruit plate, poached pear salad, twin melon soup, grilled shrimp martini, ahi spring roll or crudités. Hot and cold herbal teas are served in the spa to all visitors, as well as fresh fruit and nuts. I savored every morsel of my flavorful shrimp martini and the quinos salad!
Treatments include individual Sonya Dakar homeopathic skin solutions, Ultra-Lux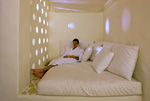 age control facial, Green-Tea-a-peel, microcurrent eye lift, signature facials and body treatments, ultrasonic microdermabrasion, as well as the usual preferred pampering perks.
The gift shop is filled with unique items, including lovely lounge wear, skin products, custom jewelry, and Red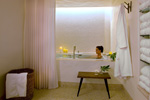 Flower candles to make your home or hotel room an ashram of inspiration.
Yes, this is a place to save your sanity and lift your spirits on the 'street of dreams' and I highly recommend it to travelers and locals alike. For information visit www.spaluce.com. The Reniassance Hollywood Hotel is located at 1755 North Highland Avenue, Hollywood, California. For reservations call 323-856-1200.
---
SKIN HEALTH & BEAUTY BITES
DDF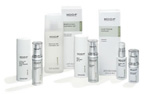 Founded by Howard Sobel, MD, F.A.A.C.S and Elaine B. Linker the object was to provide women with outstanding skin care products, especially those with specific problems and challenges. The sensitive allergic products work well for me, and my very fair daughters. 
Products for cleansing, toning, hydrating and sun protections are just a few. Go to www.ddf.com and see if there is something made with you in mind.
Sensitive Allergic
HANDLE SENSITIVE ALLERGIC SKIN WITH CARE
While there may be an inherited irritation prone factor, it's what we do on a daily basis that breaks down skin's defenses, making it more susceptible to irritation and redness. Ruddiness and sensitivity can be minimized with a product regimen that includes effective but gentle ingredients, with soothing hydration that restores moisture to delicate facial skin leading to a more even complexion.
---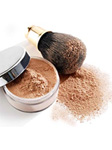 LA BELLA DONNA
Steps for Great Looking Skin:
STEP 1
Combats the signs of aging without clogging pores
Naturale sun protection with Loose Mineral Foundation - contains no FD&C dyes, oils, talc, alcohol or preservatives that clog pores or irritate the skin. Naturale sun protection SPF 20.
A little goes a long way, using a Makeup Brush dip into the Loose Mineral Foundation base, give it a vigorous tap against the side of the container, and apply. Avoid the inner and outer corners of the eyes.
STEP 2
CORRECT, COLOR, BEAUTIFY AND PROTECT THE SKIN
Mineral Eraser - concealer the sly, yet beaute tool favorite for hiding it all-from under the eyes, to blemishes, post-op and the botox lunch break. Apply it before and after a light dusting of Loose Minerals Foundation and you will be very pleased. Most everyone requires two colours; one to downplay dark and one to brighten.
STEP 3
SUPERIOR COVERAGE, LIGHTWEIGHT FEEL, LONG-LASTING COLOR
Compressed Mineral Foundation - has such a lightweight feel it's as though you're not wearing anything on your skin. Soothing, calming and non-irritating... incredible staying power. Reduces redness and swelling due to acne, rosacea, mylasma or allery-prone skin. Teens love to start with this product; it is so easy to apply.
STEP 4
SMOOTH, GLOWING AND FLAWLESS SKIN - NATURALLY
Vision of Mineral Lights (shown here in Naturale) - the light refractive qualities of La Bella Donna Minerals diminishes the appearance of fine lines and wrinkles. A bronzer should not be more than two shades darker than the skin's naturale colour. Focus application on the cheek-bones, the bones above the temples, the bridge of the nose, and the chin to mimic a naturale tan.
For product information visit: www.labelladonna.com.
---
THE MIRROR OF RELATIONSHIPS . . .
FROM DEPAK CHOPRA'S NAMASTE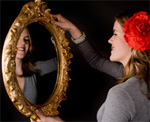 Everyone we see in the world is a reflection of ourselves, and the traits we see most clearly in others are the ones that are strongest in ourselves. This is called the mirror of relationship and it is a powerful tool for emotional freedom.
When we have a negative reaction to someone, they're reflecting traits that we also possess but have been unwilling to embrace. For the same reason, we are attracted to certain people because they have the same traits that we have, only more so.
This exercise will help you embrace the coexistence of opposites within yourself:
Step One: Think about someone you find attractive. On the left side of a piece of paper, list ten or more qualities that you love in that person. Write quickly. The secret is to not give your conscious mind time to edit your thoughts. You can put down as many qualities as you wish, but don't stop until you have at least ten.
Step Two: Now focus on somebody who totally irritates you, annoys you, or makes you uncomfortable in some way. Why does this person infuriate you so much? On the right side of the paper, list ten or more of their undesirable qualities.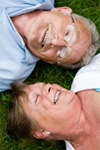 Step Three: Look at your list for the person you find attractive and circle the three qualities that you find most appealing about him or her. Then look at the list on the right side of the paper and circle the three qualities you find most repulsive.
Now read the six words you circled out loud. You are all of these qualities.
Once you see yourself in others, you will find it much easier to connect with them and maintain emotional wellbeing.
---
SEDONA'S AMARA RESORT AND SPA
ANNOUNCES THE OPENING OF NEW
"CAL-ITAL" RESTAURANT HUNDRED ROX
Amara Resort and Spa, named one of the 2008 world's best places to stay by Conde Nast Traveler's Gold List, has opened a new sleek restaurant, Hundred Rox, which touts a sophisticated Cal-Ital inspired menu that incorporates an exciting selection of savory Italian dishes with an infusion of California cuisine.
Inspired by Sedona's majestic Red Rocks setting, Hundred Rox offers some of the best Cal-Ital dishes in the Southwest, including pasta, fish, and veal as well as a selection of sumptuous desserts and an impressive wine list boasting eclectic vintages spanning the globe.  Hundred Rox's gourmet menu is further enhanced by the nearby breathtaking views of Sedona's magnificent Red Rocks that can be enjoyed while dining al fresco. 
"This is a very exciting time for Amara Resort and Spa," says General Manager Joe Mottershead.  "Hundred Rox is the first restaurant in Sedona to offer a modern fusion of Italian and California inspired cuisine that will appeal both to epicureans, to the fashionable younger set, to families, as well as to the more relaxed guests living in and traveling through Sedona."
The Hundred Rox menu is designed by Chef David Schmidt who has created extraordinary cuisine for some of the most acclaimed restaurants in Arizona, including T. Cook's at the Royal Palms in Phoenix, Michaels at the Citadel in Scottsdale, and Pointe Hilton Squaw Peak Resort.  In addition a delectable dinner menu, Hundred Rox offers guests simple and delicious breakfast and lunch choices.  Hundred Rox also touts one of only seven Level II advanced sommeliers in the state of Arizona. 
Chef Schmidt changes the menu seasonally to capture the best of each season, featuring some organic offerings and vegetarian options.  "I like to use local vendors for fresh produce when possible.  For Hundred Rox, I am incorporating fresh tomatoes, juicy peaches, and other fruits into our Cal-Ital inspired menu.  I've always had an interest in the foods of Italy and enjoy bringing some of the old world favorites into our menu items with new techniques, giving them a much more modern flair."
For more information or for reservations, call (928) 282-4828 or visit
 www.amararesort.com.
---
YUCATAN, MEXICO, SEPTEMBER 10, 2008...
Hacienda Petac in Yucatán opens their new Na'a Maya Spa in November 2008, raising the standards of a villa vacation, and offering a new dimension in small group travel. The 17th century hacienda, which caters exclusively to one group at a time, provides complete privacy along with world class resort services and facilities. The wonderful food, deluxe accommodations, pampering staff, history, adventure and now a beautiful spa and health compound are shared only with family and friends.
"We are committed to bringing our guests the options that are normally found in grand class resorts, but missing in a villa rental," says General Manager Colleen Leonard. "Our attention to detail rivals any premium hotel. The difference is that our services are devoted to 12, not 1,200."
Extending Hacienda Petac's focus on fully customized services, the Na'a Maya Spa offers a broad range of signature treatments incorporating traditional elements with innovative applications. Guests can design their own spa menu by choosing either classic massage, facial, reflexology options; or, Mayan healing treatments using native herbs, aromatic flowers, clay, or a touch of local honey to smooth skin and calm aching muscles. Also available are revitalizing water therapies that include hydro massage, Jacuzzi, and a refreshing wall of cold cascading water. A nail and pedicure area, and a well-equipped personal gym are also offered.
The Petac distinction between house and hotel is cleverly celebrated in the design of the health and beauty rooms, where the intimacy of a traditional Mayan home is given a grand and elegant twist. The new Mayan Houses (Na'a Maya), nestled in a grove of banana trees, fulfills the luxurious standards guests demand, while respecting the historic footprint of the original estate. Regional customs have been honored, using local materials and craftsmen to create a comfortable but luxurious space for exercise and spa therapy. Soaring high above the mint-infused massage tables, the graceful palapa roofs have been meticulously threaded by hand, a method used for centuries. The walls of the manicure and pedicure area have been treated in chukum, an ancient Mayan technique that uses a tree resin for sealing, and leaves a naturally polished surface. The professional gym equipment, imported from the United States, sits on a floor of Macedonia tile, quarried and cut in a village an hour away. Old and new meet again in the eco-friendly technology employed to quietly bring air conditioning to a traditional thatched house while simultaneously heating a swimming pool. The new Spa compound blends flawlessly with the colonial architecture and warmth of Hacienda Petac. It has been designed solely for the personal enjoyment of guests who love a resort lifestyle, but prefer a private pool ---the real pleasure (benefit?) of a villa vacation.
Hacienda Petac is a 5-bedroom estate on 200 acres, located approximately 30 minutes from Merida International Airport, which is served by frequent flights from Houston, Miami, Atlanta and Mexico City. From Cancun, the Hacienda is a 40 minute flight or three-hour drive. For guests who wish to explore the diverse attractions of this region, several of the world's finest Mayan archeological sites, wildlife reserves, and underwater caves are within an hour.
For reservations and information, call toll free (800) 225-4255 or (203) 602-0300, www.haciendapetac.com
---