BRING IN THE NEW YEAR WITH A NEW IMPROVED YOU..
VISIT A LOCAL SPA AND LET YOURSELF GO!
SPAS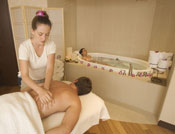 THE CHOPRA CENTER FOR WELL BEING
La Jolla, California
www.chopracenter.com
A special place to heal mind, body and spirit. Individual programs of yoga, healing treatments, life enhancing diets, and mediatation to revitalize and renew your body and spirit for the new year.
THE GOLDEN DOOR
Escondido, CA
www.Thegoldendoor.com
THE GOLDEN DOOR... created by a woman for women...(with several Men's and Coed Weeks each year.) A jewel-encrusted entrance gate flanked by camellias, fuchsia, and other blossoms leads you through courtyards of ornamental gardens. There are meditative sand gardens and fountains. Rare antique stone lanterns — part of a million dollar art and antique collection are displayed throughout the grounds. The facilities include three guest lounges, a dining room, kitchen, indoor/outdoor exercise studios and the Dragon Tree Gym with the latest in Cybex equipment and a Beauty Court. There are two swimming pools, two tennis courts and a private hillside for hiking. The bathhouse is spacious and contains a steam room, sauna, showers, and a fan-shaped therapy pool and sequestered rooms for body scrubs and herbal wraps. Because the Golden Door is convinced of the efficacy of an incremental spa program of increasing intensity, all guests arrive on Sunday for a seven-day stay. Among other specialists a full-time nutritionist gives advice and recommendations.
CANYON RANCH
Tucson, Arizona
www.canyonranch.com
Canyon Ranch is more than just a fabulous vacation. It's an experience that can influence the quality of your life, from the moment you arrive to long after you return home. Canyon Ranch is a place to relax, enjoy yourself and explore your potential for a happier, healthier, more fulfilling life.
THE ASHRAM
Callabasas, California
www.theashram.com
Tucked away from the world,next to the great range of the Santa Monica Mountains, amidst the hills and dales, you can hear the laughter of running streams and future friends, as you prepare for the adventure of a lifetime.
TWO BUNCH PALMS RESORT & SPA
Desert Hot Spring, California
www.twobunchpalmsresort.com
Your Retro-Bohemian Spa Enclave…
Rest, Relaxation & Rejuvenation awaits you at the renowned desert oasis hideaway that the readers of Travel & Leisure and Conde naste Traveler Magazine's consistently rate as among one of the TOP 10 SPAS IN THE WORLD! Come Bask in the Tranquility that will surely embrace and envelope your entire being. Once behind the protective gates of Two Bunch Palms private 256-acre Resort & Spa you can leave your cares behind you while you soak in the soothing natural hot springs, partake in a sampling of over forty-five phenomenal Spa Treatments – traditional to esoteric – and discover for yourself how wonderful it feels to once again be restored to a healthy, balanced and energetic state of being...