SPA BABY SECRETS   .   .   .
SPA BABY BLISS IN BUDAPEST by Bonnie Carroll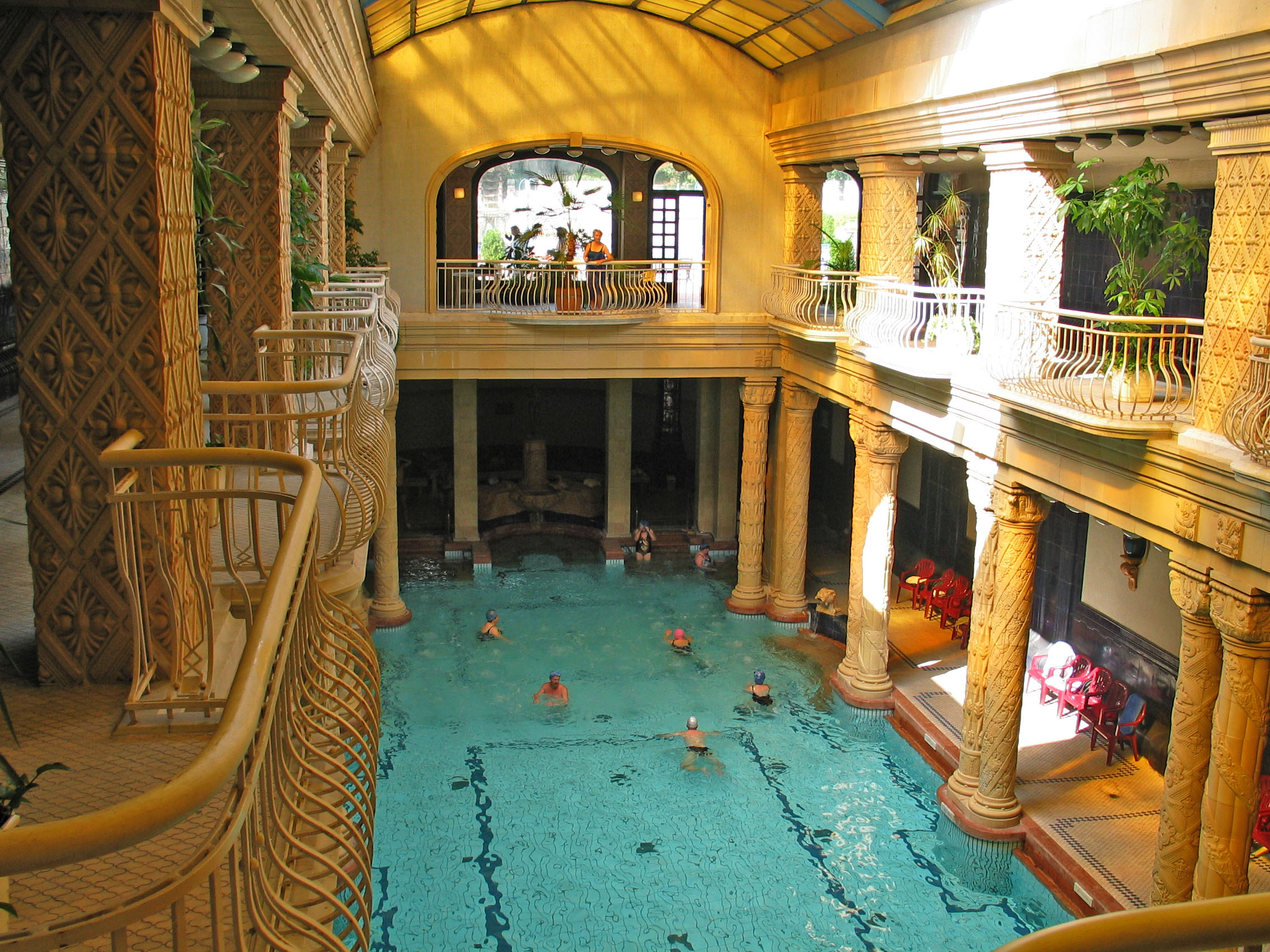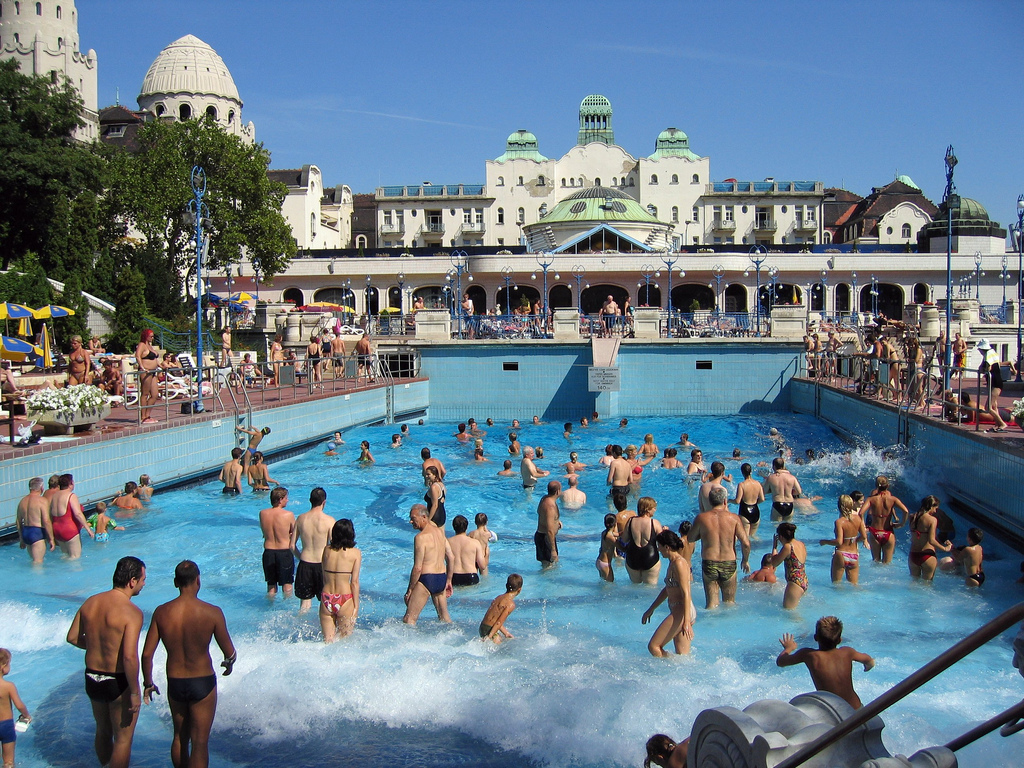 Gellart Baths for Fun and Health

Gellert Spa is today one of the leading thermal baths in Budapest with complex spa, beauty and aqua-medical treatments, salt chambers, massages, and even with a private bath for those who enjoy privacy. In addition, Gellert Spa has become one of the special event places in Budapest with contemporary Fashion Shows, art exhibitions, private corporate events, concerts, and the extended venue of festivals in Hotel Gellert.
Outdoor baths or spas have been a favorite respite for Hungarians since the 12th century, and the City of Budapest has many to choose from. The Gellert Baths are very popular and attract huge crowds to soak, swim and relax in their thermal waters.
They have many spa areas to choose from, which feature their own fun and unique experiences. A bevy of body treatments are on their menu to relax and rejuvenate visitors. Some people head right to the Gellart to avoid jet lag when they arrive in Budapest.
Gellert offers food and beverage services, and patrons can sit on the patio and watch the action in the outdoor pools. The architecture of the spa is intriguing and calming all at the same time. Massage and body scrubs are popular for singles or couples to enjoy. Mud treatments are also in demand. There are private lockers with dressingrooms for men and women available for a fee.
The Four Seasons Gresham Palace Hotel in Budapest, Hungary also offers treatments at their delightful spa located on the rooftop floor, where guests can workout in a fully equipped gym, enjoy a sauna, steam or jacuzzi and take a swim in the pool before they start their day of business or pleasure in this amazing destination.
Day appointments for treatments can be made, but must be made weeks in advance. Friendly and skilled therapist offer all the best and familiar treatments, as well as signature chocolate treatmens. The spa uses Omoroviza of Budapest fine skin products for treatments, and I can attest to how wonderful they are. their Omoroviza spa treatments are considered the best available in the city.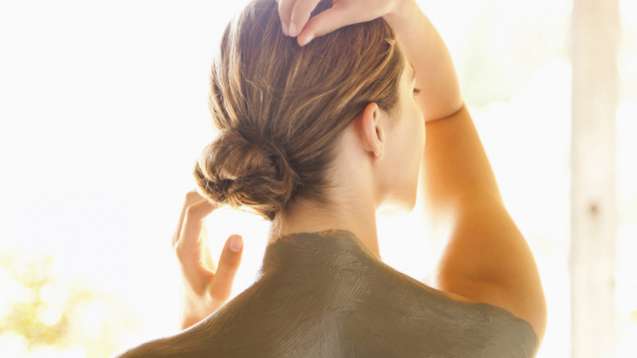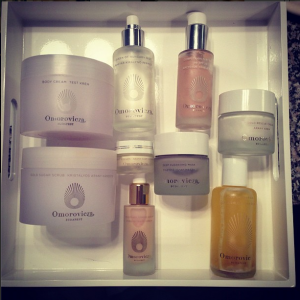 You should try their signature Gold Sugar Scrub. This luminous Omorovicza treatment begins with an invigorating golden sugar body polish, followed by a soothing massage performed with aromatic ylang-ylang oil enriched with shimmering gold particles. This sugar body scrub gently eliminates dead skin cells and refines the texture of the skin, leaving it radiant and soft. Skin looks as goods as it feels with this exquisite luminous shimmer oil with light reflecting gold particles. Absorbing quickly, it restores and repairs tired, dry and damaged skin leaving one silky smooth and luminous and is perfect for that special occasion to look your radiant best.
Or you may wish to try their Hungarian body wrap treatment, which is more than an ordinary wrap treatment, this unique body experience begins with an invigorating combination of body brushing and a sea salt exfoliation. A mineral-rich Hungarian Moor mud is then applied to the entire body to detoxify, re-balance and provide the skin with essential nutrients. While you are cocooned in this mineralising wrap a unique firming massage exercises facial muscles for instant lifting. A final soothing body massage using a fragrant blend of essential oils leaves the skin hydrated, soft and smooth.

Gellert Baths & Spa www.gellertbaths.com
Four Seasons Gresham Palace Spa information can be fournd at www.fourseasons.com/Budapest/spa.
---