the spa
Four Seasons Resort
The Biltmore - Santa Barbara
by Bonnie Carroll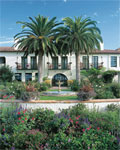 The new spa at Four Seasons Resort, located at 1260 Channel Drive in Santa Barbara, is a dream venue for any spa maven. This feel good destination is the crown jewel of a $240 million renovation in celebration of the 80th Anniversary re-launch of the historic property. The Spa features the custom tailored programs of Susan Ciminelli, world renowned skin care and wellness guru.

Resort owner Ty Warner has invested $30 million in the stunning 10,000 square foot facility, which is a showcase for the talent of architect and designer Peter Marino, who is well know for h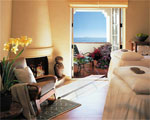 is flagship store designs of Chanel, Fendi, Louis Vuitton and Armani. Warner's vision of restoring the hotel to the glamour and grandeur of the golden era is a dream come true and representative of the 1926 vision anticipated by the original hotel architect Reginald Johnson.

The Spa offers guests eleven deluxe treatment rooms, including four suites with fireplaces, whirlpool tubs, twin massage tables, steam showers and ocean view terraces. Changing rooms feature custom tiles, reminiscent of the original 1927 tiles found in the Adamson House Museum in Malibu, Venetian plaster walls, hand-knotted silk rugs and an ocean view relaxing room where patrons enjoy herbal tea and fresh fruit between treatments.

Signature rituals at The Spa include everything from a sophisticated mud mask to a wine inspired package called "Vineyard Harvest" that includes the use of red wine, antioxidants an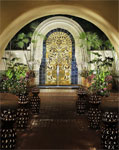 d vitamins. Or you might enjoy "Sunset Sanctuary" for a romantic couples package that features a side by side massage, a three course sunset dinner on the terrace of a Master Spa Suite, and champagne paired with a decadent dessert. The refreshing "Grape De Vine" treatment begins with a grape seed body scrub and ends with a lavender essential oil massage. This treatment is given in front of a burning fireplace, and is the perfect way to begin or end any day at the Four Seasons Santa Barbara.

As you would expect, The Spa menu includes an endless variety of massage treatments, skin care therapies, facials and bath rituals for men, women and teens. There is also a beauty salon, where hair and nails can be repaired after a hard day of play at the beach.

Many guests enjoy the exclusive beach butler services offered on Butterfly Beach, which includes a green beach umbrella, canvas reclining chairs, and a beach blanket. The beach butler team bring guests a beach bag packed with amenities for the sun, or a picnic basket filled with culinary delights that will be delivered on the beach at a pre-appointed time. The Biltmore in Santa Barbara offers the ultimate in a "California Dreamin" experience. For more information visit www.fourseasons.com

Four Seasons Resort
The Biltmore - Santa Barbara
1260 Channel Drive
Santa Barbara, California
805-969-2261

---
XPRESSPA EXPANDS SERVICE AT JFK
XpresSpa announces the opening of its newest JFK Spa located at British Airways Terminal 7. On Friday, November 2nd XpresSpa opened it's 5th Spa in John F. Kennedy International Airport. The new location enjoyed the highest opening day revenues in XpresSpa history.
Providing services that reduce and eliminate pre-flight tension and anxiety, XpresSpa is the answer to frustration caused by long lines, intrusive security check points, delayed flights, inclement weather, cancellations, over-bookings and Homeland Security regulations.
Government data published October 3rd, 2007 indicates that almost 30% of flights were delayed in August, a more than 4% increase from last year. Customer complaints have nearly doubled from a year ago. Travelers are tired, frustrated and anxious. This is why XpresSpa is expanding across the United States, Europe and Mexico. Airports and airlines, appreciated the services provided to travelers, have been quick to embrace the concept and have partnered with XpresSpa to open additional spa locations.
About XpresSpa
XpresSpa operates 13 luxury full-service spas in airports around the country and in Mexico – with 15 more in development and construction. For a list of locations,
please visit www.XpresSpa.com.
XpresSpa is open 365 days a year, 16 hours a day. Opened in 2004, XpresSpa provides world class services to over 200,000 travelers a year, attracting a customer base of 53% men and 47% women with 14% repeat business. In 2006, XpresSpa was named "Best New Specialty Retail Concept" by Airport Revenue News. In 2007, XpresSpa was named "Retailer with Highest Regard for Customer Service."

Some expansion plans include 2 spas opening at San Francisco International Airport (November 2007 and January 2008), two spas at New York LaGuardia International Airport (December 2007) and one spa at Amsterdam Airport Schiphol, Netherlands (January 2008). XpresSpa provides the same luxury spa services in surroundings that are consistent from one location to the next. No matter the airport, travelers can easily recognize XpresSpa and trust that they are going to receive the same high quality service time after time.
Now there is a good reason to get to the airport early. Look Great. Feel Better
---
SAVE THE DATE
2008 L.A. SPA & RESORT EXPO AND CONFERENCE
& 2008 L.A. MEDICAL AESTHETICS CONFERENCE AND EXPO
Preview the next must-have cosmetic treatments, products and trends when the Spa & Resort Expo and Conference and the Medical Aesthetics Conference and Expo come to Los Angeles. Breakthroughs in cosmetic medical procedures, outstanding keynote speakers and the latest and greatest new products and spa techniques – all in one location.
2008 Spa & Resort Expo and Conference and the 2008 Medical Aesthetics Conference and Expo - Los Angeles Convention Center, Los Angeles - February 23-26, 2008.