SPA BABY - SPA NEWS
CATHY CLUFF NEW PRESIDENT & CEO OF THE OAKS AT OJAI
The Oaks at Ojai founder Sheila Cluff today announced that Cathy Cluff, currently managing director, has been named president and CEO of The Oaks at Ojai and its holding company, Fitness Inc. With the promotion, she also will assume the role of vice president of the Cluff Corporation and become a director of Fitness, Inc.
For the past seven years, Cluff has held the position of managing director, overseeing all aspects from operations and guest relations to sales and marketing of The Oaks. Under her leadership, The Oaks has received numerous industry and consumer awards year after year including SpaFinder Reader's Choice Award, Travel and Leisure's Top Ten Destination Spa, and SPA Magazine's Annual Silver Sage Readers' Choice Award. As current president of the Destination Spa Group (DSG) and vice president to the International SPA Foundation Board of Directors, Cluff has more than 25 years experience in the spa industry. Cluff will succeed Sheila Cluff, Founder and former president, who will assume lesser roles in running the business side but will remain active at the Oaks. Effective today, Sheila Cluff will remain as Founder and Don Cluff will continue as secretary and treasurer, and members of the board.
"Over the years, I have met with various health and wellness leaders and they have consistently noted the precedence that we established at the Oaks. Over the past 25 years, Cathy has supported Don and my efforts to educate and develop new fitness methods and techniques to inspire new and old generations of guests," recounts Sheila Cluff, founder and fitness guru, about working alongside her daughter. "Cathy was selected because of her leadership and dedication to the company. She is focused and motivated to bring the best in spa and wellness to our long history of guests, and we could not imagine anyone else succeeding me in this role."
In her new role, Cluff will continue to drive Fitness, Inc's corporate strategy, working closely with her board to enhance the customer experience and deliver more value and experiences for The Oaks at Ojai's clients. Having managed the property through a five year renovation project, Cluff has a keen understanding of property management, the local Ojai community and the spa industry as a whole. As an Ojai business owner, Cluff serves as President of the Ojai Visitors Bureau to promote the local economy. Cluff also contributes to the radio show, Skin Authority, and serves on the Advisory Board for Healing Arts Guide Magazine as part of an effort to share her extensive knowledge about living healthfully.
"I have been privileged to work alongside someone as inspiring as my mother, Sheila, who has contributed so much to the world of fitness and health. The Oaks at Ojai has been a part of my life for more than three decades. I look forward to continuing to enhance The Oaks at Ojai experience that my mother created, working with our loyal guests and our dedicated staff," Cluff recognizes about her experience with The Oaks at Ojai.
Contact
Cathy
directly.
---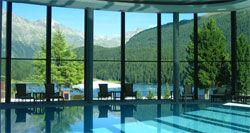 BADUTTS PALACE HOTEL LAUNCHES NEW SPA IN ST. MORITZ SWITZERLAND
The new Wellness Space is now open and will be the ideal reason to head of to the alps for a long weekend. Not only can guests pamper themselves but they can take advantage of the numerous events which happen in St Moritz during the year and the exquisite gourmet cuisine. 
More about the Spa - Overlooking the spectacular Lake St Moritz, the new Palace Wellness Space includes ten brand new treatment rooms fully equipped with products from a range of top spa brands. Two luxury spa suites are available for private day hire for the ultimate pampering experience whilst a private hair spa, Pedi spa, solarium, facial room and four body treatment rooms will be sure to meet every wellness need.
Tell Me More – Badrutts Palace is internationally recognised for offering the highest standards of service, accommodation and entertainment; every second of your stay will be one to remember. Guests visit from far and wide to indulge in sumptuous bedrooms, a warm welcome from staff, exquisite cuisine at 'Le Restaurant' and some of the most breathtaking scenery in the world. Then of course there is the onsite designer boutique shopping to experience.
THALGO LAUNCHES GLOBAL FLAGSHIP SPA IN PARIS FRANCE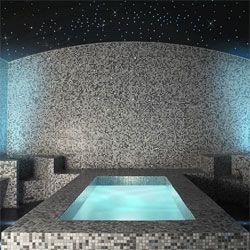 The 3m euro(£2.71m, US$4.42m) Villa Thalgo has been built within a space that was originally a bank vault. With a total of 12 treatment rooms, the 8,611sq ft (800sq m) 'marine haven' facility was designed by Thierry Hazard of THPS and Alexia Sarkis of TSM with consultancy provided by Thalgo Spa Management. There are three main areas - Energising, Recreation and Relaxation.
Materials used include a blend of mineral and wood essences, to create a simple but luxurious atmosphere with a strong emphasis on the holistic. Completely supplied by Thalgo, equipment includes the Thalgoskin Expert micro-dermabrasion machine and an iPulse anti-cellulite machine.
Signature marine beauty therapies include a range of marine hammam treatments as well an energising Bamboo massage.
Located on the Paris Trocadéro at the heart of the 16th arrondissement, the new spa is near to the Musée de l'Homme and the Paris Grand Aquarium.
________________________________________________________
---