KATE SOMMERVILLE
Chic Products to Love Your Skin
by Bonnie Carroll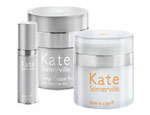 The Kate Summerville Skin Health Experts working in a classically beautiful venue at 8428 Melrose Place in Los Angeles are the best in the business, but also give clients treatments featuring Kate Sommerville's divine skin care products. The white and crystal waiting room filed with mirrors is always busy, ant the treatment rooms are tranquil and private.
The skin health pyramid adherwed to at Kate Sommerville is detox, stimulate, feed, hydrate and protect. The products are extremely rich and effective. Therapists will provide a regimen of details to keep your individual skin type looking younger and more alive. I was very impressed with the way my skin glowed after using their products.
It was recently announced that Kate would be providing the skin care at the newly renovated Spa at the Beverly Wilshire Hotel in Beverly Hills. These great products are a perfect pairing for the this exciting new beauty and health venue in the venerable hotel on Wilshire Boulevard.