Sacher Spa: Chocolate without Calories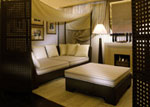 The motto of this modern relaxation and wellness refuge is well chosen: At the Sacher Spa, Time Has No Meaning. Indeed, the warm colors of the contemporary design create a comfortable atmosphere and a feeling of well-being outside of the hustle and bustle of everyday life. The Sacher Spa boasts an experienced staff and numerous beauty treatments (some of them unusual): an herbal sauna, a salt steam room, a historical sauna, themed showers, a special relaxation room, an ice fountain, a fitness room, and massage and cosmetic treatments with beauty products by La Prairie and Ligne St. Barth.
But above all, it is the "Hot Chocolate Treatments" that have become the main attraction at the Sacher Spa since its opening in December 2005: there are different ways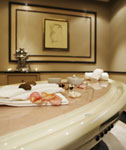 of applying this delicious treat for body and soul – featuring rich cocoa butter, which is rich in protein, fats, and oleic and linoleum acids, all of which prevent moisture loss. And there are absolutely no calories involved!
The Sacher Spa Package illustrates the combined benefits of staying at one of the world's most beautiful and traditional hotels with all the modern amenities a luxury hotel has to offer:
It includes one night at the legendary Hotel Sacher in Vienna with full buffet breakfast and "A Dream of Chocolate," a 55-minute beauty treatment for each guest. Also included is a 25-minute Chocolate Aroma Oil Massage. And when you are leaving the Sacher, you get an Original Sacher-Torte as a farewell present. And don't worry about the calories: this delightful and world-renowned chocolate cake is well worth it. Also, you will have worked off many calories in the Sacher Spa – this package includes free access to all its fitness facilities.
Packages start at Euro 697 ($892) for a Superior Double Room for two persons. Single use starts at Euro 502 ($642).
For more information, visit www.sacher.com.
---
THE SPA AT THE BEVERLY WILSHIRE
The Magical Healing Properties of Amethyst
by Bonnie Carroll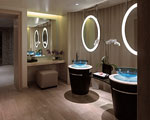 It's all about the power of the amethyst at this magnificent new spa. Guests are awed by the huge and majestic amethyst crystal geode that graces The Spa at Beverly Wilshire. The huge amethyst is surrounded by a curved water wall and is a source of healing energy in the peaceful venue. This combined with aromatherapy accents and centering background music creates one amazing oasis of serenity in the hub of the Beverly Hills shopping and business district.
Throughout history the amethyst has been used to guard against drunkenness and is thought to be helpful in overcoming addiction. It has been used for hearing disorders, insomnia, headaches and other pain. Some sources suggest it is used to stabilize mental disorders. Worn to make the wearer gentle and amiable, the stone is thought to affect healing, peace, love spiritual centering, courage, protection against thieves and happiness. The amethyst can be seen in a range of shades from deep purple. Light lilac, lavender and mauve. This was a stone associated with royalty nearly from the beginning of time.
The Western and Eastern inspired luxury treatments here provide the finest in skin and body treatments. The aromatherapy crystal steam room is exquisite and a divine place to hide-out and get distressed. If you follow this with a visit to the ice fountain and 'experience shower' you will just want to stay all day in the Tranquility Lounge. This room lives up to its name, and features warm colored fabrics, rich woods, and guests are invited to enjoy herbal tea, juice, fresh fruit and nuts while they settle in to enjoy the sweet silence.
The Balinese massage, a deep and soothing treatment is designed to relieve tension in the body and it gets my highest recommendation. All treatments are preceded by a lovely foot wash and massage, during which time the therapist discusses any special needs the client may have. Clients receive all their treatments in the same private salon, eliminating the need to move from room to room during their visit. Treatments include skin and massage varieties, as well as reflexology and scalp specialties to relieve tension. The dressing room area is done in beautiful blue, gold and green tones and every possible amenity is on hand to enhance after treatment grooming. Conveniently located, The Spa at the Beverly Wilshire is ideal for a visit during a day of shopping or before a dinner date at the Lobby Lounge or Wolfgang Puck's CUT Restaurant. Reservations are required and can be made by calling the number below. For a preview go to www.fourseasons.com.
The Spa at the Beverly Wilshire
Four Seasons Hotel
9500 Wilshire Boulevard
Beverly Hills, CA 90210
310-275-5200