Thalgo's Indocéane Ritual Now at Chuan Spa at
Langham Place Hotel, Mongkok, Hong Kon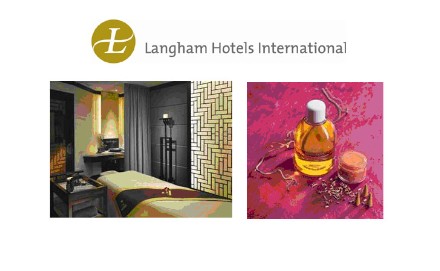 555 Shanghai Street
Mongkok, Kowloon, Hong Kong
T (852) 35523388
F (852) 3552 3322
hongkong.langhamplacehotels.com
Chuan Spa at Langham Place Hotel is proud to be the first and only spa in Hong Kong to offer the ultimate spa journey from Thalgo. It's Indocéane, a transporting sensorial voyage to discover the secrets of well-being from four different cultures of the Orient.

In bustling Hong Kong where work, pollution and daily life take a toll on the body, the quest for contentment is a crucial pursuit. Indocéane takes you across the oceans to harness the relaxing powers of the Mediterranean, Egypt, India and China and experience a true and vital relaxation ritual.

The authority in Marine Cosmetology for more than 40 years, Thalgo has infused Indocéane with Qi-marineTM, a powerful and proven cellular marine active ingredient that works in synergy with soothing Sacred Lotus to optimize the relaxation power of its new ritual.

Mediterranean Step: The Indocéane journey begins in the land of purity and water rituals, with a purifying body exfoliation with the Sweet and Savoury Body Scrub containing Qi-marineTM, Sacred Lotus, Brown Sugar, Salt and Mediterranean Essential Oils.

Egyptian Step: From the land of Eternity where the Goddess would soak her body in milk, Indocéane's second step basks you in a creamy and sensual milk bath with soothing musky scents.

Indian Step: The Indocéane ritual takes you to the land of Ayurveda where your body unwinds to release its spirit. Oriental and Chinese massage methods are combined into a unique sculpting massage. To start, Qi-balm, a concentrate of Qi-marineTM, is massaged into energy centers to release tensions and prepare the body for the treatment that follows.

Chinese Step: Finally, to the land where beauty takes center stage and youth is preserved. Indocéane rounds off with a velvety and fragrant body wrap containing Qi-marineTM, rice bran oil and Scared Lotus.

The Indocéane treatment is now available at Chuan Spa:
Indocéane Full Ritual - 2 hours - US $212
Available Mon.-Fri. during October at a special "Weekday" promotional price: US $169
(This offer cannot be used in conjunction with other discounts)

*Each step in the Indocéane Ritual can also be booked individually:

Mediterranean "Sweet and Savoury Body Scrub"
(30 min.) US $57
Egyptian "Precious Milk Bath" (15 min.) US $25
Indian "Indocéane Massage" (1 hour) US $77
Chinese "Sublime Body Wrap" (15 min) US $51
For more information or reservations, contact Chuan Spa at Langham Place Hotel, 3552-3510; email hkg.lph.info@chuanspa.com.
Chuan Spa
Level 41, Langham Place Hotel, Mongkok, Hong Kong
555 Shanghai Street, Mongkok, Kowloon, Hong Kong
3552 3510
hkg.lph.info@chuanspa.com

Background Notes:
Langham has a legendary hotel heritage dating back to 1865 when the Langham Hotel in London originally opened as Europe's first Grand Hotel. For 140 years, this flagship hotel has been at the forefront of sophisticated and gracious hospitality. Today, all Langham Hotels worldwide inherit the same philosophy that reflects elegance in design, innovation in hospitality, genuine service and captivation of the senses creating a truly unique hotel experience.
Langham Hotels International (LHI) features six properties with over 2,700 rooms in five gateway cities across the four continents, namely, London, Boston, Hong Kong (2), Melbourne and Auckland. In each city Langham Hotels is associated with the prestigious "The Leading Hotels of the World" group, which represents some of the world's finest luxury hotels.
LHI is wholly owned by Great Eagle Holdings Limited, a publicly listed company (HKSE: 41) which was founded in 1963 and listed on the Hong Kong Stock Exchange in 1972.
---
FALLING FOR THE SPA THIS HOLIDAY SEASON
Spa & Salon Bellagio's Cranberry and Pumpkin Spice Treatments
Are Sure to Warm Up Those Cold Nights
Looks like neighborhood coffee shops won't be the only place to get cozy with cranberry treats or pumpkin lattes this fall and winter. The 65,000 square-foot Spa & Salon Bellagio is inviting guests to get in the spirit of the season with the spa's signature bath and body line in special holiday "flavors."
At the Zen-inspired Spa Bellagio, indulge in a trio of aromatic cranberry-inspired treatments. Guests can experience a Cranberry Hydrotherapy Bath, Vichy Shower or Relaxation Massage amid soothing reflecting pools, water walls, hot tubs, steam rooms and wet rooms with state-of-the-art hydrotherapies. In each treatment, the powerful antioxidants found in cranberries help detoxify and condition the skin leaving a youthful, healthy glow. Guests also can enjoy the invigorating benefits of this holiday berry in the following treatments, which may be booked together or à la carte.
Cranberry Hydrotherapy Bath – Signature Cranberry is the special ingredient in this soothing, 25-minute bathing experience offered in the spa's computerized hydrotherapy tub. The penetrating, therapeutic jets of the high-tech tub create a tension-melting froth of foam while the wonderful cranberry aromas evoke memories of holidays past.
Cranberry Sugar Polish & Vichy Shower – The polish is a delicious mixture of cranberry and lemon sugar making it a natural source of skin-repairing antioxidants. First, the sugar polish is rubbed onto the skin to open pores and remove dry skin cells. The sugar crystals then are rinsed away with the Vichy's shower-like wands, leaving a luscious layer of moisturizing nutrients. The treatment concludes with a light massage application of moisturizing cranberry-scented lotion. This 25-minute session helps protect the skin and body from the effects of climate changes.
Cranberry Relaxation Massage – Traditional Swedish massage techniques ease spa-goers into a relaxed state while helping to improve circulation and relieve muscle tension. The benefits are enhanced with Spa Bellagio's special cranberry massage oil that contains vitamins A and E which promote healthy skin. As an added bonus, this 50-minute massage includes the "Hot Toe Bliss" – small warm stones are placed between the toes and used to massage the feet, helping clean toxins from the body and open energy channels. For coffee lovers, the opulent Salon Bellagio offers a pumpkin latte with whipped cream and nutmeg or cinnamon while experiencing a lavish
Pumpkin Spice Manicure (45 minutes) and a Pumpkin Spice Pedicure (50 minutes). Both include a soak, an exfoliation, a mask and a moisturizer. In addition to being a popular fall fruit, pumpkin offers more than 100 beneficial components including the highest concentration of vitamins A, C and beta-carotene. When used in skincare applications, they act as Mother Nature's buffer and cleanser. The pumpkin spice products also include papaya and pineapple enzymes, honey and vanilla. Combined, they create a natural exfoliator and moisturizer, ideal for overworked hands and feet that have been exposed to the sun, cold weather or dry climates. The manicure/pedicure treatments begin with a Pumpkin Spice Bath Soak that conditions and softens the skin with seed oils. The second step is a Pumpkin Spice Body Polish, which uses the fruit mixture in powder form. The mixture gently exfoliates and cleanses while introducing vitamins and nutrients, leaving the skin with a buffed, healthy glow. Next comes the application of a Pumpkin Honey Mask that begins to gently warm the skin upon contact as guests enjoy its rich, pumpkin pie-like scent. The active enzymes of papaya and pineapple in the mask neutralize acidity in the epidermis while removing impurities, leaving the skin smooth and soft. The final step of both the manicure and pedicure is having Pumpkin Spice Whipped Body Butter massaged into the feet and hands. The active natural ingredients in this rich emollient absorb the oxidation on the skin caused by ultraviolet rays and environmental pollutants and leave the skin incredibly silky and smooth.
These spicy holiday menu items, available October 14, 2006 through January 7, 2007, are just part of an extraordinary list of world therapies from Egypt, Indonesia, Thailand, India, Bali and Europe offered at Spa Bellagio. The salon, known for such elaborate manicures and pedicures that guests have called them "facials for the hands and feet," also offers airbrush makeup application, 18 stylist stations, hair coloring and an authentic, mahogany-lined Barber Room. Both Spa & Salon Bellagio have private treatment rooms as well as expansive spaces such as the spa's Meditation Room, lined with water walls and candles, and the Las Vegas Strip's only Watsu Room. The salon's Private Pamper Party Room is ideal for girlfriends, couples and mothers and daughters wanting a special area to enjoy each other's company.
Salon Bellagio is open to the public seven days a week. Spa Bellagio is open to Bellagio guests Friday through Sunday but is available to non-guests Monday through Thursday. For more information or to experience the ultimate indulgence of Spa & Salon Bellagio, call (702) 693-7472 or visit www.bellagio.com.