SPA BABY SECRETS   .    .    .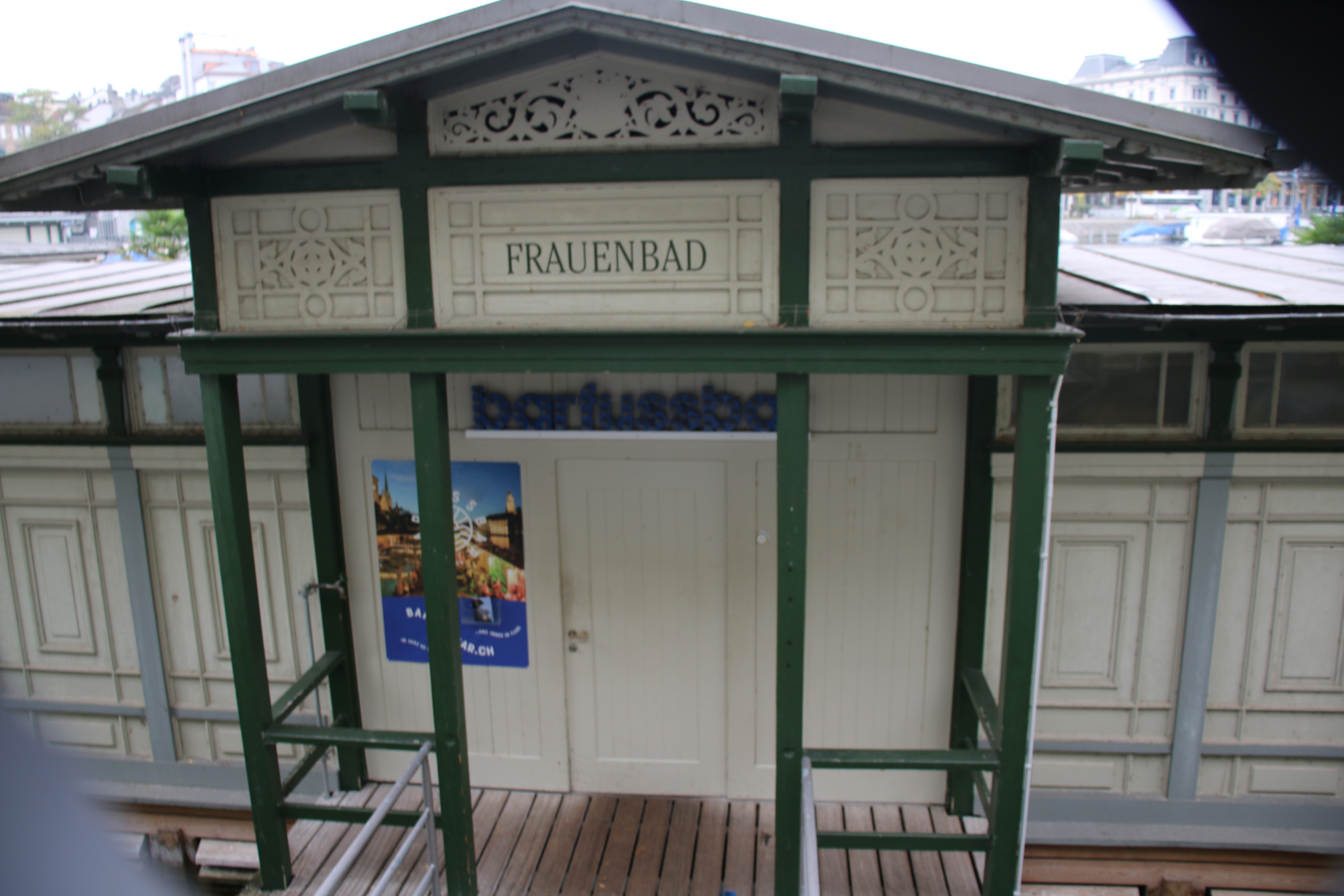 Front Street View of Fruyenbad Bath
HISTORIC FRUYENBAD BATH IN ZURICH RULES FOR HEALTH & FUN
Traditional Old Town Ladies Only Bath Goes Coed Three Nights a Week
by Bonnie Carroll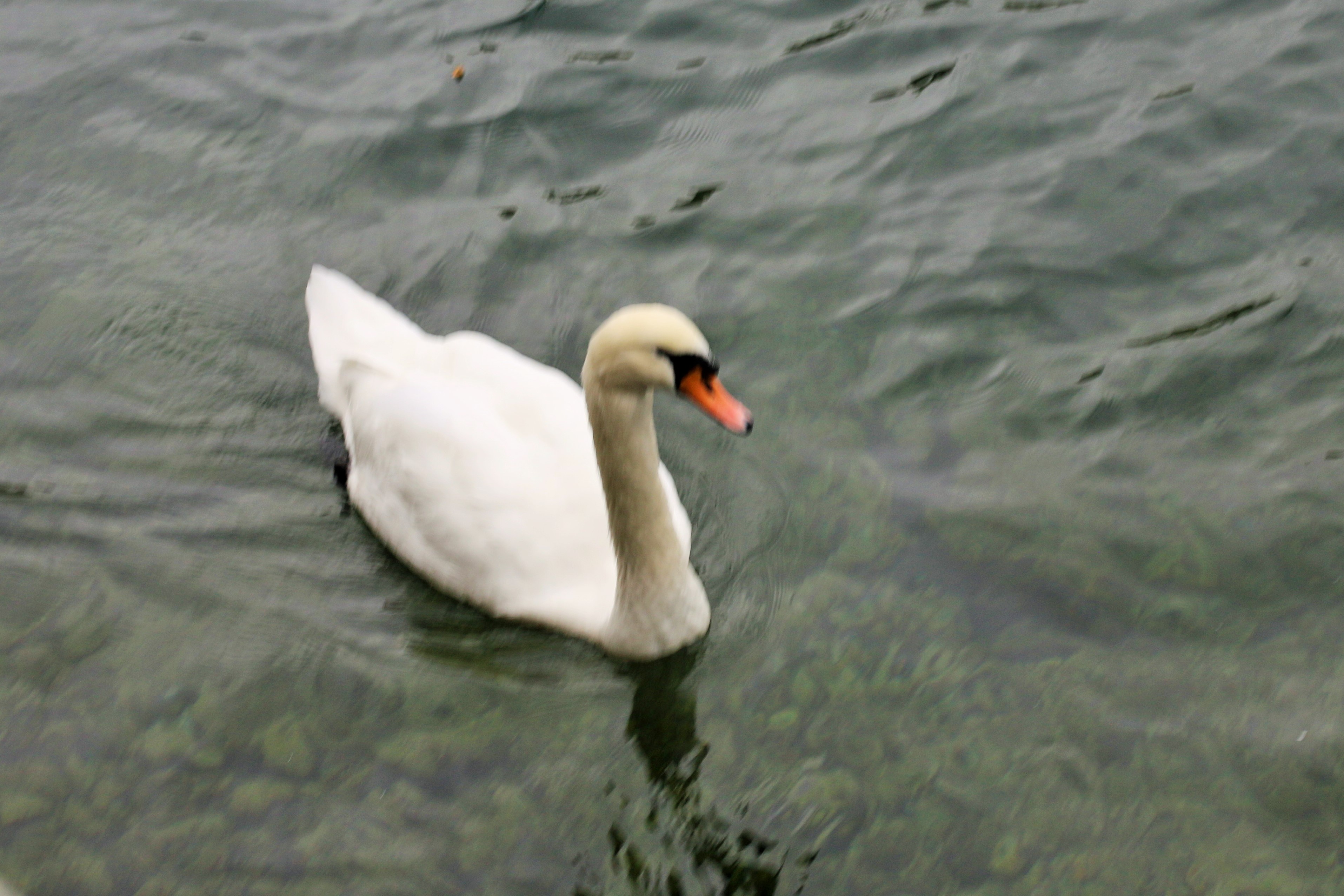 Immaculate Swans Live in the Lake
With a history from early Roman settlement days in the city of Zurich the men only baths, Mannerbad Schanzengraben, were established in 1864. Since 1837 the Fruyenbad Bath for women only has offered bath facilities for Zurich ladies who in early times had no at home bath facilities. The extremely clean water in the Limmat River that runs down from the Alps has provided bathing opportunities and a place for women to cool off on very hot days for many years.
In 1888 the original bath was renovated in art nouveau style with a cupola, and turrets on the four corners. The wooden structure floats on the river and is anchored to the quayside. The building is quite impressive from the street side and on the river side is a wonderful bath with a swimming area where guests sun bathe and enjoy reading materials borrowed from a small library on the Fruyenbad spa premises.
River View of Fruyenbad
As is common in many countries in Europe topless sun bathing had been the accepted mode at Fruyenbad, but it is reported less and less women are exercising this option today at the Zurich bath. However, big changes seem to be happening in that today on three nights a week the Fruyenbad becomes a barefoot bar with cocktails, live music and is accessible to both sexes.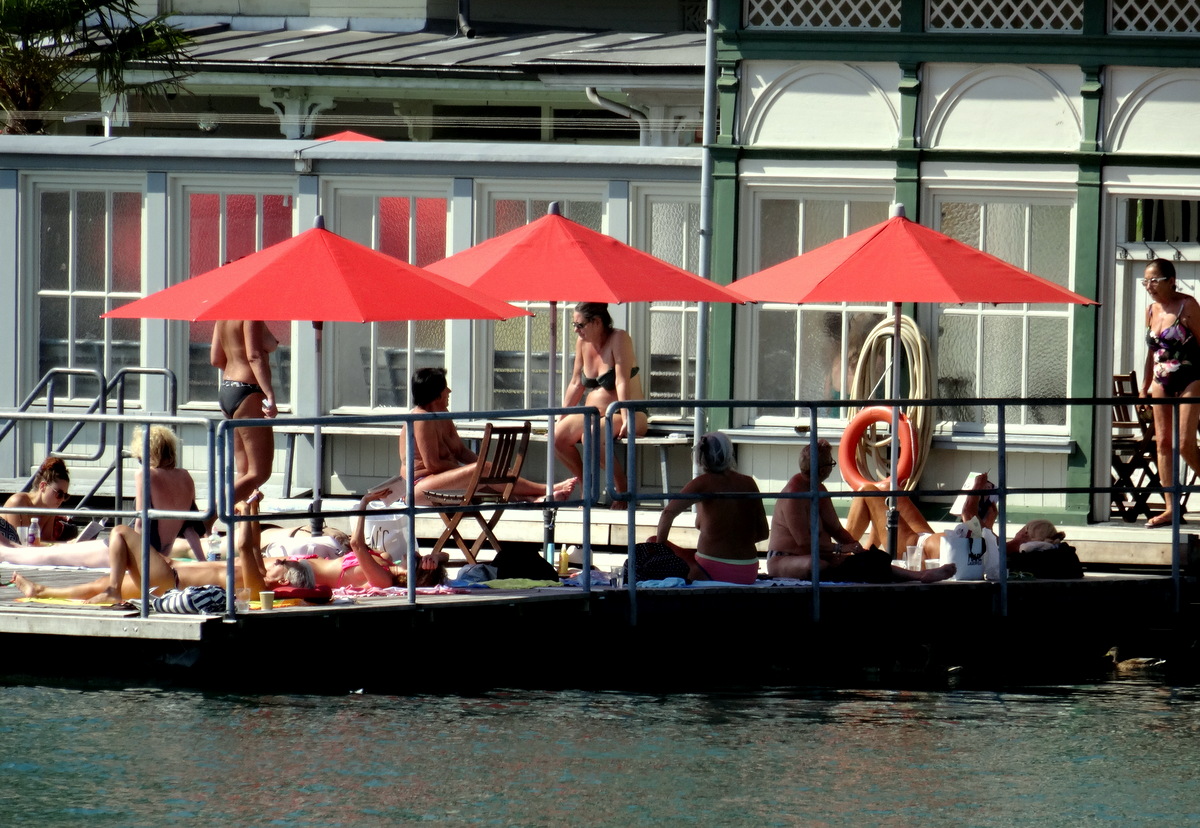 Socializing by te River Edge
Not only was I completely enamored by the countless beautiful white swans on this lake but I was totally impressed with how crystal clear and immaculate the lake water is. We had planned to visit the bath while in Zurich on the final days of our Viking River Cruise but it was too cold and overcast to take the plunge during our limited stay. It appears to be a fantastic experience on warm days and I am hoping we can return for a visit to this healthy and fun Lake Zurich destination on a future visit. For information visit http://www.stadt-zuerich.ch/.
---