OAKS AT OJAI FALL SCHEDULE IN FULL SWING .....
Special beauty treatments, walking Ojai fun, new exercise routines and more. Here's a wonderful fall soup being served to guests!
Click for Recipe
From Chef Christine Denney
The markets are full of pumpkins and chiles!  Add this popular soup to your healthy menu options this autumn season.
__________________________________________________________________
The Peninsula Beverly Hills Spa Announces Global Debut of Wellness Wave Massage Technology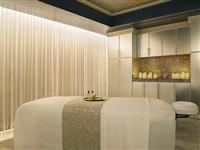 [Source:The Peninsula Hotels]
Revolutionary Therapeutic Oscillation Technology Delivers Unprecedented Physical Benefits Tailored to Meet the Needs of Athletes, Fitness Aficionados and Experienced Spa Goers

Further reinforcing its footprint as an award-winning health and wellness leader, The Peninsula Beverly Hills Spa is now the first spa in the world to introduce the revolutionary Wellness Wave massage treatment table technology with a special Wellness Package available through December 31, 2014. Uniquely suited to athletes and fitness enthusiasts, the Wellness Wave's patented oscillation technology enhances the therapeutic benefits of massage for an invigorating experience that encourages rapid relaxation, pain relief, cellular detoxification and endorphin release.

"Each Wellness Wave Treatment is tailored to offer experienced massage recipient's unparalleled results that are realized faster than ever," said Amber Loose, Director of Spa at The Peninsula Beverly Hills. "Our therapists have undergone extensive training on this next level of body massage and we're thrilled to debut this advance in technology exclusively to our guests."

Wellness Wave technology elevates the massage experience through increased circulation achieved as therapists work in tandem with wave motion, customized from calming to exhilarating, resulting in total tension relief.

Guests of The Peninsula Spa may experience this latest innovation in massage therapy by reserving the Wellness Wave Treatment which is priced at $250 for a 60-minute session and $325 for a 90-minute session. To introduce this groundbreaking technology, The Peninsula Beverly Hills Spa is offering a special Wellness Package which includes a 60-minute Wellness Wave Massage, a one-hour session with a personal trainer, an energy-boosting, house-made green smoothie, and a custom fitness gift bag for a limited offer of $390 (a value of $440).

The Peninsula Beverly Hills Spa features seven treatment rooms and two nail suites; a Fitness Center with a comprehensive array of cardiovascular and weight-training equipment; a Serenity Lounge; and private men's and women's changing rooms with relaxation areas and steam rooms. The Peninsula Beverly Hills Spa incorporates highly effective treatments with the finest therapists, equipment and products to offer a truly customized spa experience. The Spa is open from 8:00 am to 10:00 pm daily.

Wellness package highlights include:
• 60-minute Wellness Wave Treatment
• One-hour consultation and workout session with a personal trainer
• One house-made green smoothie
• A custom fitness bag

Validity:
• September 1, 2014 to December 31, 2014

Price:
• $390 per person

The Wellness Wave Treatment and Wellness Package are now offered exclusively at The Peninsula Beverly Hills Spa and may be reserved by telephone at +1 (310) 975 2854 or by e-mail at spapbh@peninsula.com. For additional information please visit peninsula.com/beverlyhillsspa.
---