PRINCEVILLE RESORT SPA
The Kauai Versailles of Special Pampering
by Bonnie Carroll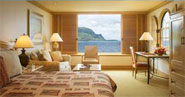 As you get out of your car to enter the Princeville Spa you know why this property has a reputation for being like no other, and why it is considered a royal destination. The majestic architecture and priceless art pieces throughout take you to a palatial experience from another time that is unexpected in place described as the 'Garden Island."
The resort spa is currently located in the Golf & Sport Club, which has a panoramic window overlooking the golf course, but it was disclosed to me that the spa will soon be moving to the hotel as a convenience to their guests. The Spa is also very elegant in design, but has a soothing ambiance. The staff are overflowing with aloha spirit, and make guests feel extremely welcome from the minute they arrive until the minute they depart.
Upon arrival guests are escorted to a private dressing room, where they may change into a soft robe and slippers supplied by the attendant. There is a sauna and steam room to enjoy before your treatment, and a quiet waiting area, where your therapist will introduce herself and take you to your designated treatment room.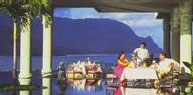 Mandy, my therapist, turned out to be a delightful young woman who thank God was extremely skilled in all techniques of massage therapy. She must have read my mind because she provided me with a shiatsu, Swedish and lomi-lomi massage combination that melted away every bit of travel fatigue I was experiencing, and brought me gently back to my own special center. Amazingly, I felt completely relaxed, but at the same time energized by this sixty-minute treatment, and to my surprise I was all set to hit Sushi Blues, a local popular restaurant, for some food and fun.
The spa menu at this property includes all the wonderful treatments that women and men spa babies have come to know and love, with a few signature treatments, including the island-style seaweed wrap and Hawaii salt exfoliation glow, designed especially for the visitors at Princeville Resort.
I so appreciated that my therapist listened to what I was saying, and designed a treatment that was just what I needed to bring body, mind and soul back together again, and for this I say mahalo! For detailed information on the golf, sports activities and spa services at the resort I invite you to visit www.princevillehotelhawaii.com