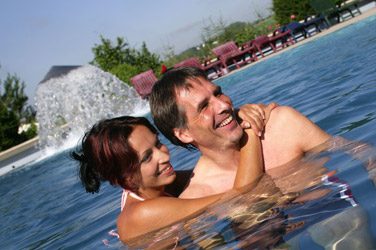 Thermal spas in Upper Austria: origins and history
Thermal spa resorts in Austria
Are you looking for relaxation and recreation? A trip to a thermal spa in Upper Austria might be just the right thing for you. Recreation all around for young and old and for body, mind and soul.
No wonder the thermal spa in Upper Austria is so popular. These days, when only results count, people seem not to be able to listen to their bodies and the signals they send. Thermal spas in Upper Austria are very popular with both young and old. A day trip to a thermal spa in Upper Austria will add to your all around wellbeing. Relaxation and recreation from the drudgeries of everyday life are guaranteed.
The Thermal Spa in Upper Austria: rich in history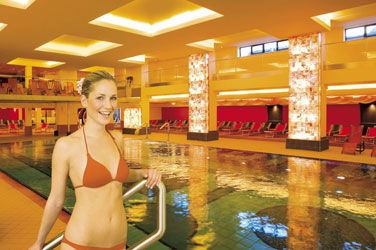 Knowledge about the healing powers of thermal spas is no longer a secret. The benefits of hot steam, bath houses, Turkish baths, mineral and thermal springs have been well known and popular since Roman times. A thermal spa was the bath house in those days - it was a place to meet and enjoy yourself even for the Romans. Hygiene was not the only reason the Romans visited thermal spas in Upper Austria: the spa was seen as a therapeutic and medical institution even then.
And why reinvent the wheel when our ancestors can teach us a thing or two?
Discover the soothing and healing effects when visiting the thermal spas in Upper Austria. The EurothermenResorts of Bad Schallerbach, Bad Hall and Bad Ischl are well known for their extensive offering. Some time out in the thermal spas of Upper Austria will work wonders! Do as the Romans did and experience the therapeutic effects of hot steam and the power of water. _________________________________________________________________
Now Open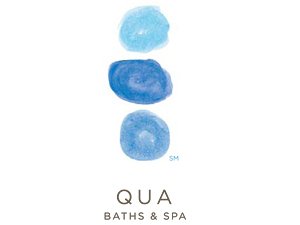 Starting in November, an innovative new spa experience awaits guests at Caesars Palace Las Vegas. Qua Baths & Spa is a stylish spa on par with the world's most extravagant retreats. Its live-in-the-moment philosophy - "Qua" is Latin for "here" - is reflected in a luxurious atmosphere where guests can relish the moment with an exceptional array of treatments. Qua also evokes "aqua," or water - the focus of Qua's Roman Bath experience and healing services.

Bathed in natural light and accented by smooth stone flooring, dark wood and the steady flow of cascading waterfalls, Qua's atmosphere is ideal for relaxed Social Spa-ing. Reminiscent of the glorious baths of ancient Rome, Qua's Roman Baths create vibrant gathering spaces that highlight the healing power of water. There will be tea lounges; the Crystal Room, where guests can join friends for customized body decoration with crystals; and a Fitness Center designed for a dynamic workout experience. Plus, in the city's first Arctic Ice Room, guests can unwind after heated treatments and use ice chips to exfoliate and invigorate while crisp 55 degree air refreshes the lungs.

At Qua, each experience will be a journey of the senses, where the timeless and transformative power of water is present the moment guests walk through the door.
51 Treatment Rooms   
3 Deluxe Couples Suites
7 Facial Rooms
Wet Rooms Featuring Vichy Showers
Crystal Room
Barber Spa
Personal Hydrotherapy Tubs
Laconium
Arctic Ice Room
Signature Roman Baths
Herbal Steam Room & Cedarwood Sauna
Tea Lounges -Our in-house Tea Sommelier will be doing tea pairings with our spa services.
5,500 Square foot Contemporary Fitness Center with the latest in exercise equipment and technology.
For questions please call (866) QUA-0655.
_____________________________________             
---