SPA BABY SECRETS .  .  .
BEST WAY TO SHAKE JETLAG IS AT GEORGE V FOUR SEASONS SPA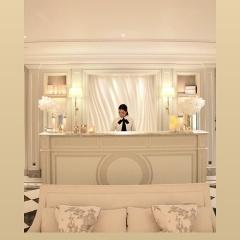 The Spa at Four Seasons George V in Paris is really beyond anything I've experienced throughout Europe in that they have designed treatments to snap you out of jetlag enabled you to be rested, alert and ready for your Paris adventure.
Have I mentioned it is beyond beautiful and waiting for an appointment is a pleasure. The therapists are experts and really know what they are doing. The spa staff are helpful but never intrusive and the ambiance is beautiful and elegant yet relaxing. The pool is small but quiet and easy on the eyes.
If you are not able to stay in the hotel you can call for an appointment and taxi over to enjoy their menu. If  you go be sure to go for a light lunch or appetizer with cocktail in their restauant or bar. The hotel was renovated and continues to be one of the most beautiful in the world with the usual extraordinary staff who think of everything. 
---