QUI SI BELLA SPA
Eco-Wellness Hideaway   By Bonnie Carroll
Nestled away discretely in Loreto Plaza you will find an amazing sanctuary of health. A venue devoted to external and internal wellness and peace, where local residents and visiting tourists enjoy the utmost in eco-spa treatments performed by skilled therapists utilizing only the finest organic and ecologically-sustainable products.
Upon arrival patrons are given a tour of the dressing rooms, steam room, aromatherapy bath rooms and shower area, where they may change into a robe and slippers and then sit in the the atrium waiting area. It is recommended guests enjoy a eucalyptus steam and Scotch spray shower in preparation of their treatment. After taking patrons to their therapy room the therapist will ask questions to make the experience an individually appointed treatment, depending on injuries, desired pressure or special health concerns of the spa guest.
The 5-Element Mind, Body, Spirit Detox treatment, designed to take your body to optimum health levels through internal and external use of Asian Herbs, is outstanding. Beginning with an East Asian herbal Elixir cocktail, and including the application of body herbs and then wrapped in a warming cocoon, with a final aromatic herbal massage is really an ideal way to experience the ultimate in good health. The Jade Stone Facial, a signature treatment created by Chrys Huynh, would be an ideal finish to a detox treatment. This facial includes the use of precious stones and aroma therapy extracts to provide deep relaxation and a luminous complexion.
Detoxing your feet with a Chinese herbal mixture, followed by a reflexology treatment is a known ancient therapy to bring harmony to the inner organs of the body, and guarantees a quick fix from daily stress. Qui Si Bella also offers manicure and pedicure services that provide the perfect ending to a delightful foot or hand treatment.
The use of ancient healing and modern products to produce optimum health is the goal at Qui Si Bella, and they offer a bevy of treatments that are signature in a true med-spa, including the IonCleanse treatment that releases toxins from the body through osmosis when patrons place their feet in a neutralized unit. Also on their menu are hair loss treatments, colon hydro-therapy, microdermabrasion, galvanic capillary repair treatments and more.
Owner Chrys Huynh has devoted years developing treatments to address the specific needs of every Qui Si Bella patron, and she has established relationships with the creators of respected organic and ecological skin care products including Jurlique, Yon Ka Paris, Pure Fiji, Amazon Herb and Colore Science to ensure patron satisfaction. Many of these products are available in the spa shoppe for patrons to enjoy at home. Spa hours are Monday noon to 7:00 pm, Tuesday – Saturday 10:00 am to 7:00 pm and Sunday 10:00 am to 5:00 pm.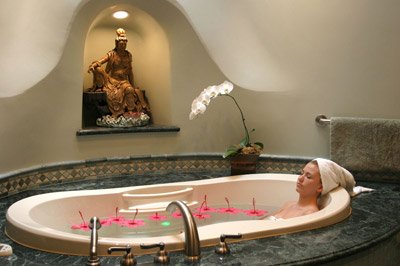 Qui Si Bella Luxury Eco-Wellness Spa
3311 State Street, Santa Barbara, California
805-682-0003,  www.quisibella.com
_____________________________________________________________
Trump International Hotel & Tower New York Unveils New Spa & Treatments,
Salt Pure Pool, State-of-the-Art Business Facilities
Trump International Hotel & Tower® New York has completed the $8 million total renovation of its concourse level, including an expanded Trump Spa™, Salt Pure® pool, reconfigured TechnoGym fitness center, fully equipped meeting room and business center, and waiting rooms.
Ivanka Trump, executive vice president of development of acquisitions of The Trump Organization, oversaw the renovation and designed the new spa, which features three luxurious treatment rooms, including a couple's treatment room, with the therapist's sink and cabinet concealed behind a sliding walnut wall. Beautifully dramatic and inviting, the reception area pairs warm walnut with sleek, polished Palissandro marble from Italy. The hallway walls leading to the treatment rooms feature stone inlaid in a serpentine pattern, while stones set in a scalloped pattern adorn other areas of the spa. The new manicure-pedicure room boasts a hand-painted cherry-blossom wallcovering.
The new men's and women's locker rooms each have a steam room and sauna, backlit mirrors, and full-length lockers. The walls are tiled in shades of blue and gray, with stone floors. The women's locker room also has a vanity area for hair and makeup.
The 55-foot, heated lap pool is now a Salt Pure pool, utilizing 100% pure, natural chlorine made from salt. With the absence of harsh chemicals, the water is 50% clearer than that of an ordinary chlorine pool, red eye is reduced, and the water feels softer. It also provides for a reduced chemical footprint, making it a greener, more sustainable choice. The pool area is now embraced by new walls of pale yellow stone with backlit panels.

Trump Spa has added indulgent new treatments to complement its menu of spa classics. From Moroccanoil, the Ultimate Hydrating Treatment combines a Scalp Treatment and Hydrating Hair Mask with reflexology and hot stone massage for neck, shoulders, feet and hands. Inspired by traditional hammams, the Moroccan Ritual combines a full-body dry-brush exfoliation, Intense Hydrating Treatment with hot stone massage, Body Buff exfoliation for feet and hands, and Scalp Treatment and  Hydrating Mask to leave guests refreshed and revitalized. From Germaine De Capuccini, the Harmonizing Gemstone Treatment is a rejuvenating therapy that creates balance utilizing finely crushed gems and massage, while the Revitalizing Pearl Treatment nourishes and detoxifies the body using crushed pearls and a message of hot volcanic energy stones. Meanwhile, the aromatic Nail Therapy and shower amenities from Zents adds a new dimension to the spa experience. Trump Spa is available only to registered guests of Trump New York.
The ideal venue for small group looking for convenient meeting facilities, or local businesses in need of an offsite location, the new Trump Conference Room is outfitted with state-of-the art video conferencing technology and offers gourmet catering by Jean Georges, the hotel's signature Forbes Five-Star, AAA Five-Diamond Restaurant.
The new business center is open to guests 24 hours a day/seven days a week, accommodating up to 10 people and featuring four individual computer stations. In addition, the hotel's signature Trump Attaché™ service is available to guests, providing comprehensive business and personal services.
Trump New York is currently celebrating its 15th anniversary with its Crystal Anniversary Package and a short film. The hotel completed a spectacular $30 million renovation of its 176 luxury guest rooms and suites in late 2010.
_______________________________________________________________