WHEELS  .   .    .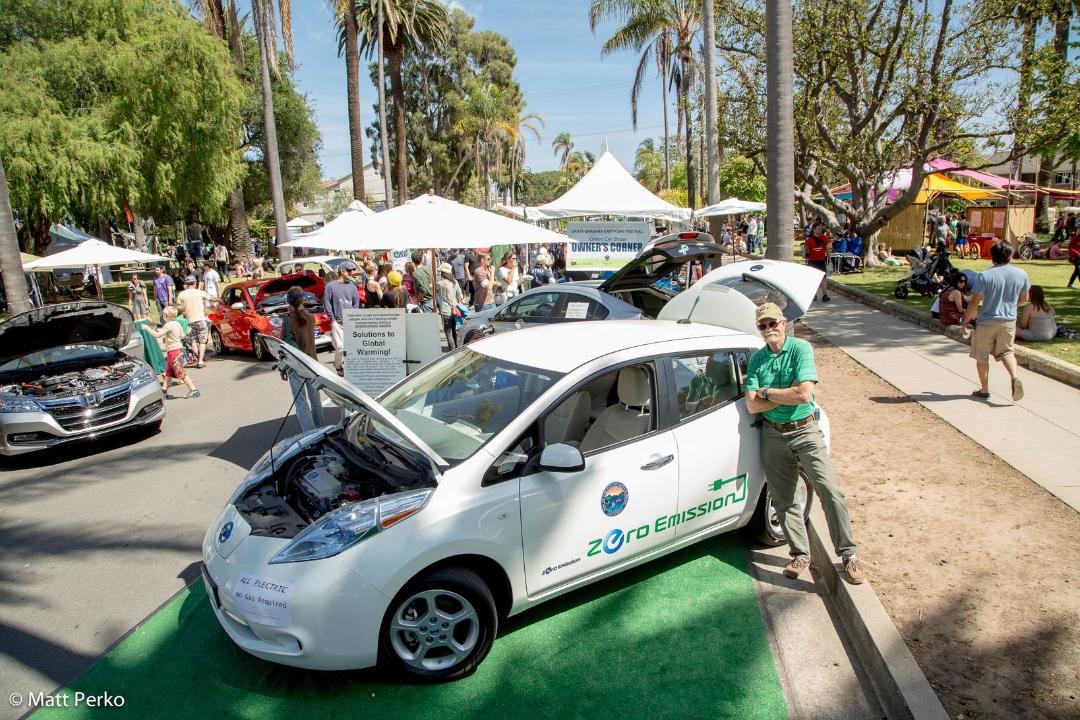 Accelerate to Zero-Emission Transportation With the Community Environmental Council  During National Drive Electric Week
EV101 Webinar "Breaking Up With Fossil Fuels Series: EVs Are For Everyone" on Thursday, September 21

Free EV Test Drives,  showcases, and one-on-one consultation about incentive programs, rebates and how to select the right vehicle
National Drive Electric Week is  September 22 - October 1, and the Community Environmental Council (CEC) is leading efforts on the Central Coast for this nationwide initiative to raise awareness of the many benefits of electric vehicles (EVs). National Drive Electric Week  is the perfect time to explore the world of EVs—and CEC's Electrify Your Life service team is presenting both online and in-person events to continue to educate and support individuals and businesses in making the switch to clean, sustainable transportation.
This year, CEC kicks off National Drive Electric Week on September 21 with its annual "EV101" webinar, Electric Vehicles (EVs) For Everyone. During this event, experts will describe the benefits of electric vehicles (EVs) over gas-powered cars, provide the latest information on the types of EVs on the market, explain the complexities of EV charging, and break down incentives and rebates available to help make the purchasing process more affordable.  
Efforts continue all week long with free community events featuring EV test drives, showcases and one-on-one consultation with CEC team members about EV rebates, incentive programs and more.
WEBINAR: BREAKING UP WITH FOSSIL FUELS - ELECTRIC VEHICLES ARE FOR EVERYONE (EV101)
September 21, from 12:00 to 1:15 p.m.
Virtual and Offered in English and Spanish, hosted by CEC 
Details & registration here: https://cecsb.org/events/electric-vehicles-evs-are-for-everyone-vehculos-elctricos-ve-para-todos 
EV SHOWCASE AT DOWNTOWN FRIDAYS  SANTA MARIA
September 22, from 5:30 to 8:30 p.m.
Town Center West Parking Lot, Santa Maria
ELECTRIFY YOUR LIFE EXPO & EV SHOWCASE
Sep 28, from 4:00 to 9:00 p.m.
SLO Library Conference Room (995 Palm Street, San Luis Obispo)
SLO EV RIDE & DRIVE
Sep 30, from 10:00 a.m. to 3:00 p.m.
Prefumo Creek Commons (11970 Los Osos Valley Road, San Luis Obispo)
THE PORT OF HUENEME BANANA FESTIVAL
Sep 30, from 10:00 a.m. to 6:00 p.m.
The Port of Hueneme, (105 E Port Hueneme Road, Port Hueneme)
VENTURA COUNTY EV SHOWCASE
Oct 01, from 12:30 to 4:30 p.m.
Ventura Harbor (1591 Spinnaker Drive, Main Lawn, Ventura)
CEC is helping build a robust and growing infrastructure for electric vehicle charging throughout the Central Coast,  and providing one-on-one assistance to single-family homeowners, property managers, businesses, and nonprofits to help make going electric affordable.This includes partnering with GRID Alternatives to promote equitable EV infrastructure through advocacy efforts and equity programs. CEC is also collaborating with Access Clean CA to help provide greater awareness of available financial savings in an effort to increase the number of low-to-moderate-income individuals owning or leasing an EV, and also increase the number of EV charger installation projects in low-to-moderate-income communities.
Through it's Electrify Your Life service (in Spanish here), CEC offers individuals and organizations personalized, one-on-one support (in English and Spanish) navigating and understanding incentives that can be "stacked" together to make going electric affordable (including for EV purchase/lease, EV Charger installation, solar for apartments, and energy efficiency upgrades). To date, over 500  active assistance requests have been submitted with over 40 residents making the switch to Electrify their Life thanks to the CEC. 
For more information on how to Electrify Your Life and to request assistance, click here: cecsb.org/EYL 
About the Community Environmental Council (CEC)
CEC advances rapid and equitable solutions to the climate crisis—including ambitious zero carbon goals, drawdown of excess carbon, and protection against the impacts of climate change. CEC was recognized as a 2020 California Nonprofit of the Year and a City of Santa Barbara Climate Hero, and is led by CEO Sigrid Wright who was recently named 2022 Congressional Woman of the Year. CEC has worked since 1970 to incubate and innovate real life environmental solutions that directly affect the California Central Coast. Our programs lead to clean transportation, solar and other energy efficiency improvements, resilient food systems and reduction of single-use plastic. Find CEC on the web at CECSB.org and on Facebook.com/CECSB, Instagram.com/CEC_SB, Twitter.com/CECSB, and Linkedin.com/company/cecsb/.

*   *    *
---