WHEELS . . .
ESSZIMMER IN MUNICH'S BMW WELT
BEAUTIFUL AUTOS AND WINNING FRENCH CUISINE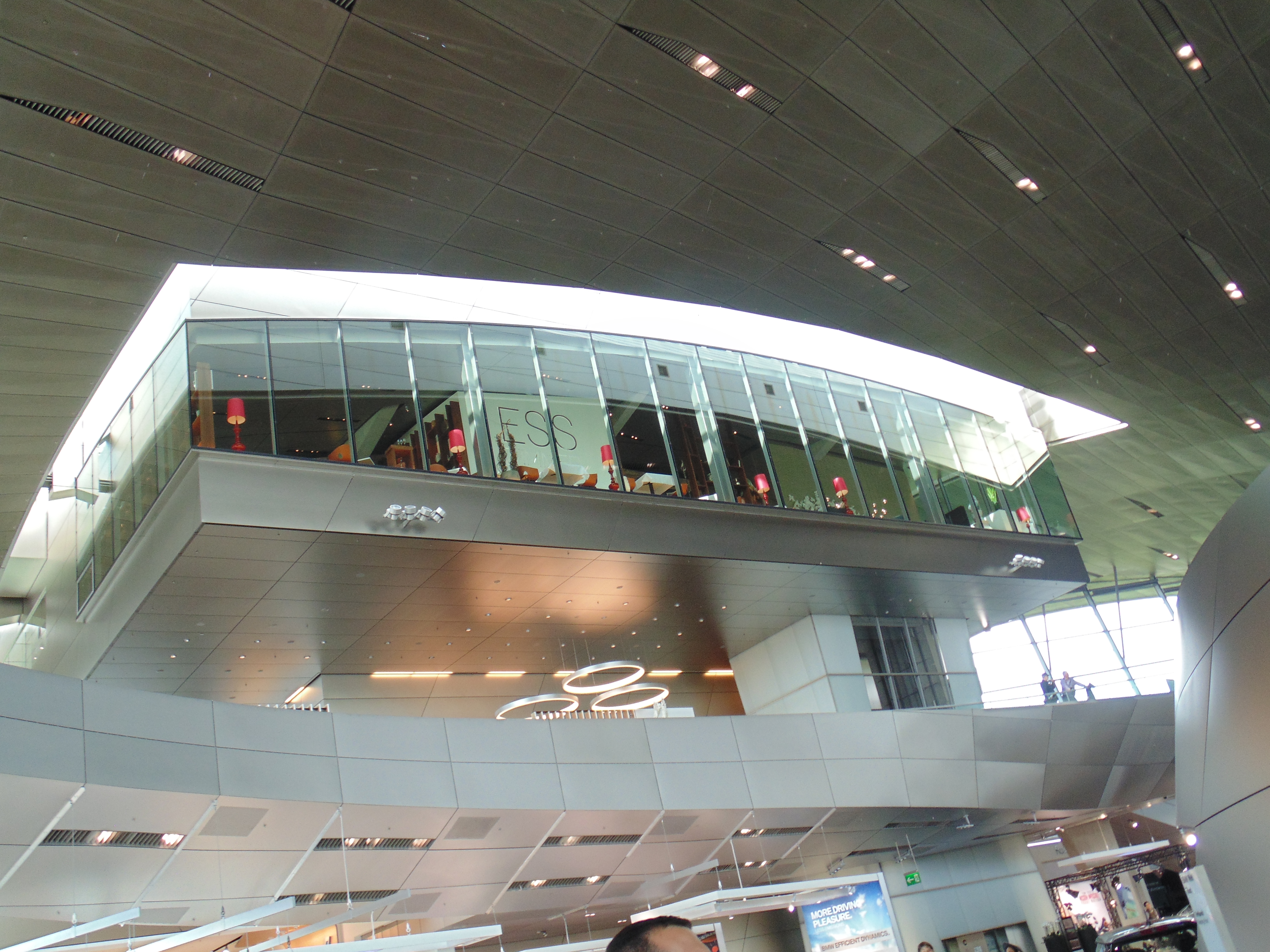 Welcome to 'Bobby Brauer's living room'. The EssZimmer on the third floor of BMW Welt is Munich's latest gourmet address to excite all the senses. Bobby Bräuer has trained with some of the biggest names in German high-end cuisine, among them Otto Koch, Andre Jäger, Dieter Müller and Eckart Witzigmann, and since 2013 he is the head chef at EssZimmer on the third floor of the BMW Welt in Munich.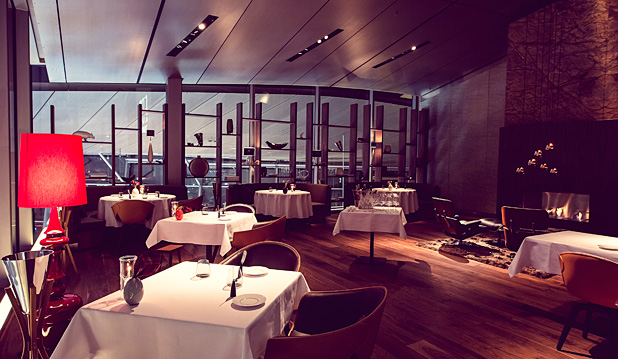 The atmosphere in the restaurant is cozy and luxurious, with an open fire, fine dark leather accents and warm colors. It's a welcoming venue that overlooks the fantastic BMW Welt showroom showcasing the latest and most beautiful IBM, Mini and Rolls Royce products. Thanks to top chef Bobby Bräuer, an exquisite dining experience is guaranteed, with a menu founded on classic French cuisine with Mediterranean and regional inspiration, using the finest products and produce that is prepared by the chef's creative culinary team. The culinary experience is coupled with first-class service and excellent wine pairing.
Less than two years after it opened and one year after it was awarded its first star, director of cuisine Bobby Bräuer and his team received another honor in 2014 – in the form of its second star in the Michelin Guide. With this award, the EssZimmer has now advanced to the level of Munich's top restaurants.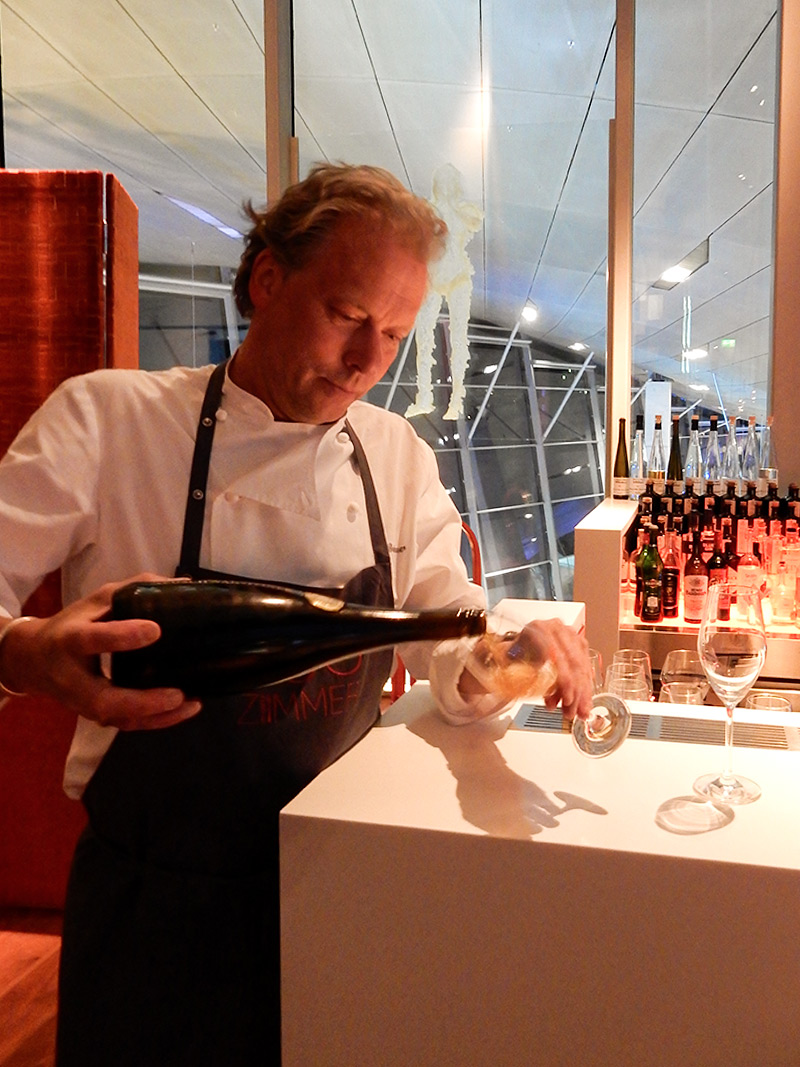 Director of Cuisine Bobby Bräuer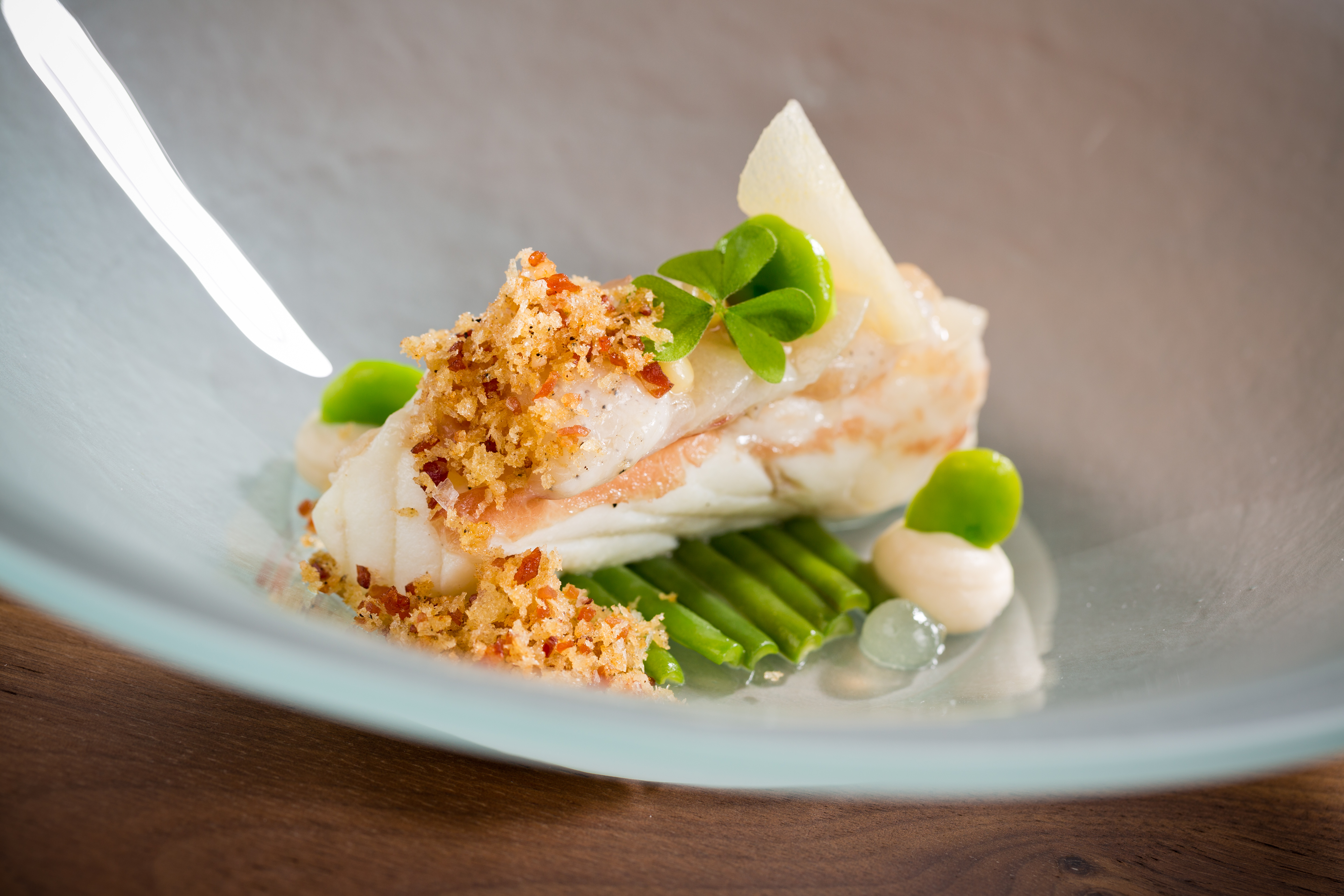 Menu items include Canard de Challans Sesame / Plum 28 Red Mullet Peas / Feta / Oregano 46 Monkfish Calamaretti / Saffron / Chin of Pork 52 Gooseliver Red Curry / Cauliflower 36 Venison of the Vosges Jerusalem Artichoke / Ceps 58 Raw Milk Cheese / Maître Antony 16 Zaziki Cucumber / Fermented Garlic 12 Passion Fruit / Avocado / Yuzu 16 5 Courses 130 / 6 Courses 145 / 7 Courses 160 / 8 Courses 175 (Euro).
Michelin 2-star-chef Bobby Bräuer likes fruity and delicious Neuschwansteiner, as well as wine pairings that include 2012 Kirchspiel Riesling, trocken Weingut Keller, Rheinhessen 15, 2013 Chardonnay Collezione Privata Isole e Olena, Toskana 13, 2013 Vidonia Suertes del Marqués, Teneriffa 12, 2007 Gewürztraminer "Hengst"Grand Cr Domaine Josmeyer, Elsaß 16, 2002 Clos des Cistes Domaine Peyre Rose, Coteaux du Langedoc 20, 2012 Beerenauslese Cuvée "frech & frey" Weingut Frey, Pfalz 13 (euros).
As a special service for all guests, an exclusive, free chauffeur service is available to take patrons home anywhere in the city area. Whether in an a BMW 7 Series, BMW 5 Series or another BMW model, this gives a stylish conclusion to a memorable visit to the EssZimmer. Building opening hours: Monday - Saturday: 7.30 am - 12 midnight - Sunday: 9.00 am - 12 midnight.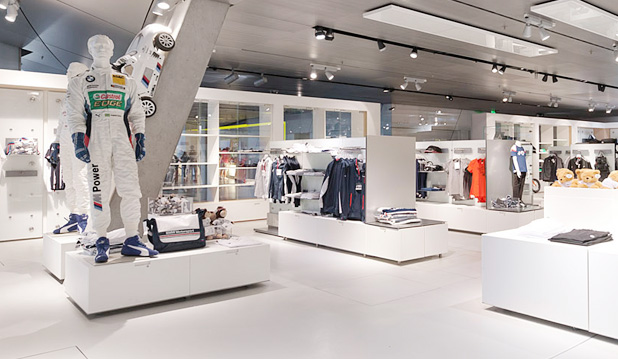 The BMW Welt is an adventure no one should miss when visiting Munich. This incredibly beautiful structure showcases the newest autos and motor cycles made by the company, and features a great gift shop filled with everything BMW to take home as gifts. There is a cafe on the lower level to enjoy a delicious German Pastry and several visitor centers with endless information on BMW Germany. I enjoyed trying on a few of these beautiful autos for size, and loved being there.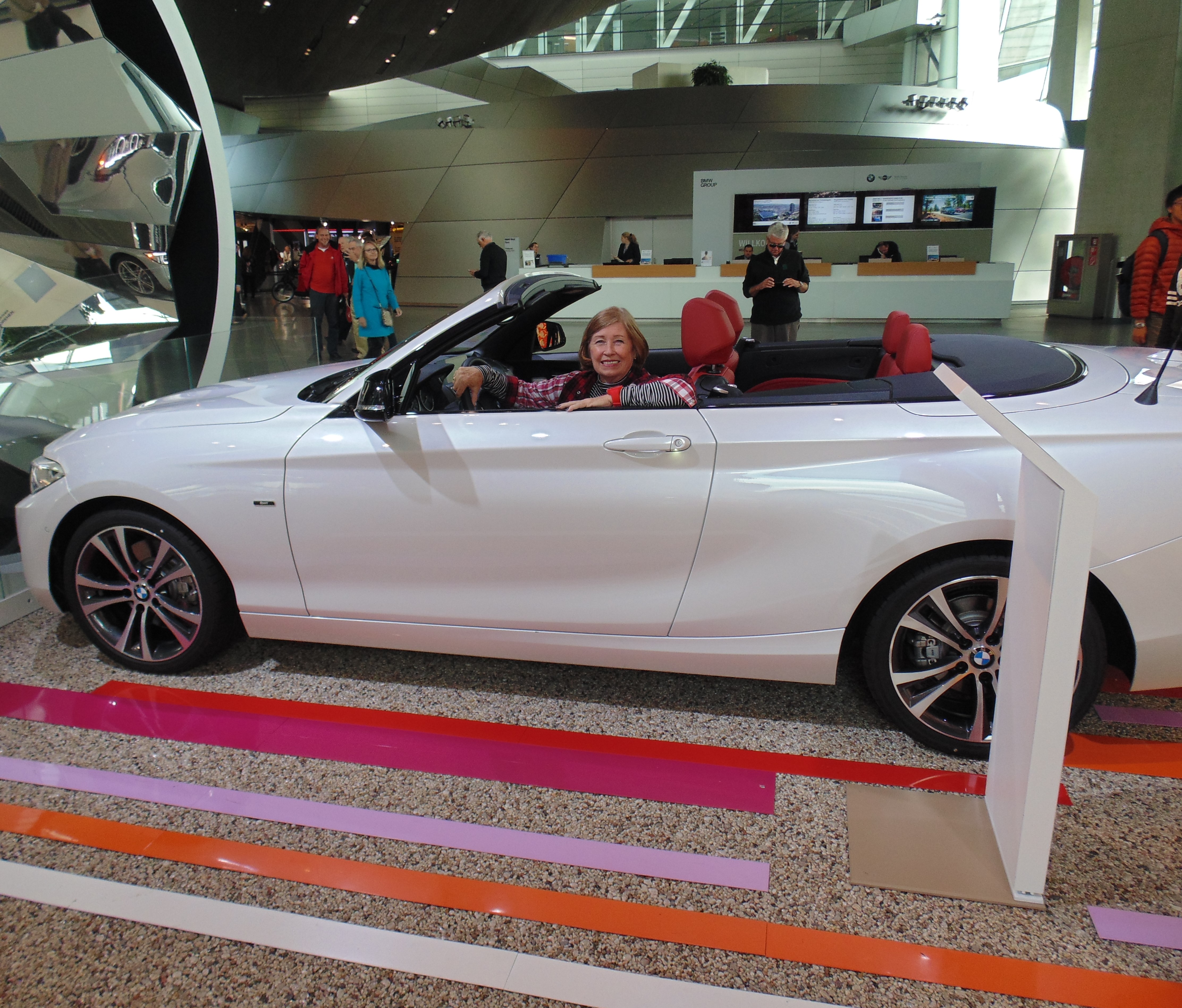 Am Olympiapark 1/80809 Munchen/Tel. 089 35 89 91 8114

Mail: esszinner.bmw-welt@feinkost-kaefer.de.
_______________________________________________________________
____________________________________________________________________
TRAVEL  .  .   .
VENICE SIMPLON-ORIENT-EXPRESS
A Luxury Train Comes to Berlin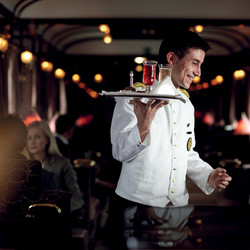 On June 2, 2016, the legendary Venice Simplon-Orient-Express embarks on a new route linking London and Paris with Berlin, with its iconic monuments of living history. Traveling in the beautifully restored art-deco carriages brings back the glamour of the roaring 20s, while enjoying all the amenities of a luxury train - such as elegant dining cars and personal stewards attending the sleeper cabins. Rates start from $3,490 per person each way, incl. meals.
A work of art in itself and a true Art Deco icon, the legendary Venice Simplon-Orient-Express train offers one of the most celebrated and romantic journeys in the world. It is an adventure in style that crisscrosses Europe, rolling through sublime scenery to some of the continent's most alluring cities.

Delightful vintage cabins, gastronomic cuisine and lively onboard entertainment make a journey on this luxury train one of the world's finest travel experiences. The golden age of travel may have been in the Roaring Twenties, but the art of journeying in style is still alive and well today.
That sense of wonder can still be felt on board the Venice Simplon-Orient-Express train, where travel is about relishing the experience. Guests may savour the beautiful surroundings, while marveling at the opulent interiors, sparkling crystal, plush fabrics and polished woods.
Travelers connect with fascinating people, who are like-minded adventurers who are devotees of the adventure of travel. Guests are invited to look ahead with unbridled delight and prepare to step back into a more sophisticated age and a gentler pace of life.
The legendary Venice Simplon-Orient-Express embarks on their new route linking London with Paris and Berlin on June 2, 2016. Your personal stewards, exquisiteart-deco carriages and elegand dining cars await you.
_____________________________________________________
Top Car Rental Companies in Canada
Whether you are planning to travel for leisure, sight-seeing, or are simply in need of a vehicle temporarily, the rental car company you choose can be a big factor in making or breaking your experience.
It has often been said that it is not so much about the destination but the journey. While the truth of this may vary from person to person, making sure the journey itself is enjoyable and hassle-free is at the very least an important aspect in your overall renting experience. That is why it is important to thoroughly research your car rental company options, ask questions, and of course read reviews from websites unaffiliated with the companies in question. Reading the reviews critically rather than looking solely at the ratings is important as well, as what may be a problem for some may not actually be a problem for you. They can also often serve as reminders or warnings for things to check or confirm with the given company before renting a vehicle.
There are many car rental companies available in Canada. Some are local and specific to a city or province, and many are internationally recognized options spread throughout the country. Although local Canadian companies tend to operate in specific areas only rather than nation-wide, they are always great to support and are often much cheaper than international alternatives. It can seem overwhelming to choose the right pick for your specific need, but based on reviews and the advantages claimed by the various companies, here is a list of the top car rental companies in Canada to help narrow down your choices:
Location Court-Terme (Montreal)
With locations throughout Montreal, including at the airport, Location Court-Terme is a local Canadian car rental company that has outstanding reviews. With much better pricing than the international options, if you are in Montreal make sure to use this customer-approved company. They also offer 24/7 emergency rentals, which are delivered exactly where you need them. Among its exceptional customer service, those who have used this company appreciate the low prices, clean cars, variety, as well as the lack of any hidden fees.
Wheels 4 Rent (Toronto)
Wheels 4 Rent is a Canadian car rental company based in Kensington. They offer low prices, have friendly staff, offer great services, and have very positive reviews from those who have used them. They also have many deals on trucks as well.
Enterprise Rent-A-Car is an internationally recognized brand that has locations in 500 areas in Canada, including airports. It was ranked No.1 for the Best Car Rental Company in 2015 and for good reason. Customers of the service seem to be unanimous in being thoroughly satisfied with this company. The customer service has been one of the top aspects people are pleased with, as well as the quality of cars at affordable prices. Enterprise also has the option of hybrid cars, which has set it apart from other companies. The most important aspect of this company, however, seems to be the consistency in its great service and quality, creating a sense of loyalty in customers who have used Enterprise.
Hertz has more of a mix of reviews compared with Enterprise, but the negative reviews in Canada are focused more on customer service issues at specific locations. As it is a big chain, there are many locations and a lot of cars available. The reviews on the cars themselves and offers are generally positive, and some locations are also mentioned as having exceptional customer service. As it is a busier company, there might be longer lines depending on when you arrive. Hertz also offer military discounts and have a wider range of options available for those with disabilities.
Budget Rent A Car generally has more positive than negative reviews for most of their locations in Canada on average. The customers who have been happy with the company have praised the excellent in-store customer service, as well as the quality and range of cars available. However, the negative experiences have mostly resulted from hidden or unexpected fees, and price add-ons during busy seasons when vehicles were limited. If you are planning to use this service, based on the warnings of others, make sure to confirm all possible costs before renting the vehicle, and you will be more likely to join those who have had a very positive experience with them!
There are many more car rental companies available throughout Canada, but the above companies are the top choices based on reviews and services offered. Regardless of which one you choose, it is always wise to check the reviews on the specific location you plan to rent from, and to take note of any former complaints or suggestions in order to avoid any potential problems!
Sona Bulgadaryan
---