TWO YOU CAN COUNT ON WHEREVER THE
DOW DECIDES TO GO
By Laurence Vittes
 
As I write this, the various financial indicators, including gas prices, are still swinging wildly from pillar to post and the presidential election is ahead of us. While some are lucky to be untroubled by such events, however, others are preferring to hedge their bets and buy smart, automotively speaking.
Two of the smartest buys come from the burgeoning BMW empire. One is the adorable Mini Cooper Clubman, made in England, which makes driving fun again, both in the city and on the highway. And yet it never loses sight of the practical necessities of life, like shopping for everything from groceries to antique mirrors. If we used the wonderful term, "greengrocers." in this country, maybe for the ubiquitous farmers' markets which have become a way of life for so many, this Clubman, with its extended proportions and expanded interior space, would be fall squarely into the "greengrocers van" category.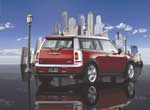 While the Mini Cooper Clubman looks a lot like a slightly elongated version of the standard Mini Cooper, its rear split-doors provide a striking visual contrast. In keeping with the retro theme, the Clubman's rear look is modeled along the design of the rear doors found in such 1960s Minis as the Austin Mini Countryman, the Morris Minor Traveller and the Mini Clubman Estate. Practically speaking, the Split Rear Barn Doors, as they are formally called, provide a wide, open access to the luggage area.
Currently the Mini Coopers share the retro market with cute American models from Chrysler (its PT Cruiser) and Chevrolet (its HHR, standing for for Heritage High Roof, a reference to the early high-roofed Suburbans and panel trucks that inspired its design). Qualitatively, the Mini Coopers are in a league of their own, and by a wide margin. If you just want to talk similar utility and modern design, of course, then all of the major manufacturers make models which could easily suit you. But that's another article.
Just keep in mind that the whole Mini line, whether modestly powered or ready to snarl on the open road, is one of the great achievements of the new century. If you think you'd like something practical, fun, and inexpensive to run, and you're not planning to haul around a pair of six-footers in the back seat for more than a short ride here and there, go and test drive one. I guarantee that you won't be sorry!
Of course, BMW still makes BMWs.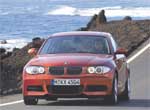 And one of their newest and most superlative achievements is the BMW 1 Series Coupe which, BMW says, draws inspiration from the iconic BMWs of 40 years ago. Combining sporty rear-wheel-drive dynamics, agile handling, a range of wonderfully responsive, powerful engines and outstanding interior comfort, the 1 Series Coupe is intended to reinvent the niche created tentatively in 1966 by the BMW 1600 and definitely two years later by the 2002, the two-door sedan which cemented the company's reputation for compact sporting sedans.
The 1 Series Coupe is available in two versions, the smooth 128i (which I had the great pleasure of driving)) and the vastly more powerful 135i featuring BMW's twin-turbocharged 3.0-liter inline six-cylinder engine that produces 300 horsepower and an incredible 300 lb-ft of torque from as low as 1,400 rpm.
As someone who owned both a 2002 when it first was introduced, I know what I speak of when I say that the new Series I has much of the same feel as its predecessor. It makes driving up the coast to Santa Barbara for lunch with a friend as easy as driving to Sawtelle for exquisite Japanese tapas at Orris.
The new 1 Series Coupe combines unique, dynamic and unmistakable design elements with a powerful and muscular body. But the 128i at least seems pretty domesticated and even docile; it's just when you want to get somewhere in a hurry or flex your sporting muscles just a bit, it's totally ready, eager and willing to be your partner in crime.
It's also practical. The interior is extremely comfortable in a high-quality, sophisticated way including the usual luxury upholstery and color choices. A 60/40 split rear seat is standard. The control console for the entertainment and air conditioning functions is nicely integrated into the dash and, although I'm not a huge fan of the iDrive system which, if you opt for the optional navigation system, controls the communication, air conditioning, entertainment and navigation functions, it doesn't take too much time or brainpower to get the feel of it.
If you're into high-tech, you can load the 128i up with SIRIUS satellite radio (check out channel 77, Broadway!!!), HD radio, BMW's Premium Sound system and Bluetooth interface. For simple and straightforward connection of an MP3 player, an Auxiliary input jack is standard, and a USB port for direct control of an Apple iPod or iPhone media player is available as an option.
And, like the Mini Cooper Clubman, this is one safe car to drive.
Last word: Visit Michael Karesh's astounding TrueDelta.com website for current information, reviews and insights about what constitutes value these days, and which manufacturers offer it. Ascertaining value in an automobile is never as straightforward as we would like it to be. So, don't be afraid to make some preliminary choices, and then let your heart at least partly influence your head. After all, for most of us in Southern California, driving is a large and important part not only of the practical but of the emotional side of our lives.
---
BEST LUXURY VACATION IDEA
FOR THE HOLIDAY SEASON!
Irish Travel Company offers discounted chauffeured tours for those who love the lavish life at a reasonable price
Travel Solutions Ireland is offering three new chauffeured tour specials at more than 15% off, just in time for the family-filled holiday season.  The Lords and Ladies Tour is now only €1365 per person, the Irish Highlights tour is €898, and A Break in Dublin is €378.  All of the tours are meant for four people or more, but they also accommodate couples and have corresponding rates for twosomes (Lords and Ladies Tour : €1864 per person sharing; Irish Highlights: €1189 per person sharing; A Break in Dublin: €442 per person sharing).
The Lords and Ladies Tour will show travelers the regal side of Ireland, taking them to famous castles, picturesque medieval villages and scenery such as Adare, the Ring of Kerry, and Blarney Castle.  In the Irish Highlights Tour, travelers will visit the most famous sites in Ireland such as Dublin, Galway, and the Cliffs of Moher.  The Break in Dublin is the perfect getaway for a short and fun-filled getaway to Ireland's capital. 
Travel Solutions Ireland's chauffeured tours are the most sumptuous way to travel to Ireland, with custom-tailored vacations and chauffeurs that are courteous, reliable and eager to share their knowledge.  They allow you to travel a foreign country without the worry of gas, parking, tolls or car insurance!  Opulence and comfort are the key words here, for consumers of any budget with an eye for quality.
Travel Solutions Ireland was founded in 1971 in response to an ever-increasing demand for tours in Ireland.  The company offers a wide variety of top-notch tours, from self-driven to chauffeured, from singles travel to groups of 30 or more. 
---