2014 Auto News...
MASERATI ON THE MOVE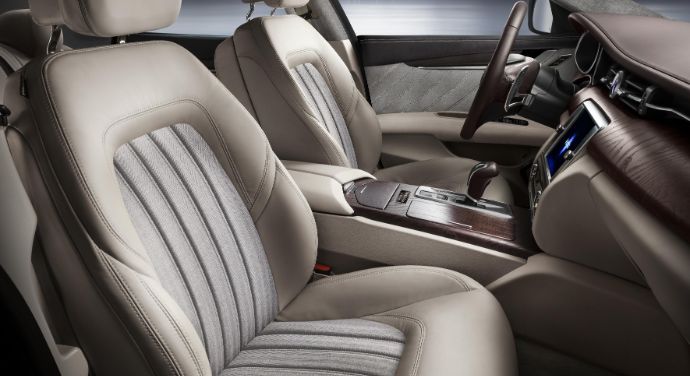 Following the highly successful launch of the Quattroporte at the Detroit Auto Show in January, and that of the Ghibli at the Shanghai show in mid-April, Maserati is expanding its range once again with the introduction of the Quattroporte diesel (not available in North America).
An exclusive concept car signed by Zegna is also making its first appearance alongside the new diesel. The Zegna version will feature an exclusive color scheme, special mirror-polished rims on-tone and prestigious interiors upholstered in fabrics made by the famous Italian fashion house.
Maserati's stand at Frankfurt will also be graced by the complete Ghibli range, making its European debut, and by the four-seater GranTurismo MC first unveiled at the Geneva Motor Show in March.
MASERATI QUATTROPORTE BY ERMENEGILDO ZEGNA
The Maserati Quattroporte Ermenegildo Zegna Limited Edition concept unveiled at the Frankfurt Motor Show features a unique new look in color scheme, materials and finish. The car, presented as a limited edition concept, is intended for development into a production version with the same personality and quality of the current range, yet enhancing its exclusivity. Ermenegildo Zegna's concept is the result of close collaboration between two companies that are linked by history, tradition and spirit of exclusiveness.
The exterior of the Maserati Quattroporte Ermenegildo Zegna Limited Edition concept car features a special effect paint finish that simulates the fluidity and purity of metal, by using ultra-fine aluminium pigments. A gloss black primer amplifies the brilliance of aluminium pigments and creates a sensation of depth. The platinum metal-color effect finish is warmly nuanced to express the car's classic and sophisticated, yet technically advanced character. The impressive liquid effect of the paint finish emphasises the sinuous lines of the body and accentuates the way in which one section flows into the next.
This special paint also applies to the 20-inch Mercurio rims, with an elegant mirror-polished finish that creates a chromatic contrast, both technical and sporty. The material and chromatic research concept of the Maserati Quattroporte Ermenegildo Zegna Limited Edition is based on a play between the classical and the contemporary.

A leading role in this concept car is played by its interior. Classical warm hues like moka and greige are re-interpreted in a modern key to emulate Zegna's latest men's fashion collections, conveying a formal, sophisticated character. Interior components such as seats, door panels and roof lining are finished in genuine soft leather, in addition to a velvet-smooth, bright fabric that, due to Zegna's vast experience and know-how, guarantees the level of performance needed for automotive applications. The most interesting challenge posed by the project was precisely to develop a fabric by Zegna for automotive applications, with the look of formal men's wear. The fabric therefore had to have a typical masculine herringbone pattern and traditional weave, and also needed to have the feel, softness and prestige typical of Zegna cloth. Thanks to the unique fabric created especially for the Quattroporte and offered in a warm greige tint with soft moka and greige leather, and thanks also to a new warm titanium treatment and antique-look matt walnut finish, the car's exclusive, harmonious and balanced interior is certain to satisfy the most refined and sophisticated customer.
Two precious plates obtained from aluminium ingot, bearing the words "Ermenegildo Zegna Exclusively for Maserati," announce and promote the collaboration between the two companies. One plate is located on the outside of the pillar while the other, personalized with a limited series number, is applied to the central console. Hidden behind the sun visor, a real fabric label, made exactly like those sewn into the linings of Zegna suits, provides the customer with another discreet but distinctive indication of the level of care and attention dedicated to the design and finish of every aspect of this car. 

The Maserati Quattroporte Ermenegildo Zegna Limited Edition is equipped with a V8 twin-turbo engine with 523 hp and a torque of 524 ft-lb, capable of a top speed of 191 mph (307 km/h) and an acceleration of zero-to 60 mph in just 4.6 seconds (0 to 100 km/h in 4.7 seconds).
__________________________________________________________________
 Wheels Travel
Sacred Rides Invites Mountain Bikers to Explore
Peru's Incan Culture by Foot and Bike
From Andes to Amazon Rainforest
 
TORONTO, Ontario, Dec. 19, 2013 – Sacred Rides, the company that helped pioneer single track mountain bike tours in 13 remote and exotic destinations internationally and in Canada, announces a new-for-2014 10-day whirlwind exploration of Incan culture by foot and mountain bike.
 

A scheduled May 31, 2014, departure travels from the foothills of the Andes to Machu Picchu and then into the Amazon lowlands, enroute experiencing remote villages and Inca sites that are virtually untouched by most tourists. Custom departures may be scheduled from May through August with as few as four riders.
 
The per person double rate for Cusco to Amazon trip is $3,195 CAD per person, including roundtrip Lima-Cusco flights, nine nights accommodation (one night camping), breakfasts, lunches and snacks, four dinners in the jungle, airport transfers, entrance to national parks, a boat ride to Pantiacolta Lodge, and two local English-speaking guides. A portion of the trip fee assists local community projects. (Not included are entrance fees for Machu Picchu.)
 
"This itinerary serves up a heaping portion of history, culture and outdoor adventure away from the tourist hordes and into a side of Peru little known to travelers," says Mike Brcic, founder of Sacred Rides http://www.sacredrides.com/. He suggests that prospective travelers for this trip be avid hikers with some mountain biking experience. Guests should be comfortable riding dirt roads and relatively easy single-track for up to four hours or 40km a day.
 

Traveling through remote villages visitors will hear Quechua (the language of the Incas) spoken, visit historic sites along an Inca trail network that makes for what he calls "the ultimate mountain biking and hiking adventure, crisscrossing some seriously spectacular scenery along the way."
 
One of the national parks on the itinerary is Manu National Park, a UNESCO Biosphere Reserve with some of earth's most remarkable biodiversity. The other parks are Moray and Maras.
 
The journey begins in Cusco with a bike climb to the Inca site of Saqsayhuaman before continuing to climb and passing other lesser-known sites, riding mostly dirt roads and easy single-track. Another day explores Chinchero, one of the most important Inca sites near the Sacred Valley, located at an altitude of 3,700m (12,139 ft.) From here, it's possible to see the entire plateau of Maras and the Vilcanota's Mountain Range with its +5,000 meter glaciers like Chicon and Veronica. Crossing agricultural fields bordering Lake Huaypo, guests reach the Inca site of Moray at an altitude of 3,600m (11,811 ft.), followed by a ride on an Inca trail to the town of Maras and its Inca Salt Mines. From Ollantaytambo guests have the option (costs not included in the rate) to divert for a day in Machu Picchu.
 

Riders transfer by van to the mountain pass that divides the Sacred Valley the eastern slope of the Andes and ultimately, the Amazon. A bike ride here begins at an altitude of 3,700m (12,139ft.) descending to the small town of Paucartambo at 2,900m (9,514ft.). A bus transports bikes and riders to Manu National Park and Tres Cruces (altitude 3,630m (11,909ft.) for a camping overnight before a spectacular sunrise and a ride into the Amazon jungle and a hike to find Cock of the Rocks, Peru's national bird. The next day the humidity mounts while traversing the jungle to the village of Atalaya and a boat ride to Pantiacolla Lodge. Enroute will be wildlife sightings while cruising down the Alto Madre de Dios River. One morning is a trail hike for spotting monkeys, frogs, tapirs and capybaras, among others.

About Sacred Rides
Ranked "#1 mountain bike tour operator on Earth" by National Geographic editors, Sacred Rides offers small-group, single-track mountain bike adventures and skills camps in 13 destinations worldwide. Historically known as the company for serious fat-tire fanatics, in 2013 the company has launched a new line of trips focusing on novice bikers who have little or no experience with mountain biking, with an infusion of region-dependent multi-sport activities. In all of its destinations Sacred Rides emphasizes responsible tourism that makes direct, meaningful contributions to local communities.
 
For More Information, Tour Itineraries and Reservations Contact:
Sacred Rides 1-888-423-7849 / +1.647.999.7955 / Website: http://sacredrides.com/
---