DRIVING AMERICAN FOR PRIDE AND PLEASURE
By Laurence Vittes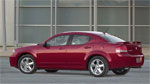 Despite the considerable virtues of cars from across the seas, there's something about driving an American car that delivers both pride and pleasure. The all-new 2008 Dodge Avenger, intended to compete in the crowded mid-size segment, is just such an animal.
The 2008 Dodge Avenger, introduced last September, not only feels good and is rewarding to drive, it claims fuel efficiency of 30 miles per gallon on the highway. Avenger also offers all-wheel-drive capability combined with a sport-tuned suspension, performance steering and Electronic Stability Program (ESP) with traction control, all of which combine to give Avenger its on-road performance attitude.
Depending on which model you buy and which engine is fitted, you can enjoy the benefits of Avenger's all-wheel-drive system which works on demand, driving only the front wheels until power to the rear wheels is needed. All-wheel drive also is used on dry pavement between speeds of 25 and 65 mph to enhance handling during performance driving. This system provides added traction on snow, ice and other low-traction surfaces without having to be switched on and off. Not much weather if you stay in and around L.A., but if you enjoy visiting the mountains, the sea and the desert, you're going to be glad you bought this Dodge.
In addition to the good gas mileage at highway cruising speeds, the 2.4-liter four-cylinder "world engine" sold in California, New York, Massachusetts, Vermont, Maine, Connecticut, Pennsylvania and Rhode Island meet the clean tailpipe and evaporative standards required to certify the Avenger as a Partial Zero Emission Vehicle (PZEV). To accomplish this, the engine, exhaust and fuel system hardware were all upgraded for the 2008 model year
Looking good and feeling fine
As far as styling goes, the Avenger's quasi-aggressive exterior lines make it one of the best-looking cars on the road. The brand's signature crosshair grille and large, modern quad headlamps housed in black add to what some call a menacing glare, others call a serious stare. I like even better the Avenger's muscular rear shoulders, large wheels and tires and sleek rear spoiler embody the Dodge brand attributes of bold, powerful and capable. It almost looks like it's pouncing forward, like a big cat, even when it's at a standstill.
The interior provides comfortable seating for the driver and as many as four passengers. Drivers sit 2.5 inches higher than they did in Dodge's previous mid-size sedan, giving them a command-of-the-road seating position. The interior cabin also is extremely spacious with 100.5 cu. ft. of room, which is an additional 7 cubic feet of interior passenger volume compared with the vehicle it replaces. There are 2.5 inches more head room, 1.2 inches more shoulder room and an inch more hip room in the front seat. Luggage volume in the trunk is a competitive 13.41 cubic feet.
I drove the Avenger R/T with its more powerful and responsive if thirstier standard 3.5-liter V-6 engine. Driving carefully, I was able to get 16 mpg in the city and a pretty impressive 26 mpg on the highway.
The Avenger is loaded with plenty of features that provide outstanding value to the buyer, including a good assortment of safety equipment and choices of different entertainment systems, seat fabrics, safety, navigation and audio systems, and even aimable LED lights in front and rear seats.
Take it for a test drive. You'll be surprised by how much the Dodge Avenger can do!
Where we went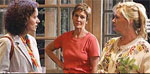 My wife and I had fun driving our test drive Avenger into West Hollywood, Melrose way, to check out "Snake in the Grass," a whodunit play by British playwright Alan Acykbourn. It was at the Matrix Theatre, where I reviewed my first play for the Hollywood Reporter years ago. As I said in my review for the Reporter, this "delicious murder mystery" was "no place for Miss Marple."
Most surprising of all, what was delicious for most of the night turned hair-raisingly scary for a few blood-curdling minutes towards the end of the play. Grown men hid their eyes, and young women clutched each other in shivering terror (I clutched my wife). Luckily, it all worked out for the best -- for most of the characters, that is -- and we were very glad that the Avenger was waiting for us. In fact, we took the long way home, up Laurel Canyon and along Mulholland, fascinated by the lights of our dazzling city. The car is solid and serious, and comfortable in a very down to earth way. This was one car I hated to give up at the end of my test drive.
Caveats: As always, prices will vary depending on dealers and prevailing market forces. Value varies depending on whether you want to buy or lease, and for how long. Visit Michael Karesh's astounding TrueDelta.com website for current information and insights about what constitutes value these days, and which manufacturers offer it. Ascertaining value in an automobile is never as straightforward as we would like it to be. So, don't be afraid to make some preliminary choices, and then let your heart influence your head. After all, for most of us in Southern California, driving is a large and important part of the emotional side of our lives.
---
HAVING LOTS OF FUN WHILE BEING
SOCIALLY VERY RESPONSIBLE
By Laurence Vittes
If the current surge in gas prices has caught you unawares, and you are driving a gas guzzler, you have several options.
You can change cars, which can save you considerable money if you do your figures right. Unfortunately, because of depreciation it can be tricky to do the math.
You can keep your guzzler and drive more carefully -- saving as much as 20% if you are really, really careful about driving smoothly, not exceeding posted speed limits, and keeping the stuff in your trunk and other onboard weight as low as humanly possible.
If you like the first option, you can buy or lease a very cool (in all senses of the word) MINI Cooper Convertible. You will get city/highway mileage of 19-27/26-38 mpg, while having fun, being safe, and enjoying useful people- and stuff-hauling options.
I love the flexibility of the top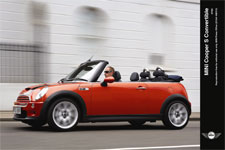 The MINI Convertible's automatic convertible roof has an integrated power sunroof which can be operated at speeds of up to 75 miles per hour, offering open-air motoring while on the go.
The complete top down goes from closed to open in just over 15 seconds, operates at the touch of a button and does not require the manual release of any latches. The top operation can be controlled by the key-operated remote locking system from a distance of up to 50 feet. The top can also be fully closed from outside the car. By inserting the key into the driver's door lock, turning and then holding it in the locked position, the top will raise and fully latch, all four windows will close simultaneously and the doors and rear boot will automatically lock.
There's even room to haul
With the top up, trunk capacity is 5.8 cubic feet; with the top down, the trunk provides 4.2 cubic feet of luggage space. With the rear seats folded down, cargo capacity is increased to a remarkable 21.3 cubic feet. Maximum load capacity is 771 pounds. While the top is down, the rear seat backs are lockable in their upright position, so luggage in the trunk is protected from theft.
Since MINIs are everywhere these days in SoCal, you have doubtless seen its endearing British Bulldog face. But the lovable face is also practical: The design of the front headlights provide enhanced illumination while adding a striking design element to the Convertible. The light produced by the halogen lamps is deflected through a reflector system which helps increase light efficiency. The MINI Convertibles also feature "Pathway Lighting," a standard safety and convenience feature. When activated, this feature allows the headlights to remain lit for 30 seconds after the driver has left the vehicle.
I love backing up in the MINI, too
One thing I particularly like is the MINI's standard Park Distance Control feature, located in the rear bumper, which measure the distance from the rear of the car to other objects such as a building or another parked car. As the driver backs closer to these objects, the system sounds an alert inside the car that beeps more rapidly as the car gets closer to the object. The tone becomes constant at a threshold prior to the rear bumper making contact with the object. This feature makes the already easy-to-maneuver MINI Convertible even easier to park in tight confines.
Enough of these boring technical details. In short, the MINI is as close as you can get to a cross between a Flexi Flyer and a Volvo. It also comes in lots of color and detail configurations, is affordable (the Convertible starts at less than $22,000), reliable, and gets outstanding gas mileage.
So, test drive one and see whether the salesperson can pry you out of it afterwards. If not, the MINI is for you.
Surf and turf
My wife and I put the Mini Cooper Convertible to the test with an open top trip down the Coast. We wound up in Redondo Beach where we visited one of her daughters and her husband, a motorcycle kind of guy who was nevertheless very impressed by the car's solid feel and get up and go. And of course, the wind blowing through his hair didn't hurt the fun quotient either.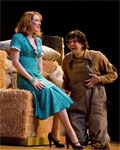 After a day at the seashore, we scooted over to Pasadena for a deeply moving performance of John Steinbeck's "Of Mice and Men" at the Pasadena Playhouse. I wrote in the Hollywood Reporter that "Director Paul Lazarus and a wonderful cast have recaptured the shattering tragic power and deeply moving humanity which John Steinbeck's "Of Mice and Men" must have had when it first appeared as a novella, and then later as a play, in 1937," and my positive recollection of it amplifies each time I think back on it.
The play's essence, about men struggling to speak to and hear each other, is as appropriate to ethnically diverse Southern California in the 21st century as it was to the Salinas Valley in the 1930s. "Of Mice and Men" is running through June 8, so you may still have time to catch it.
And throughout the evening, whether we were facing rush hour traffic or a surprisingly empty Pasadena Freeway, the Mini was an elegant blast!
Caveats: As always, prices will vary depending on dealers and prevailing market forces. Value varies depending on whether you want to buy or lease, and for how long. Visit Michael Karesh's astounding TrueDelta.com website for current information and insights about what constitutes value these days, and which manufacturers offer it. Ascertaining value in an automobile is never as straightforward as we would like it to be. So, don't be afraid to make some preliminary choices, and then let your heart influence your head. After all, for most of us in Southern California, driving is a large and important part of the emotional side of our lives.
---
TIPS ON PUMPING GAS
FROM MIKE IN CALIFORNIA:


I don't know what you guys are paying for gasoline.... But here in California we are also paying higher, up to $3.50 per gallon. But my line of work is in petroleum for about 31 years now, so here are some tricks to get more of your money's worth for every gallon.

Here at the Kinder Morgan Pipeline where I work in San Jose, CA we deliver about 4 million gallons in a 24-hour period thru the pipeline. One day is diesel the next day is jet fuel, and gasoline, regular and Premium grades. We have 34 storage tanks here with a total capacity of 16,800,000 gallons.

1) Only buy or fill up your car or truck in the early morning when the ground temperature is still cold. Remember that all s ervice stations have their storage tanks buried below ground. The colder the ground the more dense the gasoline, when it gets warmer gasoline expands, so buying in the afternoon or in the evening....your gallon is not exactly a gallon. In the petroleum business, the specific gravity and the temperature of the gasoline, diesel and jet fuel, ethanol and other petroleum products plays an important role. A 1-degree rise in temperature is a big deal for this business. But the service stations do not have temperature compensation at the pumps.

2) When you're filling up do not squeeze the trigger of the nozzle to a fast Mode. If you look you will see that the trigger has three (3) Stages: low, middle, and high. You should be pumping on low speed, thereby minimizing the vapors that are created while you are pumping. All hoses at the pump have a vapor return. If you are pumping on the fast rate, some other liquid that goes to your tank becomes vapor. Those vapors are being sucked up and back into the underground storage tank so you're getting less worth for your money.

3) One of the most important tips is to fill up when your gas tank is HALF FULL or HALF EMPTY. The reason for this is, the more gas you have in your tank the less air occupying its empty space. Gasoline evaporates faster than you can imagine. Gasoline storage tanks have an internal floating roof. This roof serves as zero clearance between the gas and the Atmosphere, so it minimizes the evaporation.
Unlike service stations, here where I work, every truck that we load is temperature compensated so that every gallon is actually the exact amount.

4) Another reminder, if there is a gasoline truck pumping into the storage tanks when you stop to buy gas, DO NOT fill up--most likely the gasoline is being stirred up as the gas is being delivered, and you might pick up some of the dirt that normally settles on the bottom. Hope this will help you get the most value for your money.

WHERE TO BUY USA GAS, THIS IS VERY IMPORTANT TO KNOW. READ ON:

Gas rationing in the 80's worked even though we grumbled about it. It might even be good for us! The Saudis are boycotting American goods. We should return the favor. An interesting thought is to boycott their GAS.
Every time you fill up the car, you can avoid putting more money into the coffers of Saudi Arabia. Just buy from ga s companies that don't import their oil from the Saudis.
Nothing is more frustrating than the feeling that every time I fill-up the tank, I am sending my money to people who are trying to kill me, my
family, and my friends.

I thought it might be interesting for you to know which oil companies are the best to buy gas from and which major companies import Middle Eastern oil.

These companies import Middle Eastern oil:

Shell.......................... 205,742,000 barrels

Chevron/Texaco......... 144,332,000 barrels

Exxon /Mobil............... 130,082,000 bar rels

Marathon/Speedway... 117,740,000 barrels

Amoco...........................62,231,000 barrels

Citgo gas is from South America, from a Dictator who hates Americans. If you do the math at $90/barrel, these imports amount to over $55 BILLION!

Here are some large companies that do not import Middle Eastern oil:

Sunoco........... ......0 barrels

Conoco............. ......0 barrels

Sinclair..................0 barrels

B P/Phillips.............0 barrels

Hess.......................0 barrels

ARC0......................0 barrels

If you go to Sunoco.com , you will get a list of the station locations near you.

All of this information is available from the Department of Energy and each is required to state where they get their oil and how much they are importing.
But to have an impact, we need to reach literally millions of gas Buyers. It's really simple to do.
Now, don't wimp out at this point.... Keep reading and I'll explain how simple it is to reach millions of people!!

Peter Crisp
crisppo@mac.com