WHEELS  .  . .
Pebble Beach Concourse d' Elegance 2021
 70 Years of Automotive Excellence 
The Pebble Beach Concours d'Elegance is the flagship of Pebble Beach Automotive Week. Begun in 1950 and now considered to be the world's premier celebration of the automobile, this is a can't-miss event for every car enthusiast. 
Each year, the finest collector cars gather on the 18th fairway of Pebble Beach Golf Links to compete to be named Best of Show — the ultimate award for automobiles. Experts critique their elegance, technical merit, and history. And crowds come from all corners of the globe to cheer their favorites. In tandem with the competition between extraordinary historic automobiles, the Concours also serves as host to some of the most anticipated concepts and new car debuts.
The Pebble Beach Concours D'Elegance is the shining jewel of Monterey Car Week. This year's events were a source of joy from more than a year of depressing news. First staged in 1950, the Pebble Beach Concours d'Elegance is the world's premier automobile celebration. Each car shown on the famed 18th fairway, where car connoisseurs from the world over gather to admire them, must be invited. The concours has raised more than $32 million in charitable donations since its inception. The cars pictured here were some of the most beautiful.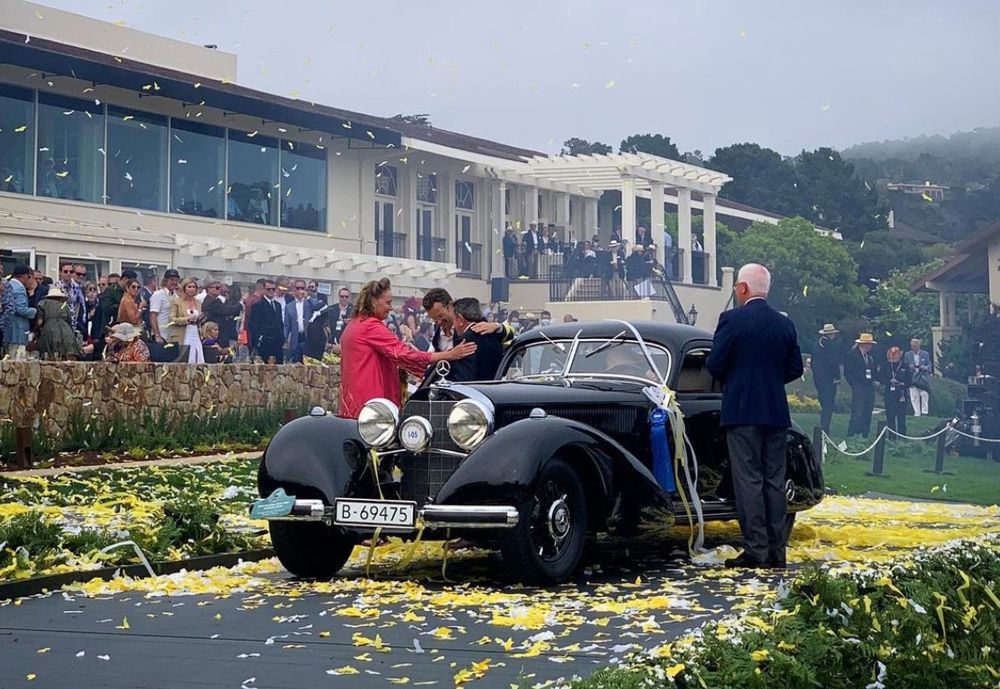 Congratulations to this year's winner 1938 Mercedes-Benz 540K Autobahn Kurier shown by The Keller Collection at The Pyramids.
This 1938 Mercedes-Benz 540K Autobahn Kurier won Best of Show. Owned by the Keller Collection of Petaluma, Calif., it's a rare fastback coupe known as the Autobahn-Kurier. The chassis boasts the then-revolutionary independent double-wishbone suspension up front and a swing axle setup at the rear. It has a 5.4-liter supercharged inline-8 engine that gets a then-whopping 180 horsepower. Just three were built.
Next year's  71st Pebble Beach Concours d'Elegance will take place on Sunday, Aug. 21. Lincoln and Talbot-Lago Grand Sport will be the featured marques. Additional special classes will be announced.
 Bites of History and details of the Event
The
Entry Process for the Pebble Beach Concours d'Elegance
Each November we send out entry applications to many annual participants. These are due at the beginning of January. After weeks spent vetting these applications, the Concours Selection Committee meets in late February to determine which cars will receive a coveted invitation to the August competition. 
In selecting entrants, cars not previously shown at the Pebble Beach Concours d'Elegance or another major concours are given preference and we generally do not allow cars to return to our show field within a ten-year period unless they have changed ownership and are freshly restored (or they are an original preservation car). Most applicants will be notified of the committee's decision by April.
Cars accepted for the Pebble Beach Concours d'Elegance cannot be shown at any other public car show, event, display or auction in August prior to the Concours. (Exceptions are made only for certain cars participating in the Rolex Monterey Motorsports Reunion.) We also ask you to tell us before showing your car elsewhere earlier in the year as this may impact our interest in it; we strive to be unique.
Proposed 2021 Class List Descriptions
A-1: Antique
A-2: Early Electric Vehicles
B: Vintage
C: American Classic 
D: Packard Open
E: 70 Years of Best of Show Winners
G: Duesenberg
H: Rolls-Royce Prewar
I: Mercedes-Benz Prewar
J: European Classic
K: Talbot-Lago Grand Sport
L: Prewar Preservation
M: Ferrari Grand Touring & Competition
N: Iso
O-1: Postwar Racing
O-2: Postwar Sports
O-3: Postwar Touring
P-1: Pinin Farina Prewar
P-2: Pininfarina Postwar
P-3: Pininfarina Ferrari
Q: Porsche 917
R: Carrera Panamericana 1950–1954
V: Miller
The concours d'elegance is not a contest of speed, but of elegance. Automobiles are judged for their style and technical merit, as well as their history, their originality and the accuracy of their preservation or restoration—and the best garner reward and recognition. At the Pebble Beach Concours d'Elegance, this process is two-fold.
Success of the Concours d'Elegance is said to depend on the knowledge of the judges.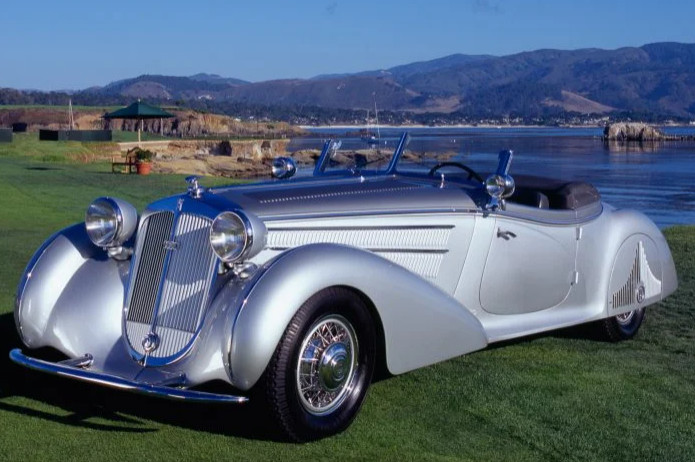 It's a Beauty --- At the time of its manufacture, the Horch 853A was the most expensive car for sale by Auto Union, today's Audi. It was technologically advanced for its day, with a 5.0 liter 120 horsepower straight eight overhead cam engine, four-speed synchromesh transmission with overdrive, independent front suspension using upper A-arms and lower twin transverse leaf springs, a central chassis lubrication system, fully independent rear suspension with half shafts, four-wheel vacuum-assisted hydraulic drum brakes, and a centrally controlled four-wheel hydraulic jacking system. Just five were made and the 2004 Best of Show winner is one of three that survive. It was brought to the United States by a World War II veteran in the late 1940s, passing into the hands of collector Herbert Von Fragstein in the early 1970s. Von Fragstein spent 30 years restoring the Horch set out on a 30-year restoration of the car in the early 1970s, selling it to Judge Joseph and Margie Cassini of West Orange, New Jersey in 2001, who won Pebble Beach's Best of Show with it in 2004, the first of a number of prestigious Best of Show awards. In 2012, the Horch 853A sold for $5,170,000.
______________________________________________________________________________
---