THEY'RE BOTH COMPLETELY DIFFERENT
AND COMPLETELY WONDERFUL
By Laurence Vittes
We are far from knowing how the current political and economic situations are going to sort themselves out. One thing, however, seems clear. Sensible cars will be the order of the day for some time to come.
The most important variables in deciding what's sensible are purchase or lease price (not always related) and mileage estimates (which are know to be heavily dependent on driving habits and care). Once those variables are decided, what's left is finding a car that, in addition to meeting financial requirements, is safe and pleasant to drive, and fits into some "big picture" sense of style and propriety.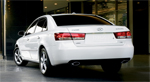 I have recently driven two cars that I have enjoyed very much and would definitely classify as "sensible." The first is Hyundai's 2009 Sonata, upgraded with more standard equipment, updated lights and trim, improved seats and an entirely new dashboard/console layout including a voice-operated navigation option.
The available engines are the same 4- and 6-cylinder sizes as before but both are claimed to make more power on less fuel. The four-cylinder has been upgraded from a four-speed to a five-speed automatic, and the suspension has been tweaked to deliver the Sonata's outstanding ride with better steering precision. It's also reassuring to know that the Sonata, each model of which comes with a full package of safety equipment, has earned the federal government's five-star (i.e., best) crash-test rating for front and side impact.
Simply put, the Sonata is a surprisingly elegant, four-door, five-passenger sedan priced to compete against the Honda Accord, Toyota Camry, Nissan Altima, Chevrolet Malibu, Kia Optima, and Ford Fusion. The Sonata is big inside, with so much interior volume the EPA classifies it as a large car. It's roomier in almost every dimension than most of its mid-size competitors, many of which are larger outside, and it offers a full-size edge over most of the competition in pure creature comfort.
While the Sonata can be a little bumpy over rough roads, it's an absolute delight over smooth ones. The interior is clean and handsome, and offers lots of room, while the trunk is impressively huge. I particularly love the pickup and smooth power delivery of the optional V6 (though I don't like the reduced mileage estimates).
As with all Hyundais, the Sonata's excellent five-year, unlimited-mileage warranty is extremely excellent. Resale value may not match those of its rivals, but then, in the "new economy," we are probably going to keep our cars longer. In sum, if you're a smart buyer, Hyundai's beautifully-appointed Sonata offers an awful lot for your money. If you like driving pleasure and don't like taking risks, this Sonata could make beautiful music for you.
I want my Tiguan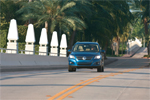 The other car under discussion is a completely different animal. It's Volkswagen's Tiguan, an all-new SUV that is more at home on the road than off exploring the deserts, the dunes or the mountains. The engine provides plenty of quiet power, while the interior is very comfy, indeed. In other words, Tiguan is an exceedingly civilized beast. The dash is neat and well laid out. Four people can sit comfortably inside, with five fitting in if the kids want to bring a friend home from school. The useful trunk can be extended to very useful by folding the rear seat backs with the flick of a lever.
Driving the Tiguan is totally outstanding. Everything about the experience is precise German engineering. It doesn't encourage you to drive foolishly (although it can definitely put a gleam in your eye), but I guarantee that every mile you drive you will find extraordinarily pleasurable. For a compact 4x4 the Tiguan should be relatively inexpensive to run and insure. If VW continues to raise its reliability reputation, shouldn't have to worry about breaking down or needing costly repairs.
The Tiguan lineup of four models starts with the S at around $23,000, with a 200-hp 2.0-liter turbocharged four-cylinder engine, a six-speed manual transmission or an optional six-speed automatic. The top of the range is the fabulous SEL, starting at about $31,000, for which you get lots and lots of goodies including leather upholstery, audiophile sound, a football field-long Panorama sunroof, and a rearview camera for not hitting anyone when backing up.
Standard safety features for all Tiguans include front side airbags, curtain side airbags, active front head restraints, tire-pressure monitor, anti-lock brakes with electronic brakeforce distribution and brake assist, traction control, and electronic stability control.
For trivia fans, the Tiguan got its name as part of a marketing strategy by Volkswagen. The name was chosen by the public with over 350,000 voters participating through the German Auto Bild magazine and website. The names that lost out were Namib, Rockton, Samun and Nanuk. Tiguan is a combination of the German words Tiger ("tiger") and Leguan ("iguana"). In English, that means if you get a Tiguan, you'll be driving either a tiguana or an igger. It could have been worse.
---
CONCOURS D' ELEGANCE
Palos Verdes, CA . . . A grand affair!
On September 21st the annual fundraising event Concours d' Elegance, sponsored by the Palos Verdes Rotary Club, was heal at Trump Country Club in the beautiful peninsula. vintage cars and their owners set off on a rallye that began at Marmalde Cafe in the Peninsula Shopping Mall, and then traveled up the coast to the club, where an exciting event and auto showcase took place.
Proceeds for the event were donated to the out-reach programs of the Palos Verdes Art Center and Palos Verdes Peninsula Rotary Foundation.

---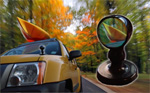 CARGOVIEW MIRROR
Stress-Free Overhead hauling Utility Mirror
www.cargoviewmirror.com
---