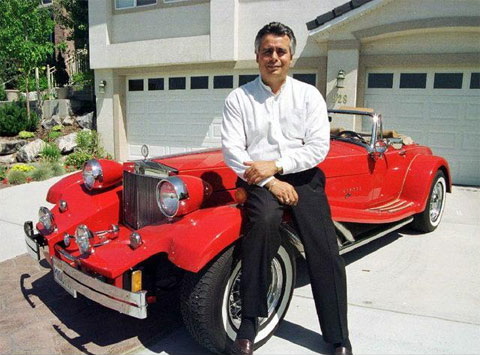 ProMetal to Use Patternless Casting Technology for
DiMora Motorcar's V16 Engine
Proprietary 3D printing technology digitally produces sand molds and cores for metal castings without patterns or tooling to power up the 1200-hp Volcano engine for the $2 million Natalia SLS 2
ProMetal RCT, LLC, an Ex One Company, has become the latest Technology Partner in the DiMora Motorcar program to develop the $2 million Natalia SLS 2 sport luxury sedan. An integrated product and process team will use the ProMetal digital 3D printing technology to produce castings for the 1200-horsepower Volcano V16 engine without the need for patterns or tooling.
Rapid Casting Technology (RCT) is a generative or additive process. The ProMetal RCT equipment automatically builds sand molds and cores for casting metal directly from CAD data. Standard foundry industry materials are used, enabling easy integration of the new equipment into existing manufacturing and foundry procedures. The large building volume and high building rate combine to make patternless production a reality for metal-based prototype castings and low volume production. The molds and cores are built in an additive layer-wise fashion using a printhead, analogous to the ink-jet technology commonly used in desktop printers.
According to Dan Maas, Director of Business Development for ProMetal, "This revolutionary ProMetal RCT process allows design freedoms, heretofore never available to the casting designer or the foundry. Removing the requirements for parting lines, draft angles and providing undercuts is just the tip of the iceberg," asserted Maas. "Providing nested cores, spiral vents, volute shapes, integration of multiple components, in-situ cores, and unique rigging geometry to minimize turbulence are design features that are being utilized today by advanced companies."
Ex One Vice President Dr. Howard Kuhn has noted that today's high-technology workforce is well prepared to take advantage of the capabilities made available through digital manufacturing. "The modern generation's love affair with digital products positions them for a comfortable transition to, and enthusiastic attraction toward, digital work in manufacturing--through both virtual simulations and exciting production tools, such as ProMetal's Rapid Casting Technology."
"The stringent specifications of the DiMora Volcano V16 engine give us an excellent opportunity to demonstrate what RCT allows the engine designer and manufacturer to accomplish," said Maas. "There is no room for error when building an exotic, lightweight aluminum engine that produces 1200 horsepower."
DiMora Motorcar Founder Alfred DiMora pointed out the advantages that most impressed him about the ProMetal process. "This technology is at the forefront of digital additive manufacturing for the production of complex 3D shapes. During the design process, being able to accomplish in a few hours what used to take days allows you to refine your design through additional iterations. Eliminating patterns and tooling saves time and reduces waste, making the entire process faster, cheaper, and greener, while producing a final product that is superior in every way. The Volcano V16 will be an unmatched engine thanks to the engineering skills and technology of ProMetal RCT."
About ProMetal RCT
Based in Troy, Michigan, ProMetal RCT, LLC is a leading company in 3D printing. It supplies an innovative process for the fabrication of sand molds and cores aimed for prototyping and short-run production of metal castings. Its primary areas of expertise are machine tool design, industrial production methods, rapid prototyping and rapid manufacturing. ProMetal RCT is a subsidiary of The Ex One Company, LLC, a family of companies that are committed to transitioning breakthrough manufacturing process technologies to the world's factory floors through research, development, and commercialization of advanced equipment, materials and services. From freeform digital production to innovative micro machining techniques, Ex One strives to dramatically improve manufacturing techniques in the US and worldwide. For more information about how the Ex One companies can support your manufacturing needs, please visit www.exone.com or www.prometal-rct.com.
About DiMora Motorcar
Based in Palm Springs, California, DiMora Motorcar crafts automobiles designed to exceed expectations for safety, performance, technology, ecology, beauty, comfort, and luxury. We are the first to reveal the design, production, and testing of our automobiles via the Internet so that people around the world can learn about--and participate in--the process.
The founder, CEO, and driving force behind DiMora Motorcar, Alfred J. DiMora, produced two of America's finest luxury automobiles, the Clenet (as owner) and the Sceptre (as co-founder). When President Reagan declared 1986 the Centennial Year of the Gasoline-Powered Automobile, Mr. DiMora's Clenet was selected as the Official Centennial Car. As a result, he and the Clenet were honored at the Automotive Hall of Fame in Michigan. He also founded Starbridge Systems, Inc., where he developed the FPGA supercomputer. Using his technological and automotive backgrounds, Alfred DiMora blends the two worlds together to create this new experience in automotive history, the Natalia SLS 2. For more information about our products and how your company can become a Technology Partner of DiMora Motorcar, please visit www.dimoramotorcar.com.
---
Back by demand, we are pleased to announce our 2009 Blue Train packages! Parterning with Bakubung Lodge, and Zimbali Lodge, we now have THREE  dates to select from, with exceptional experiences.  These journeys are extremely ideal for shorter-stay itineraries and with the favorable exchange rate between the Rand and the Dollar, there has never been a better time to take advantage of these affordable opportunities.  It's easier than ever to deliver some of the most thrilling highlights of South Africa.  Opt from pairing the luxurious Blue Train wtih the thrilling excitement of game drives at Bakubung Lodge, or with a relaxing golf/spa holiday at the exquisite Zimbali Lodge.  There's never been an easier way to experience it all!
THE BLUE TRAIN - ZIMBALI LODGE JOURNEYS 2009

-Two night's return journey on The Blue Train departing from Pretoria, inclusive of all meals,  beverages, and services of private butler.
-Two nights accommodation at Zimbali Lodge including daily breakfast, Braai on Saturday and buffet lunch on Sunday
-Choice of two rounds of golf including greens fees at Zimbali Golf Estate or R 750 voucher for Camelot Spa on property
-Round trip transfers between arrival station and lodge
AVAILABLE DATES
19 November - 23 November 2009
---
ORIENT-EXPRESS INTRODUCES 4-DAY LUXURY BRITAIN VACATIONS: LONDON PLUS BRITISH PULLMAN
DAY TRIPS

--Downsized Vacations for a Downsized Economy--
London, March 9, 2009 - Responding to the realities of the post-2008 economy, Orient-Express has introduced a series of downsized British vacations combining a stay in London with an elegant outing to the country aboard the British Pullman train. "The length of the stay and the price are downsized," says Alistair Ballantine, Director of Sales & Marketing in the Americas for Orient-Express Hotels, Trains & Cruises, "but the quality, style and luxury remain entirely intact."

The vacation packages feature three nights at London's 5-star Goring Hotel, located a block from Buckingham Palace and set to mark its centenary in 2010. One of London's loveliest and most historic hotels, the Goring hit the headlines when it opened in 1910 as the world's first hotel to have private bathrooms and central heating in every room.

The centerpiece of the vacation is a full-day outing to the British countryside aboard the brown and cream cars of the British Pullman, the Art-Deco coaches that 75 years ago were the fastest and grandest way to travel from London to Paris aboard the Golden Arrow and from London to Brighton as the Brighton Belle. Restored in the 1970's, the British Pullman coaches form the British section of the Venice Simplon-Orient-Express.

The British Pullman day-trips include a Champagne greeting at London's Victoria Station (walking distance from the Goring), elegant meals served by liveried waiters and the chance to glimpse England's green countryside through picture windows. Three choice of itinerary include:

Georgian Bath - home of Jane Austen: Day-trip includes lunch, dinner with wine and champagne and a tour of Bath (Mar 25, May 6, Jun 3, Jul 8, Aug 26, Sep 23, Oct 7, Oct 21)

Dinner aboard the British Pullman: Early evening departure includes Laurent Perrier Champagne, hors d'oeuvres and a gourmet tasting menu paired with fine wines (Mar 12, Jul 9, Sep 10, Oct 29)

The Golden Age of Travel: A late morning departure includes an elegant lunch and fine wines and offers the opportunity to understand why train travel was once more about the journey than about the destination (Mar 27, Apr 17, Jul 17, Aug 14, Aug 28, Sep 11, Sep 25, Oct 9, Oct 23)


The British Pullman-Goring vacation packages range from $1,960 to $2,150 per couple, including the British Pullman trip, 3 nights at the Goring with full English breakfast, taxes and service charges..

For more information on Orient-Express Trains & Cruises, please visit www.orient-express.com.

Offer is subject to availability at time of booking
---
Gray Line of Alaska Features

Denali Summer Specials Aboard

McKinley Explorer Domed Railcars

 

Denali National Park, a must-see for many Alaska visitors, is now more affordable with three-day Denali Summer Specials offered by Gray Line of Alaska. From mid-May through Sept 19, visitors can enjoy roundtrip luxury rail travel to Denali and two nights' hotel accommodations at the park entrance starting at $399 per person, double occupancy, from Anchorage or $299 from Fairbanks. Children's fares are also available on the Denali Summer Specials.

Train travel is aboard McKinley Explorer domed railcars, the largest passenger railcars in North America with more glass area for better viewing of Alaska's dramatic scenery to and from Denali.

 

"Denali National Park is truly a highlight of Alaska," said Mark Mumm, director of sales and marketing. "Our two-night Denali Summer Special package gives visitors time to take optional tours like the popular Tundra Wilderness Tour or other trips offering whitewater rafting, flightseeing, guided hiking, and self-drive Jeep tours."

The Tundra Wilderness Tour features an all-day excursion deep into Denali National Park where wildlife is most readily spotted. The park is home to Mt. McKinley, the highest mountain in North America at 20,320 feet, and abundant wildlife including grizzly bears, moose, caribou, Dall sheep and wolves. The optional tour is conducted by a certified interpretive driver-naturalist and stops at major scenic viewpoints including Stony Hill Overlook, which is famous for its panoramic views of Mt. McKinley on clear days.

The Denali Summer Specials also include options to take the McKinley Explorer train one-way from Anchorage to Denali to Fairbanks or reverse. Other possibilities include combining rail and motor coach transportation on the two trip segments and traveling solely by motor coach.

Gray Line can arrange additional pre/post hotel accommodations in Anchorage and Fairbanks in conjunction with a Denali Summer Special package. For example, guests can add a night at the Westmark Hotel in Fairbanks for only $59 per person, double occupancy, plus tax and fees.

Gray Line of Alaska specializes in creating custom land tours in Alaska and the Yukon, and Reservations for Alaska tour packages can be made with your travel agent or via the Gray Line web site at www.graylinealaska.com or by calling 1-800-544-2206.

 
---