WHEELS   .  .  .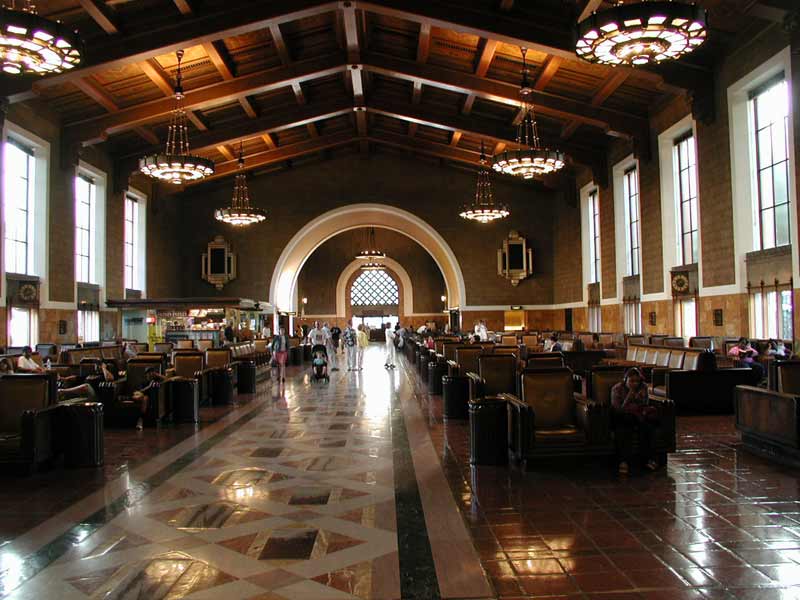 TRAVELER COMFORT & SAFETY PARAMOUNT AT UNION STATION
Los Angeles Train Travelers Get Cool Air and County Sheriff's Courtesy
by Bonnie Carroll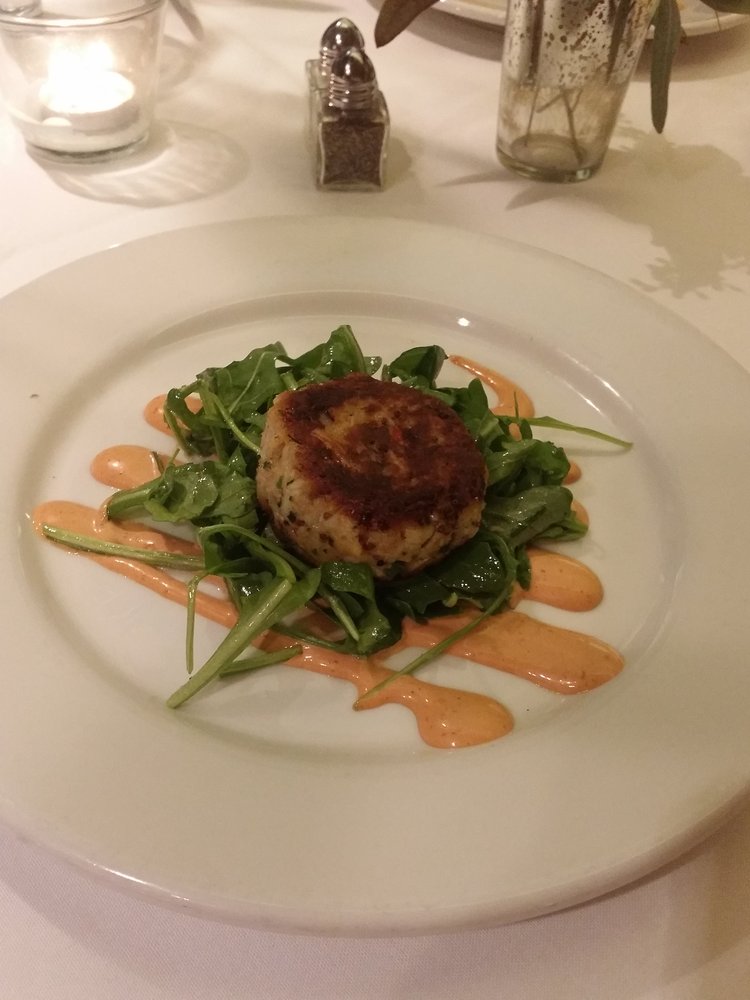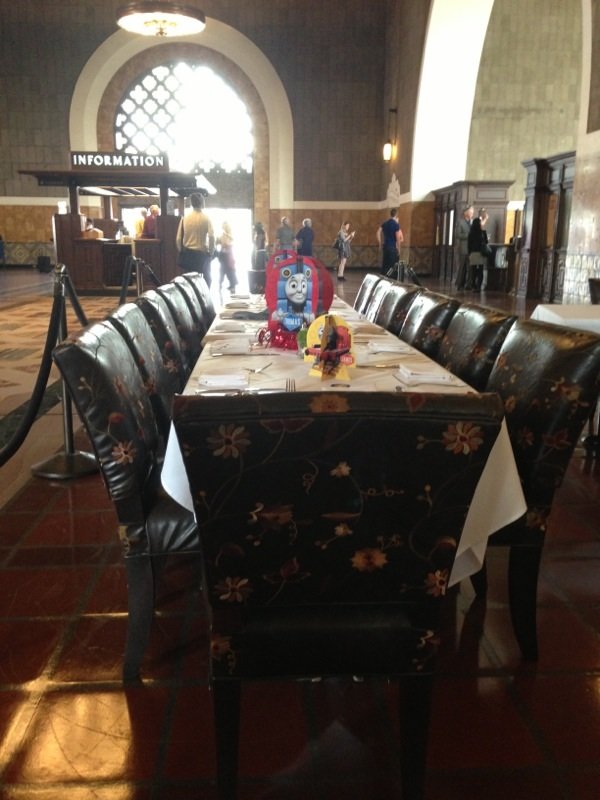 Travelers riding the trains in and out of Los Angeles Union Station are now enjoying the comfort of an air-conditioned terminal to wait for connections or grab a bite before boarding their train. TRAXX is a favorite train station haunt of local

politicians, area business people and tourists, serving amazing menu items and small plates like a jumbo crab cake, Waldorf salad or venison carpaccio, soups, a variety of lunch and dinner entrees, desserts and classic cocktails in their historic art deco atmosphere. Travelers can also purchase take-along items at Starbucks and a variety of fast food venues in the station. A new French Cafe Crepe venue is opening soon for everyone's enjoyment.
Construction of Union Station was approved in a controversial ballot measure in 1926 and was built in the 1930s, Union Station served to consolidate rail services from a number of railroads (the Union Pacific, Santa Fe, and Southern Pacific) into one terminal station. Conceived on a grand scale, Union Station became known as the "Last of the Great Railway Stations" built in the United States. It was placed on the National Register of Historic Places in 1980. Royalty, Movie Stars and Presidents have traveled through this iconic station.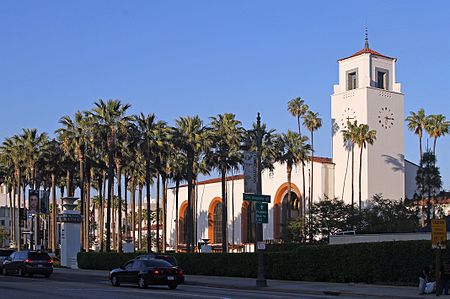 Today, the station is a major transportation hub for Southern California, serving almost 110,000 passengers a day. Three of Amtrak's long distance trains originate and terminate here: the Coast Starlight to Seattle, the Southwest Chief and "Texas Eagle" to Chicago, and the Sunset Limited to New Orleans. The state-supported Amtrak California Pacific Surfliner regional trains run frequently to San Diego and also to Santa Barbara and San Luis Obispo. The station is the hub of the Metrolink commuter trains, and several Metro Rail subway and light rail lines serve it as well, with more in construction or planning.
Renovation of the station has been ongoing, and over the past fifteen years it has been restored, improved, and renovated to its original twenties best, while implementing state-of-the-art improvements. Travelers will welcome the presence of County Sheriff's, who protect and serve in Union Station in a variety of security functions.
The cool comfort of train travel for vacationers and business commuters has become a welcome option to driving on busy freeways, and with wi-fi available travelers can work while traveling or enjoy watching the news. Many of the trains have a dining car with a variety of breakfast, lunch and dinner selections for travelers, and a snack car for a quick cup of coffee or sandwich.
Amtrak operates four long-distance trains out of Los Angeles:
Amtrak California regional routes
Amtrak California operates multiple-times-daily regional rail services to cities across the state:
On entering Union Station you will find an information desk managed by a helpful LA Ambassador who can provide valuable traveler information, and strict police enforcement has eliminated street people from lingering in the station lobby area, which in the past has been a serious problem. "I am so happy they have created a way to keep the homeless out of the station" said a woman traveler sitting next to me, and I agreed with her that the atmosphere in the station has improved so much. In year's past passengers were often harassed by these people while waiting to board their trains.
Senior citizens ride at a special rate on Amtrak, and comfortable cars for handicap travelers make it easy for quiet and accessible journeys. Red caps will transport travelers to and from Amtrak trains, and buses, taxi's, Metrolink or Metro Rail trains can be found adjoining or outside the station for ongoing travels. Visit: www.amtrak.com, or www.metrolinktrains.com.
Los Angeles Union Station (LAX)
800 North Alameda Street
Los Angeles, CA 90012
800-872-7245

___________________________________________________________________
Great New Book On Auto Museums!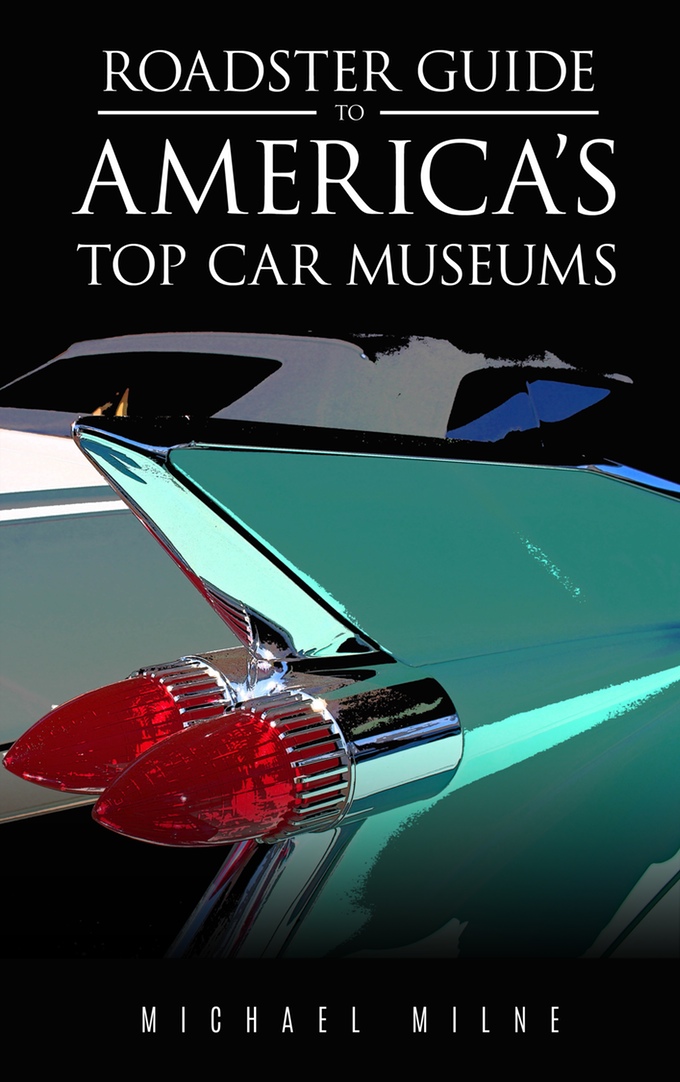 ___________________________________________________________
Champagne, Pimms and luxury sports cars: David Brown Automotive toasts its new showroom in Germany
David Brown Automotive launched its first non-UK-only showroom in Germany yesterday evening and showcased a production Speedback GT, alongside the original prototype, in front of media and guests at the British-themed party.
The new showroom, which is based within Classic Remise in Düsseldorf, becomes the second showroom to join the bespoke David Brown Automotive dealership network since the company was founded in 2014.
The beautiful British Racing Green production Speedback GT was displayed at the showroom's launch alongside the original prototype. Speedback GT is made in Britain using traditional coachbuilding methods. The handmade luxury sports cars can be tailor-made to any client's specification, making it one of the most truly customisable and luxurious sports cars on sale today.
Following the first international deliveries of Speedback GT, which started earlier this year, the all-new showroom further showcases David Brown Automotive's ongoing success within the market and dedication to its growing customer base. The Germany-based showroom will offer sales support and customer care to its customers within Classic Remise's luxury location.
"We've always known that Germany was a key market for us since the very start" said Company founder and CEO David Brown. "We have partnered with Classic Remise a number of times and they certainly share our passion for beautiful automobiles and excellent quality. Their centre in Düsseldorf is a destination for luxury classic and modern car fans from all over the world. I am delighted to be opening a showroom here in Düsseldorf, a place that has gained a reputation for excellence within the automotive world. I can't wait to see what the future in Germany will hold, including many more deliveries of Speedback GT to customers in the region."
The launch saw both David Brown and Marcus Keller, the company's Brand Representative for the region, open the showroom in front of customers, stakeholders and media who were welcomed with British-themed refreshments including Pimms and beer from David Brown Automotive's sister company, The Brewing & Distilling Company (BAD Co.).
David Brown Automotive has a long-standing relationship with Classic Remise, including displaying Speedback GT on its stand at Techno Classica Essen in 2015 and 2016 and showcasing the car's prototype at its showroom location in Düsseldorf in 2015.
The new Düsseldorf-based showroom is open to the public from today, 9th June from 9am to 5pm local time. Media are welcome to visit the new showroom within Classic Remise on request by contacting the PR representatives listed below.
Priced at £495,000 exclusive of taxes, Speedback GT promises exceptional performance and handling, hosting a 5.0-litre V8 supercharged engine with 510bhp and 461ft lb of torque, hitting 0-60mph in 4.6 seconds with a top speed of 155mph (limited).
Potential customers who were unable to attend the event are invited to register their interest via the company's website: www.davidbrownautomotive.com.
Classic Remise Düsseldorf: Harffstraße 110A, 40591 Düsseldorf, Germany
More details on Speedback can be found at: www.davidbrownautomotive.com
_________________________________________________________
BY AIR   .   .   .
Transatel and Air France-KLM Launch Bitebird,
a 4G Wifi Hotspot to Stay Connected Abroad
From today on, travelers will be able to purchase a 4G wifi router and data credit to use in 48 countries from Air France-KLM's new mobile internet offer, Bitebird, at www.bitebird.com. The mobile solution behind the brand is Transatel's SIM 901, a universal, network- agnostic SIM card offering cellular data connectivity at local conditions around the world. 
The Bitebird mobile solution
Starting today, the 4G wifi router for €99.95 is available for purchase via www.bitebird.com . A choice of €30 (paid 25€), €50 (paid 40€) or €130 (paid 100 €) of prepaid credit can be added. Air France-KLM customers can buy the 4G Wifi device including €50 of prepaid credit for 55,980 Flying Blue Miles on store.flyingblue.com. In any case, the credit is valid for a year for all destinations, and easily rechargeable anytime on bitebird.mobi 
Bundled with a prepaid and pre-installed SIM card, the Bitebird router opens a private, secure connection via a password. Perfectly adapted to professional or private use, it is already operational in close to 50 countries* at local rates and can connect up to 10 devices (smartphone, tablet, PC) simultaneously.
Transatel, the preferred enabler for universal data needs
Transatel recently won the 'Best Aggregator' Award at the MVNO World Congress for the fourth year in a row, confirming public recognition for its outstanding enabling capacities. These capacities are increasingly developed in the area of global data, where Transatel offers a one-of-a-kind solution, SIM 901. Chosen by Air France-KLM to support their new data offer for travelers, SIM 901 is particularly adapted to laptops, tablets, and???as is the case for Bitebird???Wifi hotspots.
Marie-Julie LE GUEN, Head of Retail at Transatel: "It's a great opportunity for us to show off our capacities in providing cellular data worldwide for demanding end-users of technological devices. We have signed agreements with over 100 countries to date and 48 are already commercially active. We continue to add countries every month to our network to ensure travelers benefit from local prices for data wherever they go."
About Air France-KLM
A global giant with a strong European base, the Air France-KLM Group's main areas of business are passenger transport, cargo transport and aeronautical maintenance.
Air France-KLM is the leading Group in terms of international traffic on departure from Europe. In 2016, it offers its customers access to a network covering 320 destinations in 114 countries thanks to its four brands Air France, KLM Royal Dutch Airlines, Transavia and HOP! Air France. With a fleet of 534 aircraft in operation and 89.8 million passengers carried in 2015, Air France-KLM operates up to 2,200 daily flights, mainly from its hubs at Paris-Charles de Gaulle and Amsterdam-Schiphol.
Its Flying Blue frequent flyer programme is one of the leaders in Europe with over 27 million members.
Air France-KLM and its partners Delta Air Lines and Alitalia operate the biggest trans-Atlantic joint-venture with 270 daily flights.
Air France-KLM is also a member of the SkyTeam alliance which has 20 member airlines, offering customers access to a global network of over 16,270 daily flights to 1,057 destinations in 179 countries.
Airfranceklm.com
@AirFranceKLM


_________________________________________________________________
---