Back by demand, we are pleased to announce our 2009 Blue Train packages! Parterning with Bakubung Lodge, and Zimbali Lodge, we now have THREE  dates to select from, with exceptional experiences.  These journeys are extremely ideal for shorter-stay itineraries and with the favorable exchange rate between the Rand and the Dollar, there has never been a better time to take advantage of these affordable opportunities.  It's easier than ever to deliver some of the most thrilling highlights of South Africa.  Opt from pairing the luxurious Blue Train wtih the thrilling excitement of game drives at Bakubung Lodge, or with a relaxing golf/spa holiday at the exquisite Zimbali Lodge.  There's never been an easier way to experience it all!
THE BLUE TRAIN - ZIMBALI LODGE JOURNEYS 2009

-Two night's return journey on The Blue Train departing from Pretoria, inclusive of all meals,  beverages, and services of private butler.
-Two nights accommodation at Zimbali Lodge including daily breakfast, Braai on Saturday and buffet lunch on Sunday
-Choice of two rounds of golf including greens fees at Zimbali Golf Estate or R 750 voucher for Camelot Spa on property
-Round trip transfers between arrival station and lodge
AVAILABLE DATES
19 November - 23 November 2009
---
ORIENT-EXPRESS INTRODUCES 4-DAY LUXURY BRITAIN VACATIONS: LONDON PLUS BRITISH PULLMAN
DAY TRIPS

--Downsized Vacations for a Downsized Economy--
London, March 9, 2009 - Responding to the realities of the post-2008 economy, Orient-Express has introduced a series of downsized British vacations combining a stay in London with an elegant outing to the country aboard the British Pullman train. "The length of the stay and the price are downsized," says Alistair Ballantine, Director of Sales & Marketing in the Americas for Orient-Express Hotels, Trains & Cruises, "but the quality, style and luxury remain entirely intact."

The vacation packages feature three nights at London's 5-star Goring Hotel, located a block from Buckingham Palace and set to mark its centenary in 2010. One of London's loveliest and most historic hotels, the Goring hit the headlines when it opened in 1910 as the world's first hotel to have private bathrooms and central heating in every room.

The centerpiece of the vacation is a full-day outing to the British countryside aboard the brown and cream cars of the British Pullman, the Art-Deco coaches that 75 years ago were the fastest and grandest way to travel from London to Paris aboard the Golden Arrow and from London to Brighton as the Brighton Belle. Restored in the 1970's, the British Pullman coaches form the British section of the Venice Simplon-Orient-Express.

The British Pullman day-trips include a Champagne greeting at London's Victoria Station (walking distance from the Goring), elegant meals served by liveried waiters and the chance to glimpse England's green countryside through picture windows. Three choice of itinerary include:

Georgian Bath - home of Jane Austen: Day-trip includes lunch, dinner with wine and champagne and a tour of Bath (Mar 25, May 6, Jun 3, Jul 8, Aug 26, Sep 23, Oct 7, Oct 21)

Dinner aboard the British Pullman: Early evening departure includes Laurent Perrier Champagne, hors d'oeuvres and a gourmet tasting menu paired with fine wines (Mar 12, Jul 9, Sep 10, Oct 29)

The Golden Age of Travel: A late morning departure includes an elegant lunch and fine wines and offers the opportunity to understand why train travel was once more about the journey than about the destination (Mar 27, Apr 17, Jul 17, Aug 14, Aug 28, Sep 11, Sep 25, Oct 9, Oct 23)


The British Pullman-Goring vacation packages range from $1,960 to $2,150 per couple, including the British Pullman trip, 3 nights at the Goring with full English breakfast, taxes and service charges..

For more information on Orient-Express Trains & Cruises, please visit www.orient-express.com.

Offer is subject to availability at time of booking
---
                 GLOW AT THE MARRIOTT MARINA DEL REY - 
                    A WHOLE NEW KIND OF BIKER HANGOUT

            Hotel offers free bike valet and complimentary appetizers
                   to those who arrive on two eco-friendly wheels

Why drive this summer when you can hop on two wheels-and enjoy a free appetizer at Glow, the chic outdoor lounge at the Marriott Marina del Rey, at the end of your journey?

In a bid to encourage Angelenos to get their bike on, the Marriott Marina del Rey is introducing its brand new bicycle valet service, starting May 1.

At no charge, cyclists will be able to safely entrust their bikes with the hotel's valet team-a God send for bike riders used to chaining their bicycles 100 feet or more from their destination-in the knowledge they are helping reduce CO2 emissions and easing traffic congestion.

So anyone who rides in on their bike and participates in the valet, are invited to come play at the hotel's award-winning Glow, where they can have a free appetizer  and drink, and spend some time relaxing by the pool-bringing a whole new meaning to the term "biker bar".

"We believe bike riders deserve the same levels of respect and service that motorists are accustomed to," says Murray Lowe, general manager at the Marriott Marina del Rey.  "And with increasingly gridlocked freeways and limited public transportation, riding a bicycle just makes sense, especially in our mild California climate"

The hotel hopes its new service will inspire Angelenos to visit the Marina and enjoy its array of summertime beach activities, by day or by night.

Glow is a destination unto itself-open day and night, it features outdoor cabanas, fire pits, a vamped DJ station and gourmet bites-truffle potato chips, kung pao calamari and mango BBQ chicken drummets, for example. It's the perfect place to soak up the Marina's mellow vibe this summer.

---
The Inaugural Ventura County Bike Stage Race
Kicks Off May 16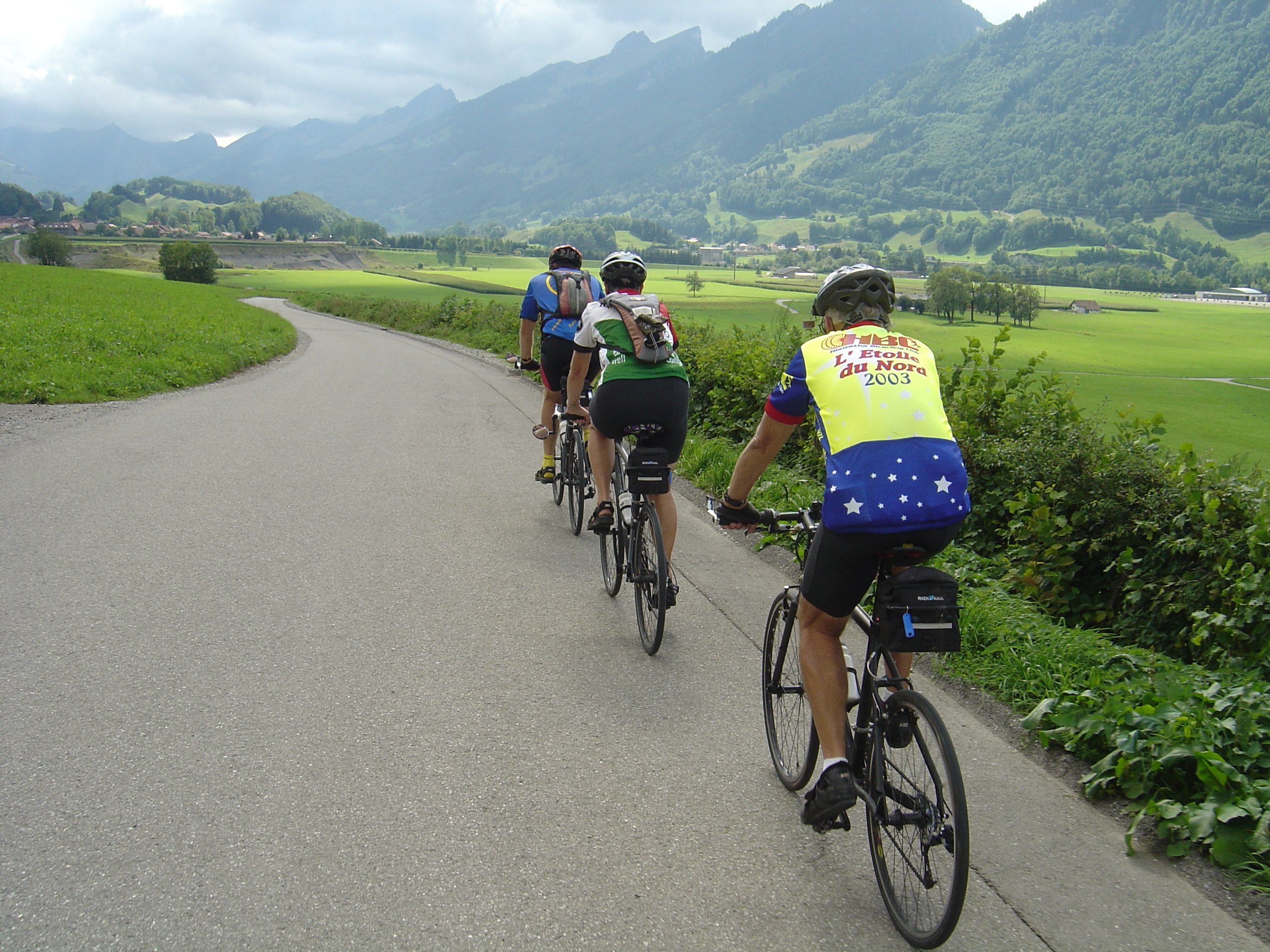 Competitive bicycle racing comes to the streets of Downtown Ventura for a timed stage race, May 16 & 17, 2009. The inaugural Ventura County Stage Race will consist of 3 stages over a 2 day period in Ventura County.  This exciting, family-friendly and completely free event is sure to thrill all ages of spectators.
The Ventura community has come together to produce this inaugural event for spectators, racers and curious observers in the So Cal area, and combined it with a spectacular list of prizes.  Awards range from food and beverage at popular downtown restaurants and bars, hotel stays, and much more.  Race enthusiasts, racers and their families are invited to enjoy Ventura's vibrant historic downtown district with its wide variety of boutiques, restaurants, and coffee and wine bars during Saturday's day long activities.  The event's host hotel, Crowne Plaza Ventura Beach, is within easy walking, or riding, distance from Downtown Ventura.  The event is sponsored by the Downtown Ventura Organization, Amgen Cycling Club, Watermark Restaurant, Crowne Plaza Ventura Beach, Jaguar Ventura, Smith Optics, Juice and Java and many more.  Williams Wheel Systems, Win's Wheels, E2 Hydro / Clif Bar and Hincapie Sportswear (leader jerseys) are providing free racer support. 
Race day 1 consists of 2 stages with the exact same starting point at Main and Chestnut Streets in Downtown Ventura at 8:00 am.  The event is a fast, 1.7 mile, individual speed event and organizers have added a Euro feel to the course, with multiple twists and turns which add to the technicality.  Stage 2 is a 0.7 mile "Criterium" race around the newly paved streets of Downtown Ventura with Main Street and City Hall as the primary venues. A "Criterium" is a group cycling race featuring many turns and speed.  Criterium racing goes all afternoon and finishes with the Pro 1/2 Men in the evening.
Race day 2 is 10 miles north to Ojai for the 5.7 mile circuit course.  The course will test each racer's fitness with multiple sprint and climbing opportunities during each event.
Event organizers are pleased to announce the addition of Amgen Tour of California race announcer Dave Towle to the lineup for the weekend activities. Dave is widely recognized as the best announcer in the United States. Organizers are committed to timely results, a safe and professional race course and an exciting event for the entire family!
For more info, contact Colby Allen at tommasini@gmail.com or go to www.bikestyleusa.com.  Registration is now open at www.socalreg.com. 
---
Hyundai Joins the Major Leagues
By Laurence Vittes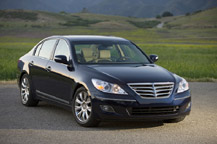 After putting in an exciting but bone-rattling week with Mitsubishi's peppy, oddly kind-of-preppy Lancer Ralliart (now beefed up with more than 250 horses--and more about that later-- and decorated in metallic orange paint that made me a marked man on both the highways and the byways, I was handed the keys to an immaculate, sleek and luxurious 2009 Genesis 4.6 by Hyundai.
It is a remarkable car in every way. From the outside it bears unmistakeable and perhaps unavoidable similarities to the competing line of big passenger-carrying cruisers put out by Mercedes. But where the Mercedes is more a matter of mind merging with machine, the Genesis is more vice versa. No surprise that it impresses you with the physical charms of its beautifully thought-out interior first before winning your heart and soul with its abilities as an urban stunner and a brilliant road car that can gobble up states without a second thought.
The immediate reaction from my son-in-law Simon, of course, was that it wasn't a BMW. "it's not a 7 series," he said, as if that meant doom and perdition for the Genesis. Ah, the folly of youth! I know Simon's out there, having indescribable fun with his bike and a discreet Subaru WRX, but there are equally real pleasures to be had at the wheel of the Genesis Sedan with its powerful, smooth (and thirsty) V8. 
Don't take my word for it. Dan Neil, the tough-as-nails car critic for the LA Times, wrote: "The Genesis is the company's first full-size, rear-drive luxury car, an audacious shot whistling across the sport-sedan bows of BMW, Mercedes, Audi and Lexus."
More proof needed? The Genesis was named 2009 North American Car of the Year, one of the most prestigious awards in the industry.
If I have one criticism, it's that the sound system needs a tiny bit of tweaking if it is to compete successfully with the tangible lusciousness of the interior. I drove it to Ojai and up through the gorge into mountains just emerging from winter, reviewing a new 50-CD set covering the career of Yehudi Menuhin, and I couldn't get the 17-speaker Lexicon sound system to quite achieve the depth and clarity that great classical music recordings demand.
And the Genesis Sedan is not the end of the road. When Kelly Blue Book recently released its top ten list of sleek and sporty cars "to consider putting a down payment on," a brand new Genesis Coupe due for 2010 was named alongside the 2010 Audi S5 Cabrio, 2009 BMW Z4, 2010 Ford Shelby GT500, 2009 Infiniti G37 Convertible, 2010 Nissan 370Z Roadster, 2010 Chevrolet Camaro SS, 2010 Lexus IS Convertible and 2009 Porsche Cayman.
They should be glad to be in Hyundai's company!
---