WHEELS   .   .   .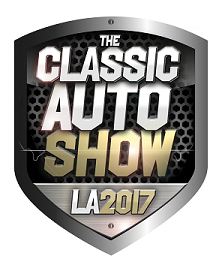 10 REASONS THE INAUGURAL CLASSIC AUTO SHOW IS THE ULTIMATE HOLIDAY GIFT FOR THE AUTO LOVER ON YOUR LIST
 
The Los Angeles Classic Auto Show Will Showcase Classic Auto Celebrities and the Finest Classic, Collector and Vintage Automobiles this January 27-29, 2017
 
The Classic Auto Show is driving into Downtown Los Angeles for the very first time on January 27-29, 2017, and bringing with it the very best in automotive excellence, past and present. With the holiday season upon us, here are a few very compelling reasons to make this hot new event a top gift item on any holiday wish list.
Velocity Channel Stars All Under One Roof – See your favorite Velocity stars on the Celebrity Theater including Chip Foose, Chris Jacobs, Mike Brewer, Dave Kindig, Mike Phillips, and Wayne Carini.   Plus, upgrade to a VIP Experience ticket for an up close and personal encounter.
The Grand Marshall – Meet Iconic Car Collector and Grand Marshall, Bruce Meyer—he's even bringing cars from his own private collection.
The Rare Cars – An eclectic mix of hundreds of your favorite, and rarest, classic, historic, and vintage cars will be on display.
The Car Clubs – Meet and speak to hundreds of car clubs who keep the historic and classic car movement alive. 
The Grand Boulevard – Take a walk down the Grand Boulevard—a display of automobiles from private collections you will only see at the Classic Auto Show.
The Innovative Products – Find the latest products and services every enthusiast needs to restore and care for your classic cars.
The Auto Swap Meet – browse the Auto Swap Meet, providing enthusiasts rare old parts, books, manuals and a variety of other items that are difficult, if not impossible, to find.
The Knowledge – An un-rivaled variety of demos, interviews, challenges on topics including:  restoration projects, techniques, and more!
The People's Choice – Join in on the fun and vote for your favorite car on the Grand Boulevard.
Family Friendly – get the next generation engaged with the classic autos—they'll even be able to vote on their favorites!
 
 
ABOUT THE CLASSIC AUTO SHOW
Presented by Autogeek.com & McKee's 37 and powered by the Velocity Network in tandem with Urban Expositions and Clarion Events, The Classic Auto Show will take place on January 27-29, 2017 at the Los Angeles Convention Center: South Hall. Tickets are available online. Adult tickets start at $25 pre-sale and $30 at the door. Children ages 3-12 are $10 pre-sale and $12 at the door. Children 2 and under are free. Enter promo code: CASPR to save $5 on tickets. For more information please visit www.theclassicautoshow.com.
 
The Classic Auto Show is supported by media sponsors including: duPont REGISTRY, Historic Vehicle Association; Old Cars Weekly; Vintage Road Car
---