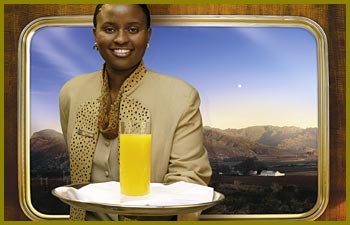 UNPRECEDENTED BLUE TRAIN OFFERS
The world's premiere luxury rail launches stunning promotional values never before seen
The most lavish train on the planet is now more accessible, thanks to spectacular newly-launched promotions for jetsetters wishing to travel to South Africa.  This moving five-star hotel on wheels has hosted countless presidents, celebrities and royalty and is a true once-in-a-lifetime experience for even the most discerning travelers.
Guests can take advantage of 50% off the second person rate in a double suite for travel through March 31, 2012.  If travel plans call for a timeframe later in the year, guests can opt for 2 free hotel nights to use both pre and post-Blue Train journey.  The hotel choices include the stylish boutique 131 Herbert Baker in Pretoria, the classic Sheraton Pretoria, and the stunning Westin Cape Town.  Blue Train journeys are 27 hours in length, offering one night of blissful luxury as guests traverse the landscape, indulging in private butler service, gourmet cuisine and award-winning wines and spirits which are all included in the rate.
This is the first significant promotional offer the Blue Train has launched in recent years, making it easier than ever for travelers to make their luxury rail travel dreams come true.  For more information, please contact the North American Sales Office at info@trumarketing.com on how to reserve this offer as well as assistance with South Africa packages including hotel, air and enriching tours.
The Blue Train has an aura of mystique about it, and its very name has become synonymous with the ultimate in luxury and personal service.  The routes of The Blue Train, both scheduled and chartered, take guests through some of the most breathtaking countryside to be found anywhere in the world.  The finest bed linen, marble tiles and gold fittings in the bathrooms and sheer opulence all ensure that guests will never forget the time they spend on The Blue Train.
---
BUTTERFIELD & ROBINSON LAUNCHES NEW SERIES OF TRIPS: BISTRO

Active trips designed for the times: informal, immersive and great value.

Toronto, ON—January 10, 2012
Bistro, by Butterfield & Robinson introduces a new chapter in the evolution of active travel. Since 1966 Butterfield & Robinson has been on the cutting edge of innovation. Bistro trips have been designed to reflect current tastes for simple luxury and local authenticity at a lower price. Like a Michelin-star restaurant opening a more casual bistro next door, Butterfield & Robinson has added Bistro to its portfolio. These trips share the same creative recipe that goes into all B&R trips, but the ingredients are a little more modest, the experience a little more laid back (and the trips are priced accordingly; Bistro departures cost approximately $200 a day less than B&R's signature trips in the same region).

"We believe that the luxury of an experience is sometimes more important than the luxury of a place, and that the joy to be found in a moment of serendipity and discovery can be worth more than the indulgent delights of 500 thread count Egyptian cotton sheets (although we are not averse to these either!)."
—Norman Howe, President of Butterfield & Robinson

The hotels on Bistro trips are the hidden gems that B&R researchers have tucked in to their private black books over the years; family-run places filled with charm and character, where the lack of 24-hour room service is offset by the warmth of the welcome. The meals are built around simple dishes and regional delicacies, in the kinds of places popular with the locals. And as on all B&R trips, the events get deep under the skin of a region in the company of local experts, and the B&R guides ensure that the experience is seamless.

Bistro biking trips will be launched in Europe in the Spring of 2012 in popular regions such as: All trips are 6 days/5 nights.
For more on Bistro and other Butterfield & Robinson trips please visit us at butterfield.com
 
---
GREAT VALENTINE'S TRIP IN THE BIG APPLE 
A fully guided tour of lower Manhattan in the comfort of a heated motorcoach;

A romantic dinner at one of Little Italy's oldest restaurants;

A cruise on board NY Watertaxi where you'll stop for a champagne toast at close-up view of the Statue of Liberty;

A guided walking tour of the new Highline Park in the Meat packing district;

And a ticket for a jaw dropping view of the city skyline from the Top of the Rock Observatory.
The tours depart at 6:00 p.m. from Gray Line New York's visitor center at 777 8th Avenue, and return at 10:30 p.m. This tour, at regular price, is available daily. For more information, please visit www.newyorksightseeing.com/valentinesday.
About Gray Line New York
Since 1926, Gray Line New York is the source for NYC's best double decker bus and deluxe motorcoach tours.  This company operates the signature deluxe double decker, hop-on, hop-off bus tours that include Uptown, Downtown, Brooklyn and Night loops, as well as fully escorted foreign language motorcoach city tours in German, French, Spanish, Portuguese and Italian.  Gray Line New York's one-day excursions to Niagara Falls, Boston, Philadelphia, Washington D.C., and Woodbury Common premium shopping outlet mall are visitors' favorites too.
In addition, this tour company sells tickets to all major New York City attractions and has trained FIT (For Independent Travelers) group, and charter sales staff. Independently managed and operated, Gray Line New York is ENTERTAINMENT.
---