GATWICK EXPRESS LETíS KIDS TRAVEL FOR FREE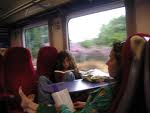 Gatwick Express, the non-stop rail-air link between London Victoria and Gatwick Airport, is offering free travel for every child accompanied by a full fare paying adult booked before Friday 17 December 2010.

This offer is perfect for customers planning a family trip away over Christmas, travelling into central London to take in the festive sights or can be used anytime within the three months after purchase.

To take advantage of this offer, simply insert KIDS into the promotional code box when making a booking online at www.gatwickexpress.com

This offer applies to children up to the age of 15 and is valid for Express Class and First Class travel.  This offer cannot be used in conjunction with any other online promotion.

-ends-

For more press information, please contact Stephen or Jenny at srf on 01256 701010, or email jenny@communicationmatters.co.uk

Terms and conditions:

1.  Tickets must be booked online at www.gatwickexpress.com
2.  There must be at least one adult paying for each child.  Adults and children must be travelling together
3.  Travel period is within three months of the date of ticket purchase
4.  Booking period expires on Friday 17 December 2010
5.  Valid for both First Class and Express Class travel (single and return tickets)
6.  This offer cannot be used in conjunction with any other online deals (e.g. 4 for 2 or 3 for 2 tickets)
7.  This offer cannot be used with rail cards or any other train company special offers
8.  All travel is subject to availability
9.  Gatwick Express reserves the right to withdraw or amend this offer at anytime and without notice
10. The offer is not exchangeable for any other offer.  Cash or credit alternatives will not be offered

Gatwick Express

Gatwick Express, the non-stop rail-air service between Victoria station and Gatwick Airport departs every 15 minutes with a journey time of 30 minutes.  For more information, please visit www.gatwickexpress.com-----------------------------------------------------------------------
TEMPTING OFFERS FROM ORIENT-EXPRESS
IN TIME FOR THE HOLIDAYS
New York - November 12, 2010: Undecided about what to give your loved ones this holiday
season? Well, fret no more. Orient-Express has just announced some enticing special offers on its trains and cruises, including free hotels stays and discounted companion fares, when travelers book by December 15, 2010.

VENICE SIMPLON-ORIENT-EXPRESS: TWO FREE NIGHTS AT HOTEL CIPRIANI, VENICE
Ride the legendary Venice Simplon-Orient-Express, a journey back in time to a more leisurely and elegant age of travel. Book the first departure of the season on March 30, 2011, and get two complimentary nights at the Hotel Cipriani in Venice. www.vsoe.com


EASTERN & ORIENTAL EXPRESS, TWO FREE NIGHTS
Traveling gently from great Asian cities to paddy fields and faraway mountains, each journey on the  Eastern & Oriental Express (E&O) takes passengers in the lap of luxury to places that will intrigue and delight. Chronicles of South-East Asia, the E&O's new itineraries for 2011, offer expanded touring itineraries around Thailand and Southeast Asia. Get two complimentary nights (one at Mandarin-Oriental, Bangkok and one at Raffles Hotel, Singapore) when you book a Chronicles of Southeast Asia trip in 2011. www.easternandorientalexpress.com


THE ROYAL SCOTSMAN; FREE NIGHT AT THE BALMORAL; AND MORE
The Royal Scotsman is an Edwardian country house hotel on rails. Intimate surroundings include luxury cabins with en-suite facilities lavishly decorated in polished wood and tartans. Stay one free night at the Balmoral, Edinburgh when you book a two-night itinerary in 2011. Get three nights for two or four nights for three when you book the three- or four-night itinerary in 2011, saving up to £990 (about US$1,596) per person. www.royalscotsman.com

All bookings must be made by December 15, 2010.  For more information, please www.orient-express.com.
---