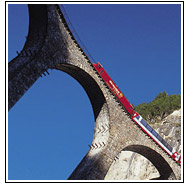 Europe "At Your Leisure" From Vacations By Rail
New independent rail vacations in Europe include popular cities in France, Italy, Germany, Austria, the Czech Republic and Hungary.
Chicago-based specialty travel company Vacations By Rail's European product line grows this year with the addition of five new independent rail vacations to some of Europe's most popular cities. New packages include the following city combinations: Berlin-Prague-Vienna, Paris-French Riviera, Prague-Vienna-Budapest, Rome-Florence-Venice, and Vienna-Salzburg-Munich.
Each European rail package includes centrally-located hotels with daily breakfast, city orientation tours, and first-class rail travel and seat reservations connecting each city.
"These packages are a great fit for any vacationer, whether they're a first-time visitor to Europe or a seasoned traveler," said Todd Powell, president of Vacations By Rail. "Our well-planned itineraries provide a great overview of some of Europe's most impressive cities with ample time at leisure, and travelers can tailor any of our independent European rail vacations to better meet their needs."
New European rail vacations start at $1,215 land-only, per person based on double occupancy. Detailed itineraries for these new packages as well as Vacations By Rail's complete product line can be found at www.vacationsbyrail.com. Custom European rail vacations are also available upon request.
To book a Vacations By Rail European train vacation, contact a rail specialist at 1-877-929-7245
---
POV's Award-winning "Racing Dreams" Follows Three Tweens With Supercharged NASCAR Ambitions;  
Special PBS Broadcast Thursday, Feb. 23, 2012 
Amid the Roar of 70-mph Go-karts, Oscar®-nominated Director Marshall Curry Chronicles Young Love and Family Struggle as Kids Compete in the "Little League" of Professional Racing
Executive Producer Dwayne "The Rock" Johnson with Annabeth, Brandon and Josh at Tribeca Film Festival premiere. Photo: Ted Chen.
Fondly described as "Talladega Nights meets Catcher in the Rye," Racing Dreams chronicles a year in the life of three tweens who dream of becoming NASCAR drivers. Annabeth Barnes, Josh Hobson and Brandon Warren race extreme go-karts at speeds of up to 70 mph in the World Karting Association's Pavement Series, considered the "Little League" of professional racing. The film is a humorous and heartbreaking portrait of racing, young love and family struggle.

Racing Dreams has its national broadcast premiere on PBS' POV series on Thursday, Feb. 23, 2012 at 9 p.m. (Check local listings.) The film will also stream on POV's website from Feb. 24-March 24. 


Brandon Warren
lives with his grandparents in rural Creedmoor, N.C., in a home filled with racing memorabilia. His grandfather does paint and body repairs for a Hooters Pro-Cup driver, and Brandon is not afraid to trade some paint on the track himself.  Brandon, now 18, has not raced since the season chronicled in
Racing Dreams
but is considering joining the military when he graduates. In 2010 he was Lieutenant Colonel of the Junior Reserve Officers' Training Corps program at his high school.
About the filmmaker:
Born in Summit, N.J.,
Marshall Curry
went from developing the Metropolitan Museum of Art's website to making documentaries. His first feature-length film, 
Street Fight
, was broadcast on POV in 2005 and won audience awards at Tribeca, Silverdocs and Hot Docs. In 2005,
Filmmaker Magazine
selected Curry as one of "25 New Faces of Independent Film," and he was awarded the IDA's Emerging Documentary Filmmaker Award. In 2007, he received an International Trailblazer Award at MIPDOC in Cannes. His recent film
If a Tree Falls
, winner of the U.S. Documentary Editing Award at Sundance, aired on POV in 2011 and is nominated for a 2012 Oscar Award.
Curry's parents are from South Carolina, and he spent part of his childhood in Charlotte, N.C. Prior to working as a filmmaker, he taught English in Guanajuato, Mexico, worked in public radio and taught government in Washington, D.C. He is a graduate of Swarthmore College and was a Jane Addams Fellow at The Center on Philanthropy at Indiana University, where he wrote about the history, philosophy and economics of nonprofits.


He has been a guest lecturer at Harvard, Duke, New York University and other universities, and he has served on juries for the IDA, Tribeca Film Festival and Hot Docs. Curry lives with his wife, Elizabeth (of Charlotte), who founded the nonprofit
Women's Law Initiative
, and their children in Brooklyn, N.Y.
On the web: 
Visit 
POV's Racing Dreams website
 for exciting features. Play a video game where you compete as an extreme go-kart racer, download a discussion guide and other viewing resources and interact with the filmmaker through video interviews and a live Q&A with Curry on Feb. 24. 
Annabeth Barnes of Hiddenite, N.C. is a third-generation racer who started in the Naskart Kids class at age 7. By age 11, she was one of the hottest female racers in the karting world, with 53 poles and 32 wins, several in some of the biggest races in the country. In 2009, she was the youngest person ever selected for NASCAR's Drive for Diversity. In Racing Dreams, she talks about her aspiration to become the first female to win the Daytona 500. 
Annabeth is now in 11th grade and is racing full sized late-model stock cars against adult drivers. Last year at the Hickory Motor Speedway she had nine top-five finishes and one win, finishing fourth in track points for the year. Annabeth, now 16, is the subject of the Great American Country television series Born to Drive, which follows her as she competes in her first full year of stock car racing at Hickory. 
Josh Hobson was born and raised just north of Flint, Mich., and started racing when he was 5 years old. 
 He has seven Grand National wins and four national championships under his belt, and is poised and mature in dealing with sponsors.
Josh, now 17, is now a senior in high school and is hoping to go to college next year. For the past couple of years he has raced in a full-sized car in the American Speed Association (ASA) Late Model racing series. In addition to being a competitive driver, he is president of his school's student body and captain of the wrestling team.  
---