RULES OF THE ROAD - LATEST SCOOP
 
Cars & Cells
As of July 1, 2008 people under 18 cannot drive while talking or texting on a cell phone, or use any other data transmission device. Fine is $70 for first offense and $175 for subsequent offences. Adults, 18 and over may use these devices if they are hands free. 
 
Ban on Smoking in Cars
On January 1, 2008 a new law makes it an infraction to smoke a cigarette or pipe or cigar in a motor vehicle; this applies whether the vehicle is at rest or in moving. Fine can be $100.
 
DUI Offenders
July 1, 2008 marks the date that people obtaining or renewing a driver's license must sign a declaration of understanding that they can be charged with murder if they cause a fatal accident while driving under the influence. 
 
Cheating the Photo Machine
As of January 1, 2008 it is illegal to sell or use product that shield your licence plate from stop light cameras. The fine is $146 plus penalties; selling these products can be a $900 + fine.
---
NIGHTS OUT WITH THE GIRLS,
AND WITH MOODY RUSSIAN TYPES
By Laurence Vittes
It was about 40 years ago that I owned my first BMW, the 2-door 1600 sports sedan which was the German car company's opening salvo telling the North American market, "Here we come!" After a recalcitrant Ford Falcon and a pokey VW Beetle, it seemd like I had found driving Nirvana
The 1600 car was a miracle of simplicity and spare beauty which set the tone for a marque that has since grown to be a standard setter in the art of driving quickly, safely and efficiently, while still riding comfortably and handling enjoyably. The current 5 series is a prime example of how BMW combines the mature, the worldly and the spirit of adventure in a way that understates the sheer driving pleasure to be had. Equally impressive, the 5 series seemingly adjusts itself to your emotional state.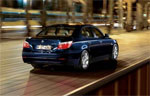 For a performing arts reviewer like me, that means that the car, in reality a thing of high-tech metals, soft leathers and lovingly-fashioned plastic and ingenious German engineering, senses where I'm at and where I'm going--and not only theatrically speaking--and actually seems to comfort, protect and encourage me. For one glorious week in December, that meant driving a splendid dark blue BMW 528xi 4-door sedan through the streets of West Hollywood, into a deliciously mysterious neighborhood of Santa Monica, and along assorted mountain and seashores highways and byways.
The 528xi (the "i" stands for the precision of fuel injection, meaning a more responsive engine and improved mileage--though this is definitely not a Prius killer, the "x" stands for all-wheel drive) also offers BMW's all new xDrive system which provides added traction and stability while maintaining BMW's trademark smooth and graceful ride. With 230 horsepower at your disposal, controlled by a smooth automatic transmission, you can reach 60 mph in 7.1 seconds. The all-wheel drive system (available only with the V6) keeps the car planted on even the windiest or snowiest roads.

It was neither blowing nor snowing when we made our way to La Cienega, a few blocks north of Beverly Center, and we delighted to find a parking place right in front of the Coronet Theatre. The boys and girls waiting in line for the press opening of Girls Night: The Musical oohed and aahed and smiled in a happy way.
The musical's energetic if predictable look at the lives of a group of female friends at a karaoke bar, reliving their past and rekindling lost dreams, had the audience eating out of their hands, and there was even dancing in the aisles at one point. You probably know the types: Carol is born to party, Anita tells it like (she thinks) it is, Liza's still hung up on "issues," Kate likes to drive men nuts with her boring attitudes, and Sharon is a sexy angel who tags along because that's what angels do.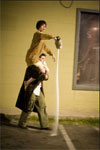 A few nights later, we ventured out to the Highways Performance Space and Gallery in that uncertain area of Santa Monica adjoining Crossroads School to check up on the latest iteration of a very Russian theatrical event called The Bulgakov Project. We were amply rewarded for it was such an atmosphere-drenched production, and the actors were so immersed in playing their occasionally bilingual parts, that we felt we had wandered into St. Petersburg (oops, Petrograd) in the 20s when for a few brief years the Russian artistic imagination was being loosed without restriction upon Russia and the world. In addition to being a fascinating experience, The Project is also an unsettling one, compared to the neat and clean theater I regularly see.
The work-in-progress play intensely fulfills its aim of capturing the essence and soul of the Russian writer Mikhail Bulgakov (1891-1940), whose cult classic novel The Master and Margarita powerfully and unnervingly follows the Devil during his visit to the newly atheist Soviet Union. By digesting and reconstructing images and passages from his life and works, the actors reach across the footlights in hopes of engaging in an implied dialog with the audience about not only Bulgakov and his world, but also about larger worlds beyond. The play's great ambition, and the fact that it may always be unfinished, enables it to harnesses the power of words and the strength of the imagination and hurl them against the opposition's guns and terror.
After the play, we lit a couple of Russian cigarettes, felt very intellectual, and let our roaring BMW take us quickly if not so stealthily up the PCH for a quick bite at a seafood bar followed by some romantic nibbles and snacks. As my father once told me, there's nothing like the performing arts to warm up your engine.
Caveats: As always, prices will vary depending on dealers and prevailing market forces. Value varies depending on whether you want to buy or lease, and for how long. Visit Michael Karesh's astounding TrueDelta.com website for current information and insights about what constitutes value these days, and which manufacturers offer it. Ascertaining value in an automobile is never as straightforward as we would like it to be. So, don't be afraid to make some preliminary choices, and then let your heart influence your head. After all, for most of us in Southern California, driving is a large and important part of the emotional side of our lives.
---