THE ICONIC VENICE SIMPLON-ORIENT-EXPRESS
RINGS IN 2010 WITH INSPIRING NEW ITINERARIES
Following in the tradition of grand voyages of discovery, Orient-Express has launched its 2010 schedule of train journeys and cruises. Crossing borders and continents, the trains and cruises open up the heart of destinations from France to Myanmar offering unique experiences outlined in a new brochure and at www.orient-express.com.
The world's most famous train, the Venice Simplon-Orient-Express, continues to evoke the style of the Golden Age of Travel with beautifully restored 1920s and 1930s carriages and itineraries that are more exciting than ever. The Venice Simplon-Orient-Express is the legendary train travelers imagine when they hear the evocative words "Orient-Express."

Today the train still represents timeless elegance as it criss-crosses the frontiers of Europe from Paris and Venice to Prague, Krakow and Istanbul.  Very much alive and well, with all of its history and glamour intact and uninterrupted, the Venice Simplon-Orient-Express is not to be confused with an unrelated overnight train that ceased operation in December 2009.
In addition to its regular trips from Paris to Venice and back, the Venice Simplon-Orient-Express offers a signature five-night journey to Istanbul (departing on August 27, 2010).  The route includes visits to Budapest and Bucharest before arriving in Istanbul, Europe's "Capital of Culture for 2010."  Also, a seven-night journey to Poland (departing from Venice on July 8th and ending in Krakow) will include a new two-night stopover in Dresden.
Another legend, The Royal Scotsman, brings to life the majesty of the Scottish Highlands in an intimate house party environment with just 36 guests on board.  2010 sees the introduction of the Grand Tour of Great Britain (departing on July 9th) when, for the first time, the train will venture out of Scotland through Wales and England on a seven-night exploration of Great Britain. The itinerary includes Inverness, Dundee, Chester, Llandudno, Portmeirion, Bath, Cambridge, York, Oxford and Alnwick.
A new addition to the Eastern & Oriental Express (E&O) schedule is the inaugural trip to Vientiane on February 23rd, when the train makes its first crossing over the newly built Friendship Bridge spanning the Mekong River between Thailand and Laos.  The three-night itinerary includes excursions to the World Heritage Site at Phimai with its restored Khmer temples and to the Khao Yai wine region. Also offered aboard the E&O are year-round journeys from Singapore to Bangkok (and visa versa), as well as further north to Chiang Mai.
Following a complete refurbishment and August 2009 re-launch, the Road to Mandalay river cruiser once again reaches into the heart of Myanmar with a capacity of only 82 passengers. A range of itineraries along Myanmar's main river artery gives passengers an in-depth insight into Burmese life with guided excursions to ancient pagodas and rural villages. Three-, four- and seven-night cruise itineraries between Bagan and Mandalay are a regular feature in the schedule, as well as three special voyages each year to Bhamo, the remote northern area of the country.  All itineraries can be combined with stays in Yangon, Inle Lake or Ngapali on the Indian Ocean.
Back in Europe, the five lavishly appointed Afloat in France barges ply the waterways and canals of France. Ranging in capacity from just four to 12 passengers, the staff-to-guest ratio of two-to-one ensures personalized service.  Delicious cuisine, using ingredients from local markets and wine producers, whets the taste buds for a floating gourmet experience.  Among the itineraries is the third-annual Grand Cru Cruise aboard the Amaryllis barge with a taste of the 33 Grands Crus and exclusive visits to private family-owned vineyards (departing from Dijon on July 18th).
For more information and/or a copy of the 2010 brochure, visit www.orient-express.com.
---
Ford pace car to be sold at Barrett-Jackson auction to benefit JDRF
New Mustang will be first Ford to pace the Daytona 500 in 40 years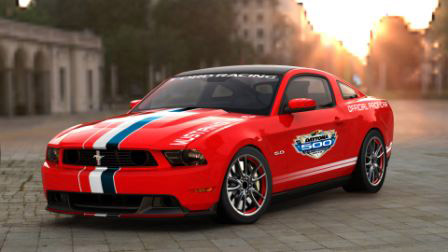 Ford Motor Company will unveil a new one-off 2011 Mustang GT Glass Roof Coupe for sale at the Barrett-Jackson auction on January 23 in Scottsdale, Arizona.  The winner of the auction will then be able to watch their car pace the field for the 2010 Daytona 500 on February 14, adorned in a unique paint design created specifically for the race.  Proceeds from the sale will be donated to the Juvenile Diabetes Research Foundation (JDRF) to further research for a cure to type 1 diabetes.

 

In addition to making a donation to JDRF, Ford has offered the use of its exclusive Sky Box at the Barrett-Jackson auction to local JDRF families.  At the opening of the auction, one JDRF child spokesman will say a few words.  Taking part in the live auction proceedings will be Ford Motor Company President of The Americas, Mark Fields. 

 

"This auction is such a fun and exciting way to raise money and awareness for diabetes research," said Gina Roche-Kelly, senior account manager, International Development Juvenile Diabetes Research Foundation.  "Being selected to provide the pace car for the Daytona 500 is obviously a great honor for Ford.  We are grateful that they have invited us to be a part of their celebration."

The Mustang pace car will be the first Ford to pace the Daytona 500 since a Torino GT Convertible was used in 1970.  In addition to the Daytona 500 paint scheme, the car will showcase a Ford Racing suspension, unique painted wheels and special interior treatment. The car will be powered by a new-for 2011 5.0L V8 rated at 412 hp while still maintaining a class-leading 25 mpg highway.

Diabetes affects more Ford families than any other disease.  Ford Motor Company has raised more than $30 million for JDRF since the grassroots campaign started in 1998. 

Type 1 diabetes, sometimes called "juvenile diabetes" is an autoimmune disorder that destroys insulin-producing cells in the pancreas.  People with type 1 diabetes must monitor their blood sugar and take multiple doses of insulin daily.

About JDRF

JDRF is a leader in setting the agenda for diabetes research worldwide, and is the largest charitable funder and advocate of type 1 research. The mission of JDRF is to find a cure for diabetes and its complications through the support of research. Type 1 diabetes is a disease which strikes children and adults suddenly and requires multiple injections of insulin daily or a continuous infusion of insulin through a pump. Insulin, however, is not a cure for diabetes, nor does it prevent its eventual and devastating complications which may include kidney failure, blindness, heart disease, stroke, and amputation.

 

Since its founding in 1970 by parents of children with type 1 diabetes, JDRF has awarded more than $1.4 billion to diabetes research, including more than $100 million in FY2009.

For more information, please visit www.jdrf.org 

 
---
W Hotels Get in Gear for the Chicago Auto Show

Roll into W Hotels for a package that will rev your engine

 

The Windy City is on Wheels February 12 – 21st and W Hotels is giving you inside access to the scene.  Rev up your engine at Chicago's 2010 Auto Show and soak in the scene at the W Chicago - Lakeshore and W Chicago - City Center locations. The W's Auto Show package includes:

 A pair of noise-reducing headphones from Acura
2 tickets to the 2010 Chicago Auto Show

2 cool cocktails

Parking for your wheels each day
Arrange a ride with W Hotel's complimentary Acura Car Service and enjoy an Acura MDX SUV stocked with W essentials like Tidy Towels, Wish magazines, wet your whistle water and signature W music.
The Auto Show package is available from February 11h – February 21st at the W Chicago-City Center (172 West Adams) starting at $189 and the W Chicago – Lakeshore (644 North Lake Shore Drive) starting at $179.
---
FABRIZIO VIOLATI, FOUNDER OF MARANELLO ROSSO DIES
We are deeply saddened to announce the death of Fabrizio Violati, founder of Maranello Rosso, at the age of 75, who passed away in the Republic of San Marino on January 21st, 2010.
Needless to say a huge loss, Fabrizio was a special person, somewhat larger than life, who best interpreted the value of S I M P L I C I T Y.
Fabrizio always sought the E S S E N C E and never the A P P E A R E N C E S,  even in his actions from the pleasure of driving to the pleasure of sailing.
In Fabrizio you could discover the taste of  adventure, challenge and success.
Maranello Rosso keeps the Legend alive with the most significant cars of the Cavallino and Scorpio history, unique cars in a unique set, year after year,  40 years of  the Enzo Ferrari and Carlo Abarth production, not only cars but works of art.
Maranello Rosso was the Dream of Fabrizio, it represented his Passion and today more than ever he strongly drives us continuously towards the future, towards the most important victory .... the one  yet  to achieve!  
For information visit: www.maranellorosso.com
Sandra Lodi Vetrano
MARANELLO ROSSO MUSEUMS         
---