Discover France Adventures Acquires Europeds,
Expands Opportunities for Guided Group Tours
2012 Adventures at 2011 Prices for a Limited Time This Fall
 Discover France Adventures (DFA http://www.discoverfrance.com), a French adventure travel company, announces that it will offer 2012 adventures at 2011 prices for a limited time this fall, representing up to an 8 percent discount on some excursions.
This offer is good until 2012 rates are updated on all the websites for the Discover France family of brands including Cycling Classics, Pure Adventures and now Europeds, (http://www.europeds.com/) a 30-year-old European bike tour specialist. The merging of the two companies brings under one roof two of Europe's best-known cycling vacation brands.
Loren Siekman, DFA owner, said that heretofore Discover France Adventures focused primarily on self-guided programs but that by bringing Europeds into the fold, the company's versatility expands dramatically into the guided groups' excursions arena.
"We intend to use the Europeds brand to create and offer more guided trips that will complement our surging demand for self-guided trips. Custom group tours are the fastest growing area for Discover France and is a perfect compliment for our professional guide staff that runs all of our guided VIP Tour de France tours," said Siekman.
David Martin, former owner of Europeds and now a member of the Discover France Adventures team said, "I'm thrilled to be coming aboard Discover France and proud to say that I'm involved in a project with Loren Siekman. I share his vision and passion for travel. I know that I will have an impact on the new product that DFA will offer to the marketplace."
Martin underscored that Europeds is "a perfect fit for the Discover France family of brands as it fills a void in the guided tour market. With a long heritage of operating guided trips throughout Europe, Europeds is the perfect established platform with which Discover France can grow in the guided tour market."
The former Europeds owner said that Discover France can leverage its own experience and resources to create a much stronger and more sustainable guided tour company than Europeds could have achieved alone.
Discover France Adventures has been organizing bicycle tours and hiking tours in France since 1994 and has offices in both the USA and in France. Discover France Adventures award winning tours are made up of their unique self guided tours and very competitively priced guided tours including privileged access tours at the Tour de France. Discover France is one of only four licensed tour operators to the Tour de France.
 Visit http://www.discoverfrance.com for all details or contact them by phone at 800.960.2221 or by email at contact@discoverfrance.com.
---
Vince Camuto now open in Grand Central Terminal.  Receive a free gift with any purchase* 
Shop the collection.
---

CONCOURS D' ELEGANCE IN SANTA BARBARA
25 Anniversary Celebration at Santa Barbara Polo & Raquet Club, 3300 Via Real, October 29-30, 2011.
TICKETS ON SALE NOW at www.stratusmotorsports.com
+ 2nd Annual Vin d'Elegance Wine Festival
Peter Mullin's 1939 Delahaye will be at this show.
2011 SANTA BARBARA CONCOURS D'ELEGANCE TO HIGHLIGHT TREASURED COLLECTOR CARS, A WINE FESTIVAL, AND LEGENDS OF AUTOMOTIVE INDUSTRY
Weekend Events to take place at Santa Barbara Polo and Racquet Club
Benefiting the United Boys and Girls Clubs of Santa Barbara County, the Santa Barbara Concours d'Elegance weekend will showcase a field full of rare collector cars and significant motoring vehicles, in addition to hosting thesecond annual Vino d'Elegance wine festival, and appearances from automotive legends, a famous chef, and an award winning novelist and artist. Stratus Media Group, Inc.(OTCBB:SMDI)will host an all-encompassing and family oriented automotive, luxury lifestyle experience at the 25th Santa Barbara Concours d'Elegance October 29 and 30.
Celebrating its silver anniversary with displays of some of the most renowned marques in automotive history, the Santa Barbara Concours d'Elegance will begin onSaturday following the conclusion of the inaugural Mille Miglia North America Tribute, a three-day, 1,000 mile road rally traversing California's Central Coast and Northern California roadways.Participating MMNAT vehicles include the Ferrari, Austin Healey, Mercedes, Alfa Romeo, and othersmanufactured between 1927 and 1957. All MMNAT vehicleswill be displayed on Saturday to commemorate the inaugural event.
Saturday's program will feature the Worldwide Classics Automotive Show, showcasing rare collector cars like a 1939 Lakester "Meteor" as well as a special Indy 500 Factory Pace Car display commemorating the 100th Anniversary of the Indy 500.
Andy Granatelli, Mr. Indy 500, will return as the Grand Marshal, as willEd Lucas, the "Voice of the Concours," serving as Master of Ceremonies. Other notable automotive dignitaries will include Jim Wangers, regarded as the "Godfather of the GTO." and Alain Clenet, founder of Santa Barbara based Clenet Coachworks, will be seen on the Polo fields commemorating the 35th Anniversary of the Clenet Club.
Sunday will host the traditional Concours d'Elegance, highlighted by a 1939 Bugatti Type 57C once owned by the Prince of Persia and Shah of Iran; a 1939 Delahaye 165 built for the World's Fair in New York; a 1930 Cadillac V16; the last Cobra built by A.C. Cars; and a class of Santa Barbara's own, Clenet Coachworks.
Weekend festivitieswill also include thesecondannual Vino d'Elegance, featuring tastings from some of California's finest wineries, exclusive cooking demonstrations from "Hell's Kitchen" Chef Scott Liebfried, and book signings by author of the best-selling novel Sideways and recently released VerticalRex Pickett.World-renowned artist Barry Rowe will sign the latest masterpiece designed for the Santa Barbara Concours d'Elegance. Payne Mason Cigars will be stationed nearby the Vino d'Elegance tent rolling freshly made cigars and Santa Barbara's Arch Rock Fishwill provide elegant cuisine for hungry Concours attendees. Another feature not to miss will be thesecond annual Trick-or-Trunk, a Halloween Trick-or-Treat event, for the kids.
Proceeds from vehicle entry fees and Vino d'Elegance ticket sales will benefit the United Boys and Girls Clubs of Santa Barbara County. The Santa Barbara Chapter of UNICO will also be in attendance at the Santa Barbara Concours d'Elegance weekend offering authentic Italian dishes to raise money for the local Italian American community.
 Sponsors of the 25th Santa Barbara Concours d'Elegance include Hagerty Insurance, Net Optics Inc., Milpas Motors, Payne Mason, and 805 Living.
Built for 1939 World's Fair in New York, this 1939 Delahaye 165 was kept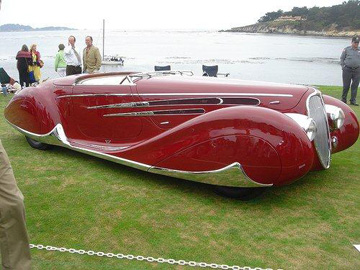 in U.S. Customs until 1946, when it was bought by Roger Barlow, who installed a Cadillac V-8 engine. It was found in Fresno, California in 1981 and underwent an eight-year restoration, during which it was remarried to original V-12 engine acquired from Count Doenhoff in Germany. Now owned by the Peter Mullin Automotive Museum Foundation, this vehicle features a fully skirted fender, and has won numerous awards from car shows across America.
---
---