Wheels . . . 
Dear friend and outstanding publisher & writer has a wonderful online www.cruiisinonline.com and here is a story on the 2015 Volvo S60. Go to his site and see the great stories he has done on great 'wheels'.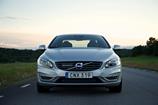 BY JERAMY GORDON
On the surface, the 2015 Volvo S60 is your typical, run-of-the-mill midsize sedan. But when you open the hood and really start to explore everything the powerful four-door has to offer, it's obvious the S60 is a breakthrough in not just speed and efficiency, but technology and safety as well. Volvo is known for its dedication to safety; however, it's one of the only brands to maintain a distinct look and feel across all of its models as well. Long gone are the square, boxy looking Volvos of yesteryear. Still, the Scandinavian automaker has managed to hang on to its roots; making Volvo one of the most recognizable cars on the road. With smooth lines and touch of throwback styling, Volvo has brought its cars into the 21st Century while never veering from its solid roots. At first glance, it appears as though not much has changed on the S60, now in its sixth year of production, since it was redesigned for 2014. But appearances can be deceiving. In terms of performance and technology, the 2015 S60 is an entirely new car. First, the sedan gets a pair of new, more efficient inline four-cylinder engines, which beat out previous models in both power and fuel economy — front-wheel drive only though. Volvo jams both a supercharger and a turbocharger into the four-cylinders, giving the compact sedan immense power. Competing head on with the BMW 3-Series and the Mercedes-Benz C-Class, Volvo new it had to bring its A Game to the S60 – and it did. The 2-liter, turbocharged, 240-horsepower inline four packs a serious punch, rocketing from zero to 60 in under 7 seconds. The eight-speed automatic transmission is one of the smoothest I've tested and is partially responsible for the S60's 25 mpg city and 37 mpg highway fuel economy. My lead foot and I averaged about 29 mpg. But it's not just performance that makes the S60 stand out. Something else major happened to the striking sedan that can't be seen, heard or felt. Keeping with tradition, Volvo has gone to a whole new level when it comes to safety, bringing modern technology to a car like no automaker ever has before. The S60, like all other new Volvos, is loaded with every driver aid imaginable. Blind-spot monitoring, lane departure warning and assist, driver alertness warnings, parking sensors, and a head-on collision system with both audio and visual cues, means the car beeps at you … a lot. But it was actually useful and not annoying at all. A $1,500 tech package adds even more goodies, such as adaptive cruise control — my favorite — an auto braking system that kicks in when a collision is eminent, automatic dimming bright headlights, auto parallel parking, and a fancy sensor system that can actually read road signs and display the speed limit on your dash. Now that's fancy. And all of it is beautifully displayed on LCD screens throughout what I believe is one of the most well designed cabins in its class. All that and I haven't even gotten to Vovlo's Sensus system — an Internet-connected app-based system that features a refreshed user interface with a number of innovative functions offering customers a fully connected experience. The cloud-based services allow the driver to find and pay for parking from the car, discover new restaurants at the destination, stream music seamlessly and much more. You can also have text messages read aloud without taking hands off the wheel. From the app, the driver can start and stop the engine remotely, check to make sure the doors and windows and shut and locked, and track the car's whereabouts. You'll never misplace your Volvo again with this kind of technology at your finger tips. The S60 is reasonably priced at $33,750 for a base model. The test car with the $6,250 platinum package, including all the fun technology and an upgraded engine, was still surprisingly affordable at $44,125.
www.cruisinonline.com
___________________________________________________________________
CAR TIPS FOR BAD WEATHER & POT HOLES
Poor road conditions have cost consumers and the insurance industry at least $27 billion over the last five years, according to a 2014 survey commissioned by Trusted Choice® and the Independent Insurance Agents & Brokers of America (IIABA or the Big "I"). The survey also reveals that half of car owners have experienced damage to their vehicles as a result of potholes. As millions of Americans take to the roads for the holidays, Trusted Choice® urges drivers to be cautious now and throughout the winter. 
"Snow, ice and freezing rain during the winter months can create conditions that lead to accidents which may impact insurance rates, as premiums are determined by past claims, accidents and driving violations," says Robert Rusbuldt, Trusted Choice® president and Big "I" president & CEO. "Potholes and poor road conditions aren't just an inconvenience, they are an expensive and dangerous result of harsh winters."  
The pothole survey also found that 31% of car owners who reported pothole damage to their vehicles filed a claim with their insurance company. A surprising 65% of respondents who needed repairs said they (or a third party) paid out of pocket for the vehicle to be fixed. Only about 3% said local authorities stepped in to foot the bill. For about 40% of respondents, that bill was more than $500. 
"This survey highlights how widespread the pothole problem is on our roadways and that the costs are astronomical to both the insurance industry and to consumers," says Madelyn Flannagan, Big "I" vice president of agent development, research and education.   
While motorists in the Midwest, Northeast and North Central regions of the country reported the most pothole damage, surprisingly the numbers were not that different even in the Southern and Western regions which typically experience milder winters. 
"Americans rely on their auto insurance coverage and their own pocketbooks to deal with unexpected expenses," continues Flannagan. "A Trusted Choice® independent insurance agent can help you choose the coverage that best suits you and your vehicle by helping you evaluate your insurance needs and risks." 
Trusted Choice® offers the following tips to motorists to help avoid costly damage from potholes and stay safe as they hit the roads this winter: 
Pothole safety tips: 
Keep an eye on traffic patterns. A number of cars that slows down or move quickly to other lanes may be a sign of major potholes or road damage ahead.

Avoid the urge to swerve out of the way of a pothole at the last minute. You may swerve into the path of an oncoming vehicle. Risking damage to your car is wiser than risking the loss of your life or that of another person.

Report potholes to your state or local transportation department. Some states and localities have pothole hotlines. Motorists who think their state or local government will pay for damage to their cars may be out of luck. Laws in this area vary by jurisdiction and, even where such remedies are available, conditions may apply such as a requirement that the jurisdiction had notice of the pothole.

If you hit a pothole and suspect damage, pull over as soon as it is safe. If you notice damage, record details and specific damage—just as you would in the event of a collision with another motorist—in case you need to file an insurance claim.

Check in at least annually with your independent insurance agent to ensure that you have the right coverage.

 
Other Winter Driving Tips: 
•  Fully winterize your car by having a mechanic check the battery, antifreeze levels, thermostat, lights, heater, brakes, defroster, oil levels, hazard lights, headlights, wipers, tires, and the ignition and exhaust systems.
•  Keep a windshield scraper and a small broom on hand for ice and snow removal.
•  Keep you cell phone fully charged.
•  Maintain at least a half tank of gas during the winter season.
•  If the car door locks are frozen, pour lukewarm water on the lock to melt the ice away enough to insert a key and unlock the door. Don't try to chip the ice away with your key as this may damage the key and your car. Never pour hot water on windows, as they may crack.
•  Allow your vehicle to run in an open space while in park for about five minutes. While the vehicle warms up, turn on the front and rear defrosters to clear windows if outside.
•  In case you get stuck on the road, maintain a "winter car kit" stocked with flashlights and extra batteries, a first aid kit with a pocket knife, extra clothes, jumper cables, high energy snacks, small tools and bottled water.
·    Watch out for deer on or near the road. According to the Insurance Institute for Highway Safety, deer are one of the biggest causes of accidents. Crashes with deer happen most frequently in rural areas, on roads with 55 mph or higher speed limits, in darkness or at dusk or dawn.
·    Anticipate deer when driving through wooded and densely vegetated areas. If one deer runs across the road, slow down and look for others because deer seldom travel alone.
 • If you hit a deer, keep away and don't touch it. If it's alive, it may be dangerous. Call the police.  
The pothole survey was conducted for Trusted Choice® and the Big "I" by MFour Mobile Research, Inc. using MFour's Surveys on the Go® Smartphone Application Panel which includes Apple and Android mobile device users. MFour is an independent research company headquartered in Costa Mesa, California. Interviews of a nationally representative sample of 2,565 U.S. car owners were conducted in June 2014 and weighted by age and gender to represent the general U.S. population over age 18. More information about MFour can be obtained at www.mfour.com.
---