WHEELS . . .

Cost:  This event is free to the public
Contact:  info@rodeodrive-bh.com
Where: 200, 300 and 400 Blocks of Rodeo Drive
Beverly HIlls, California 90210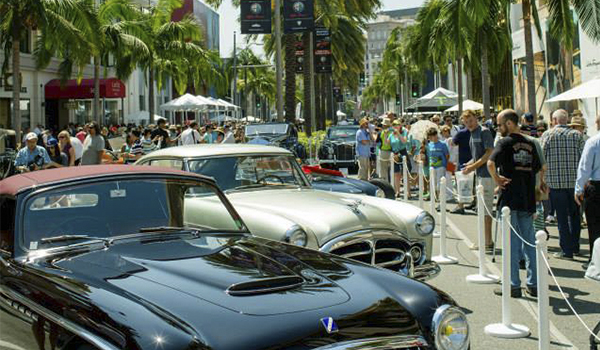 Time: 10:00AM – 4:00PM The Rodeo Drive Committee, in conjunction with the city of Beverly Hills, presents the Rodeo Drive Concours d'Elegance every year on Father's Day. Each year a theme is selected to feature the superb combination of rare automobiles and motorcycles highlighting the past, present and future at the crossroads of fashion, design and entertainment. The Concours d'Elegance is the largest public event held annually in Beverly Hills with a unique mix of guests, including car collectors, families and international visitors and residents from Beverly Hills and the Westside. Named "one of the 300 unmissable events in the world" by Frommer's Travel Guide, the Rodeo Drive Concours d'Elegance continues to be one of Southern California's top destinations each and every Father's Day.
___________________________________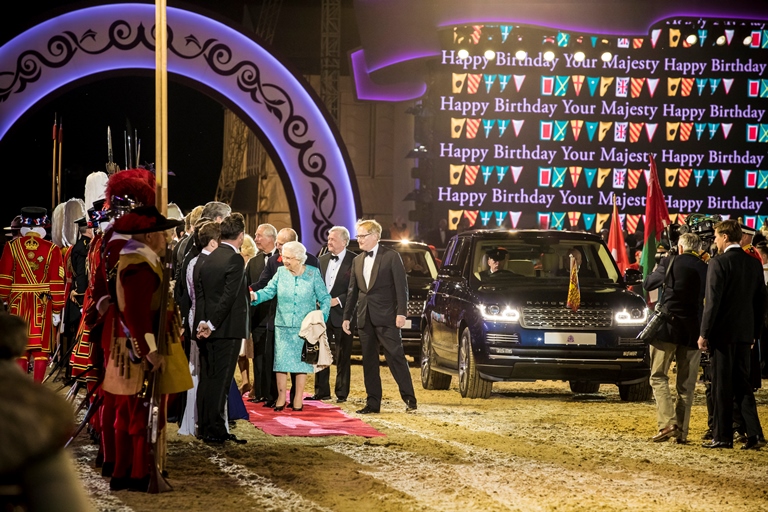 Jaguar Land Rover Joins the Celebration 
for HM The Queen's 90th Birthday Party
  Web Video Available for Download: 
http://digitalnewsagency.com/stories/9912-jaguar-land-rover-joins-the-celebrations-for-hm-the-queens-90th-birthday-party

Windsor, UK, May 15, 2016 – Tonight, Jaguar Land Rover joined millions of people all over the world in celebration as The Queen marked her 90th birthday with a spectacular event at Windsor Castle.

The event, which took place in the private grounds of Windsor Castle saw talent including Kylie Minogue OBE, Dame Shirley Bassey, Gary Barlow, Alfie Boe, Jess Glynne, Beverley Knight MBE and Katherine Jenkins join 900 horses and more than 1,500 participants from all over the world to celebrate The Queen's life, from her birth in 1926, through World War Two, to her Coronation in 1953 and a reign spanning more than 60 years.

Jaguar Land Rover was honoured to play a role in the evening's proceedings, which included the Queen's extraordinary birthday cake being towed into the event arena by a Land Rover Discovery.

An incredible array of stars took to the stage whilst performers in the arena included The Oman Royal Cavalry, Chilean Huasos, The New Zealand Army Band, The Royal Canadian Mounted Police, Azerbaijani horses and riders, state carriages from the Royal Mews, The South Australian Police Band, The King's Troop Royal Horse Artillery, The Fijian Army Dancers and Band, 100 Military and Commonwealth Pipers and The Household Cavalry Mounted Regiment.

Jaguar Land Rover has a long-standing relationship with The Queen and the Royal Family, extending back to the awarding of a first Royal Warrant in 1951, granted by The Queen's father, King George VI.
_____________________________________
GREAT NEW BOOK ON AMERICA'S TOP CAR MUSEUMS
I'm a freelance journalist who writes about car museums, road trips and auto attractions for Hemmings Motor News, the Philadelphia Inquirer, AAA magazine and more. I've written the ultimate travel guide for car buffs, the Roadster Guide to America's Top Car Museums. Now I'm seeking funds to publish the book.
I love vintage cars and seeing them across America. But I became frustrated because there is no easy way to find the locations of car museums and auto attractions. The information out there was either incomplete or out of date. I knew there had to be a better way, which is why I created the Roadster Guide to America's Top Car Museums.
This guide will serve as a travel resource for anyone who wants to discover vintage and racing cars, from Model As to 280Zs. Organized geographically, the book helps car buffs plan motor-themed road trips, or find a museum close to home. 
My (very patient) wife and I spent the last two years on an epic American road trip, traveling to all 50 states to visit and research both well-known and obscure car museums and attractions.
The result is the Roadster Guide to America's Top Car Museums, which features over 225 attractions. Each section includes detailed information about the museum as well as visitor information including number of cars on display, highlights of the collection, address and website. It's a valuable tool for car buffs.
The museums range from the well-known, like the Henry Ford Museum in Michigan, to relatively obscure ones like the Franklin Museum in Arizona and the Pontiac-Oakland Museum in Illinois. Vintage car lovers will find many places they have never heard of before featuring the Brass Era, Classic Cars, Tail Fins, Muscle Cars, racing, sprint cars, trucking and more. There's also information about visiting NASCAR race team shops.
Many of the smaller museums represent one person's passion for collecting vintage cars. It's important to share these discoveries so you can experience these wonderful collections.
I also include many auto-themed attractions like The Dale Trail in Dale Earnhardt's hometown of Kannapolis, North Carolina and the Tucker Trail in Pennsylvania, along with oddities like Cadillac Ranch in Texas, Carhenge in Nebraska (think Stonehenge, but with 1950s sedans buried in the ground) and the world's largest tire in Michigan. (It was a Ferris wheel at the 1964 New York World's Fair.)  Bring this book along on your next road tip to discover fascinating car places.
With the funds from Kickstarter I will publish the guide as an e-book and paperback. The Roadster Guide to America's Top Car Museums makes an excellent gift for either you or the car lover in your life. My goal is to deliver the book in June. I greatly appreciate your interest in this exciting project that helps keep America's auto legacy alive.
Thank you for your support!
---