WHEELS   .     .     . 
FAMILY AUTO TRAVEL THIS SUMMER

When the Governor gives the go ahead --
families will be longing to get on the road for a family adventure.
California offers a bevy of great places for family fun see some listed below.
I'm hoping we will be well and soon be taking family trips together.
Southern California Theme Parks
Southern California is a spectacular theme park destination - 
Disneyland and 
Disney California Adventure in Anaheim are stars,
but there's also Universal Studios Hollywood in L.A., 
 in Buena Park, LEGOLAND in Carlsbad, and
SeaWorld San Diego. Don't
forget attractions at Six Flags Magic Magic Mountain in
Valencia, in northern
L.A. County.
LEGOLAND California
This is a great theme park, aquarium and water park,
LEGOLAND in Carlsbad (near San Diego) is more than
just a day trip.
Check out our tips for visiting
LEGOLAND. And plan to spend some time setting up those
irresistible Instagram shots of the kids posing with the
colorful and incredible LEGO creations through the park.
SeaWorld San Diego
Here you'll find kiddie rides, family rides, thrill rides and
get-really-wet rides, along with animal encounters and
aquarium exhibits.
Knott's Berry Farm
It's possible to do the thrill rides and let the little ones spend
time in Camp Snoopy in just one day at this amusement
park that started as a road side berry stand in the 1920s.
And don't miss a chance to eat at Mrs. Knott's Chicken
Dinner Restaurant. The yummy chicken dinner is still made
with Mrs. Knott's original fried chicken recipe.
Share the meal and save room for boysenberry pie!
This is the Disney original, the place where Walt first brought
to life his theme park dream. It's much smaller that the gigantic
 Walt Disney World in Orlando and tends to attract a mostly
local crowd. However, if you're on a Southern California family
 vacation, expect the kids to ask to spend a day at Disneyland,
especially if you have any Star Wars fans in the group!
You'll need at least two days if you want to hit both Disneyland
and California Adventure.

Universal Studios Hollywood
This is the home of the Wizarding World of Harry Potter.
As every Muggle knows, it's just about the coolest themed
land at any amusement park. One of our writers, a die-hard
Disneyland fan, says that's just one reason she thinks
 Universal is better than Disneyland.

Six Flags Magic Mountain
Thrill seekers will find some of the world's fastest and tallest
rides at this 262-acre theme park in Valencia, located 35
miles northwest of downtown Los Angeles.
But even if you're not the coaster type, the park has many
family rides and entertainment. The adjacent Hurricane
Harbor Water Park is a tropical retreat in summer.
__________________________________________________________________
Trips Daily from Goleta, Santa Barbara, Carpenteria to LAX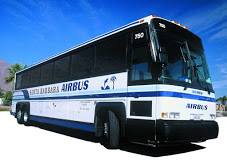 ---