By Air & By Sea
Britain's best-known ships
Climb aboard some truly historic vessels
HMS Victory, Portsmouth Harbour
From naval battles to famous voyages, Britain's ships have a distinct place in history. Climb aboard and learn about life at sea, the difficulties of firing cannon and some of England's greatest naval heroes.
SS Great Britain, Bristol, England
The first iron steamer to cross the Atlantic, the SS Great Britain is a hugely impressive feat of engineering. You'd expect nothing less from Victorian engineer Isambard Kingdom Brunel of course, best known for building the suspension bridge across Bristol's Avon Gorge.
Step inside this fully restored piece of marine history, learn about its maiden voyage and read letters and accounts written by real passengers: you'll feel like you're back in Victorian times, about to set sail.
Learn more about SS Great Britain
HMS Victory, Portsmouth Harbour, England
You've probably heard of Admiral Lord Nelson: that's his statue on Nelson's Column in the middle of Trafalgar Square. Well, HMS Victory was his flagship, and he died aboard fighting the Battle of Trafalgar in 1805.
Standing proudly under sail, this is the oldest commissioned warship in the world. As you explore you'll get a real sense of life at sea, the hardships, the risks, and the sense of adventure. It's all brought to vivid life by the expert Victory Corps of Guides, so be sure to take a guided tour.
Learn more about HMS Victory
Cutty Sark, London
Cutty Sark was the fastest and most famous ship of her time. One of the last trade ships under sail, she was used to trade tea with China, and later wool with Australia. Learn about her eccentric captains and how she was built for speed, then walk out on deck and imagine you're ploughing through the waves. You can even walk right beneath the ship and see her ground-breaking hull shape for yourself.
Learn more about Cutty Sark
Royal Yacht Britannia, Edinburgh, Scotland
A royal residence for 44 years, the Royal Yacht Britannia is a unique vessel. It's travelled over a million miles, witnessed state visits, royal honeymoons and had a role in nearly half a decade of British history.
Step on board and experience the magnificent state apartments, and the contrast with the functional naval quarters at the ship's bow. Then see the great collections of artefacts, furniture and photographs, some of which are part of the Royal Collection.
Learn more about Royal Yacht Britannia
HMS Belfast
HMS Belfast saw active service during World War 2, and was involved in such high profile encounters as the D-Day landings. Learn about life on board as you explore the nine decks of this huge warship and discover its history.
Its interactive gun turret and operations room experiences should give your imagination a helping hand, then you can enjoy the view of London's best-known sights from up on deck.
Learn more about HMS Belfast   _________________________________________________________________                                                                                             Europe is more affordable than ever with airberlin

On Wednesday May 22nd, airberlin, Germany's second largest airline, will launch a fare sale that is too good to resist. Fares offered start as low as $729* including all taxes and surcharges for travel for example from New York to some of Europe's most fascinating destinations like Krakow or Warsaw, Poland. The sale kicks off on May 22nd and runs through June 4th. In this period airberlin offers sale fares not only from New York but also from its other US gateways such as Chicago to Copenhagen from $799*, Miami to Zurich from $859* and Los Angeles to Vienna from $849*. Other destinations featured in the sale include Barcelona, Berlin, Dusseldorf, Milan and Rome. From the airberlin gateways New York, Chicago and Miami the fares are valid for travel from August 16th, 2013 through December 13th, 2013 and from Los Angeles from August 16th through October 29th, 2013.
In addition to airberlin's great fares guests will also enjoy newly refurbished economy and business class cabins featuring on-demand entertainment systems, complimentary beverage service throughout the entire flight and superior culinary selections.
To book visit airberlin.com, contact the call center at 1-866-266-5588 or your travel agent. 
*Fares quoted are samples fares based on round trip travel and prices vary depending on dates of travel and final destinations. Additional service charges apply such as booking through the call center or online. Fares are based on limited availability.
airberlin is one of Europe's leading airlines and flies to 150 destinations in 40 countries. The second largest airline in Germany carried more than 33 million passengers in 2012. airberlin offers a global route network through its strategic partnership with Etihad Airways, which is a 29.21 per cent stakeholder, and membership in the oneworld airline alliance. The airline with the award-winning service operates codeshare flights worldwide with 14 airlines. The fleet has an average age of five years and is among the most modern and eco-efficient in Europe.       
Finnair Celebrates 90 Years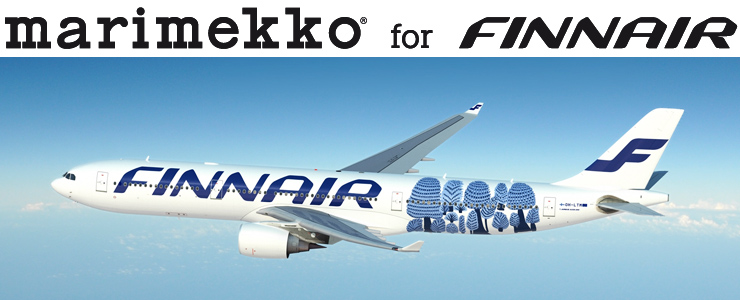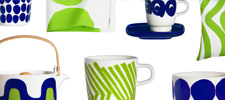 A Stylish & Eco-Conscious Collaboration with MarimekkoIn October 2012, Finnair announced their collaboration with popular Finnish textile and interior design company Marimekko. For the next three years, all Finnair aircrafts will feature Marimekko textiles and tableware. The collection, featuring Marimekko's signature patterns, will also adhere to Finnair's sustainable standards to reduce aircraft weight and fuel consumption.
Love Marimekko? You can purchase a selection of items from the Marimekko for Finnair collection, both through in-flight sales and the Finnair PlusShop! 
Four Bold New Menus for Long-Haul Flights
Finnair partners with two renowned local chefs, Pekka Terava and Tomi Bjorck, to spice up their long-haul menus: Michelin-starred Pekka Terava specializes in classic Nordic flavors and innovative Tomi Bjorck will bring his Asian-infused cuisine to the skies.How about a sample menu? Reindeer fillet with mushroom puree, oven baked potatoes and organic barley and butternut squash yellow curry. Yum! 
An Expanded Flight NetworkBeginning June 2013, Finnair will begin operating direct flights from Helsinki to popular destinations including Xian (China),  Hanoi (Vietnam), Tel Aviv (Israel), Antalya (Turkey) and Palma (Majorca).
Convenient Social Check-Ins and In-flight Wireless Now travelers can choose to check-in to their flights with Facebook by linking their profiles with the airline seating maps
This March, Finnair also launched a two-month trial of Windows 8-powered HP ElitePad 900 tablets on select aircrafts, a new chapter in wireless in-flight entertainment. 
New Monthly Videos Every month this year Finnair will be posting a video to their Youtube Channel to celebrate 90 years.
About Finnair
Finnair is specialized in fast connections between Europe and Asia via Helsinki. The airline carries more than eight million passengers annually and connects 13 cities in Asia with more than 60 destinations in Europe. The airline, a pioneer in sustainable flying, operates a young, modern fleet and has the highest score of a publically disclosing airline in the worldwide Carbon Disclosure Project. The only Nordic carrier with a 4-star Skytrax ranking, Finnair also has won the World Airline Award for Best Airline Northern Europe for the past three years running. Finnair is a member of oneworld, the world's leading quality alliance. 
____________________________________________________________
                  By Rail
RAIL EUROPE GIVES 30% OFF HIGH SPEED TRAIN TRAVEL IN FRANCE
Rail Europe Inc., the largest distributor of European rail products in North America, is now offering travelers the opportunity to speed across France for less this summer aboard one of the fastest trains in the world. With High Speed TGV: A Fast 30% Off, travelers can enjoy 30% off TGV Premier Tickets between now and June 10. Simply enter coupon code FAST30 during checkout.*
TGV Premier Tickets provide an added element of comfort and convenience for those embarking on a romantic adventure. Travelers can enjoy large comfortable reclining seats while traveling across the French countryside and bookings made online include a choice of meal options while on board. Safe and speedy service allows lovers young and young at heart to discover a host of popular French destinations, zipping from city to city at up 201 mph.
After exploring the beautiful scenery and landscapes in charming French towns, TGV Premier Tickets offer travelers the opportunity to relax while waiting for trains in one of 10 TGV lounges called "Salons Grand Voyageur."  The TGV lounges are available to travelers in select train stations including: Bordeaux St. Jean, Djon, Lille Flandres, Lyon Part-Dieu, Marseille St. Charles, Nantes, Paris Est, Paris-Gare de Lyon, Paris Nord, Paris Montparnasse and Strasbourg train station.
Prices begin at $99 USD** for TGV Premier Tickets. Bookings can be made by visiting Rail Europe's website at raileurope.com or by calling Rail Europe's contact center.
*From May 14 through 5:59 pm ET on June 10, 2013 enter coupon code FAST30 during checkout on the delivery page. One coupon code per booking may be applied. No other discounts, except free shipping, can be combined. Offer is subject to change or extension without notice. Offer is limited to the first 400 bookings (each with a minimum value of $350), or until the promotion's end date of 5:59 pm ET on June 10, 2013, whichever comes first. Offer is valid on Premier Ticket bookings. Only online bookings include a meal. Bookings of TGV train tickets to destinations outside of France are excluded from this offer.
**Prices are subject to availability 
About Rail Europe Inc.
Rail Europe represents more than 50 European train companies and is a one-stop shop for European rail travel planning and booking.  Rail Europe Inc. is the largest distributor of European rail products in North America, offering a wide range of passes and train tickets to North American travelers. An essential part of the vacation planning process, the company's Web site offers a user-friendly booking engine, knowledgeable experts, online rail pass finder, virtual tours, interactive maps and much more.  Rail Europe provides a worry-free, cost and time-effective and seamless travel experience by enabling customers to purchase tickets and plan travel details in advance.  Customers can also book new trips and access their travel information on the go with the company's mobile site (http://m.raileurope.com) and Rail Europe App for the iPhone and iPod touch. 
For more information or to book a trip with Rail Europe, visit www.raileurope.com. Trips can also be reserved by consulting with a travel agent or calling 1-888-382-7245 (U.S.). To book rail for groups of 10 or more, please contact the Group Department at www.raileurope.com/group-travel/group-travel.html.
_______________________________________________________________
California Zephyr Railcar Charters Offer Exciting Summer Trip
           Byways of California and Oregon  June 4-9, 2013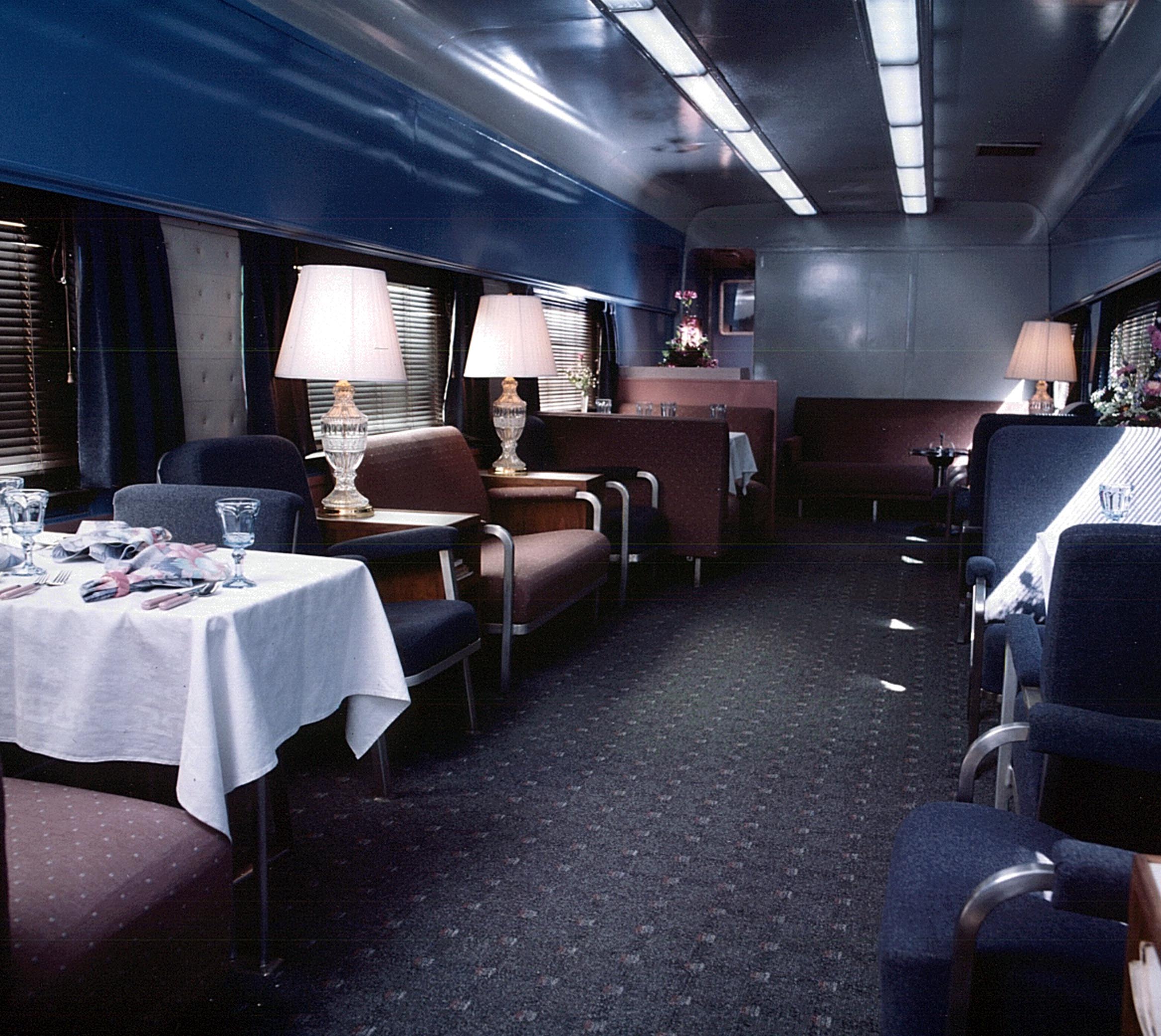 Ever since George Mortimer Pullman introduced the Pioneer in 1864 people have been riding the rails in luxury, while enjoying historic views. Families like the Biltmore's, Vanderbilt's and the Getty's savored the pleasures of luxury train travel to popular vacation destinations, as they experienced the beauty of America and the world. Pullman's luxury style travel continues to be enjoyed by travelers on the Blue Train of South Africa, and the Orient Express which was immortalized by Agatha Christie in her book "Murder on the Orient Express."
This summer adventurers wishing to experience the pleasures enjoyed by the 'rich and famous' of the past can savor a six day mini-vacation traveling on the "Byways of California and Oregon" luxury railcars. The trip is limited to a maximum of 45 guests and departs from Emeryville on June 4, with deluxe overnight accommodations aboard a unique train of vintage private cars. Railcar passengers will experience the opportunity to travel historic routes and see historic sites without the hassle of packing and unpacking, while enjoying delicious food and outstanding personal service.
The "Byways of California and Oregon" will leave from Emeryville, California on June 4, and the itinerary includes stops at Martinez and Sacramento to board additional guests, overnight in Westwood, tour of Lassen Volcanic National Park, visit to Klamath Falls, visits in Chemult, and Bend, and a visit to the Deschutes River Canyon's confluence with the Columbia. West to Portland on the south bank of the river with a one night stay at Portland Union Station, followed by a stop at Klamath Falls and a motor coach to Crater lake Lodge for a farewell dinner featuring a sunset view of the world's deepest and clearest lake. The final day includes spectacular views of Mt. Shasta, Castle Crags, the pristine Sacramento River Canyon and the Sacramento Valley agricultural powerhouse before a final goodbye stop at Emeryville on June 9.
"We're pleased to offer this exciting rail trip adventure to travelers on the Byways of California and Oregon". "The railroad saw a gem in this beautiful land and it was the harbinger of tourism to the area," said Burt Hermey of California Zephyr Railcar Charters. "It's fitting that more than a century later, trains still bring travelers to these must-see destinations."
Pricing for this trip includes Roomettes at: $5,199/person; Bedrooms (sleep 2) $5,199/person, double occupancy; Drawing Room $6,199/person, double occupancy. Third person occupying the same room travels at a 30% discount. (Only one drawing room left). Owner's Stateroom $6,300/person, double occupancy. (Sold!). . For detailed information on the daily schedule for this trip or to make reservations please visit www.calzephyrrailcar.com or call (714) 751-2032.
---