WHEELS      .     .     .
AIRLINE NEWS   . . .
UNITED AIRLINES POLARIS LOUNGE AT LAX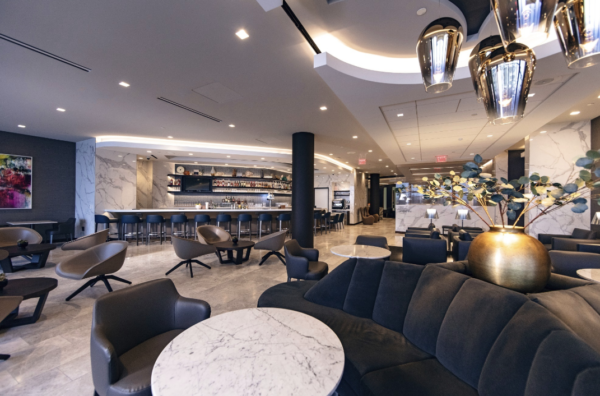 United's LAX Polaris lounge features a buffet, an a la carte dining room, six shower suites, two quiet suites for napping and seating areas designed to mimic the Polaris airplane seat.
(photo from United)
United Airlines's fifth Polaris lounge, located at Los Angeles International Airport (LAX), will open tomorrow, capping off the completion of the airline's $573-million revamp of Terminal 7. The lounge, available to United's Polaris international business-class travelers, marks the company's shift in focus that began with president and CEO Oscar Munoz's vision for change, when he returned to work after a heart transplant in 2016.
"When I came back from my heart condition and I addressed the crowd [of United employees], my speech, just from the sheer emotion of my being back, I said 'I feel like United has been a lot of wandering nomads. People who are well meaning, but wandering all over the place. What we need to define for our company is a true direction, a true North Star, if you will.' And that's when that idea took hold," Munoz explained to APEX Media at yesterday's lounge preview event. "Then some of the more creative people in our company said, 'Why don't we name our product after the North Star?' And then Polaris was born."
According to Janet Lamkin, president of United California The Polaris concept began with United's proprietary lie-flat seat that boasts a 6-foot-6-inch bed space, which the company has already installed in 47 wide-body planes, including in the 787-10, which was our first 787 to have the Polaris seat on it.
Polaris lounges are currently found in Chicago's O'Hare International, Houston's George Bush Intercontinental, Newark's Liberty International, San Francisco International airports. LAX's Polaris lounge is located between gates 73 and 75A in Terminal 7 and boasts 12,122 square feet of what Alexander Dorow, United's director of Premium Services, called "a place where you can feel like you're in a residential space, with the curated elements that are most important to our customers."
The lounge's 140 seats include signature seats designed to mimic the Polaris airplane seat, with extra privacy for the solo traveler. Each private seating area has an oversized chair, a table, numerous power outlets and a personal lamp. There are also modern padded couches or an ultra-modern chair that looks west out onto the jetway.
"The entire lounge is shaped like an oval, which helped us maximize every square foot of our space," Dorow revealed. "Our rotunda is called 'the oculus,' which provides a level of intimacy without making you feel like you are closed in." That's where visitors will find "our primary dining area, a large, open buffet with different proteins offered throughout the day."
That menu "has a very heavy focus on light bites, smaller items, so that you can combine your meal to the size and spec you're looking for," he continued. "This was something that was specially designed for our Los Angeles audience. We want to pay homage to the Los Angeles market and to the trends that are really going on in town right now. We want to give people the chance to design their own meal."
The lounge features a dining room where travelers can be seated and order from a full menu of a la carte items. The menu will change seasonally; the current menu, which was created by LA chef Tritia Gestuvo, included fish and chips, chilaquiles, bulgogi arancini and street tacos.
The new Polaris lounge also features six shower suites and two quiet suites (where taking a nap is encouraged), each tricked out with high-end amenities and luxury bedding. And probably the most important feature of all is that every seat has easy access to power ports – 272 in all, as well as 120 USB ports..
"We have such a wonderful experience here for our Los Angeles customers," Lamkin said proudly. "We've made all these investments here in LA because it's the cornerstone of our hub. It's incredibly important to our entire network."
_________________________________________________________________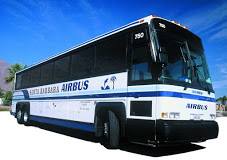 For the First Time Ever, Santa Barbara Airbus Announces Free Ride February Offer – Save Some Green While Riding Green
Creating the Ultimate Ride Share for Same Day Excursions to Los Angeles
 Santa Barbara Airbus, a local transportation company, is debuting for the first time a free ride period during the month of February 2019 to help reduce the stress of driving to and from Los Angeles. This offer came to light as a way to provide more services to the community. "We know how challenging traffic can be commuting to Los Angeles for people in our area so we decided to provide an easy solution by opening up extra capacity during the month of February for free" said Santa Barbara Airbus General Manager Samantha Onnen.
 By offering this opportunity, Santa Barbara Airbus continues to expand their green initiatives by creating the ultimate ride share experience for anyone wanting or needing to plan a day trip to Los Angeles. Passengers who take advantage of this offer can catch the earliest bus which arrives at LAX at approximately 6:00am and the latest shuttle home departs LAX at 10:00pm, giving passengers up to 16 hours in Los Angeles. Whether going for business, medical appointments or for pleasure, anyone heading to Los Angeles for one calendar day, gets to ride for free under this special offer, a $49.00 value.
 During the ride to and from Los Angeles, passengers get to sit back and relax in a newer model, safe, and clean motor coach with free WiFi, comfortable reclining seats, restroom and other on-board amenities, making this a much better option over driving. The combination of hassle free commuting and comfortable transportation makes the day trip to Los Angeles much less stressful. Travelers wanting to save money, gain personal time and reduce traffic stress can call Santa Barbara Airbus to book a free day-trip to Los Angeles during the month of February.
 To learn more about this offer and to book a reservation call 1-800-423-1618 or 1-805-964-7759. Rules and restrictions apply; and reservations can only be made by calling the Santa Barbara Airbus office.
About Santa Barbara Airbus
Celebrating over 35 years of service, Santa Barbara Airbus continues as a family-owned and locally operated company with a commitment to provide safe, efficient, comfortable and cost effective transportation. With a fleet of 21 deluxe motor coaches and mini-coaches, services include 8 daily round-trips to/from Santa Barbara & LAX, Private Charter Services, Public Day Trips and Multi-Day Adventures—logging over 1.2 million miles annually and shuttling over 100,000 passengers. Santa Barbara Airbus and its 60+ employees actively volunteer throughout the community and donate thousands of dollars to local schools, charities and non-profit organizations through a corporate giving campaign, #airbuscares.  For complete information, contact Samantha Onnen at 805-964-7759 or visit www.sbairbus.com
---