Wheels
FOUR SEASONS PLUGGED IN TO ECO-FRIENDLY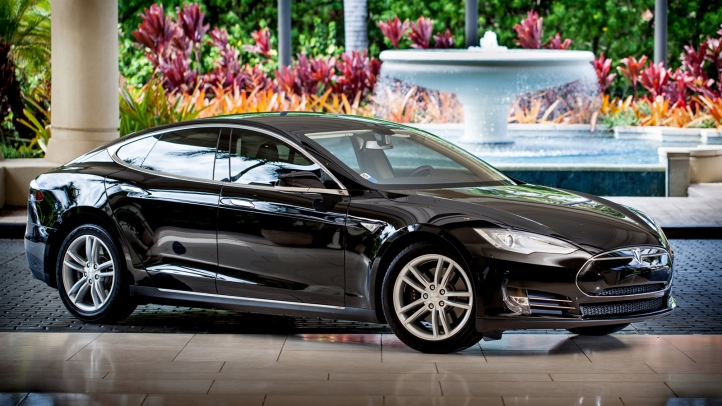 Making your way around a foreign city - whether for business or pleasure - doesn't have to involve gas-guzzling vehicles that leave a big carbon footprint behind. Four Seasons makes it easier than ever to charge your own electric car or simply be chauffeured in one.
Get All Charged Up
There's something electric happening at the entrance of Four Seasons Hotel Las Vegas. Starting this summer, the Strip's most discreet and luxurious hotel will offer four electric car-charging stations (two for Teslas and two for other types of autos). But rather than tucking these stations away in a parking garage or back alley, they'll be located in the protected porte cochere - so guests won't fear leaving their expensive charging equipment behind.
Electric vehicle (EV) charging stations are also readily available at Four Seasons Hotel Silicon Valley at East Palo Alto, in the technology hub of North America. These state-of-the-art charging stations provide 240 volts with 32 amps of power to speed up the battery-charging process. This way, busy guests will be charged and ready to head off to meetings in record time.
Take a Ride in a Green Limo
From the minute guests of Four Seasons Resort Maui at Wailea step off the plane in paradise, they'll begin to embrace the lush unspoiled environment of Hawaii - and it's thanks in part to the Resort's new eco-friendly house car. The all-electric Tesla S 85 luxury sedan will be waiting to provide transport from the Kahului airport to the Resort. It's also available for escorted trips around the island at a daily or hourly rate.
Guests of Four Seasons Hotel Miami can also enjoy the views of this vibrant, oceanfront city from the backseat of a Tesla S 85. The Hotel offers guests complimentary transportation within a five-mile radius, which means Downtown, Key Biscayne and Coconut Grove are a relaxing, zero-emission ride away.
Auto Safety News
Biking Events
Bicycle Adventures Teams Up with Suncadia Resort,
Sponsors Fondo-Style Weekend
For Two-Wheel Enthusiasts June 27-29
 
Bicycle Adventures, the leader in North American bicycle touring, is proud to announce that it is the presenting sponsor of a brand-new, one-of-a-kind cycling experience taking place in June in the Cascade Mountains of the Pacific Northwest.
 
"We're committed to promoting cutting-edge bicycling opportunities for enthusiasts of all interests and abilities, so when we had the chance to sponsor a cycling event never before offered in the U.S., the Suncadia Cycling Festival, we jumped," said Todd Starnes, owner/president.
 
Starnes' team is helping coordinate three days, June 27-29, celebrating all things bicycle in the mountains of Washington State.  This is a fondo-style cycling weekend with a mix of dirt, pavement and gravel cycling on three courses that celebrate the beauty and charm of Suncadia http://www.suncadiaresort.com/ and neighboring towns on the sunny side of Washington's Cascade Range. There is also a special family ride planned during the weekend.
 

"As gravel roads are disappearing under asphalt, it's interesting to know that bicycle riders are discovering, or re-discovering, the pleasures of these often tertiary routes that convey life in the country and mountains as it used to be," says Starnes.
 
The event is designed for bikers of all ages and abilities. Families are encouraged to join the fun. Starnes hopes that this will become an annual event in this region and that other sections of the country can follow this lead.
 
Bicycle Adventures has designed and will offer special lodging, meals and riding packages for the weekend event. For more details please see:
http://bicycleadventures.com/destinations/washington-bike-tours/Suncadia-Cycling-Festival---NEW!
 
For more information, availability and reservations contact Bicycle Adventures by phone: 800.443.6060, email: office@bicycleadventures.com or visit online at:http://bicycleadventures.com/.
 
About Suncadia
Suncadia has quickly become a recreational playground for Seattleites and travelers across the Pacific Northwest.  Located 80 miles east of Seattle in the Cascade Mountains, Suncadia is a world away from the hustle and bustle of the city, offering a unique combination of activities and amenities that make it an ideal Northwest getaway and resort residential community.  Suncadia Resort received the 2013 AAA Four Diamond Award, the fourth time the resort has received this award since its opening in 2007.
 
Suncadia is set on six miles of pristine Cle Elum River frontage, with 80 percent of the resort community designated as open space.  It features over 50 miles of hiking and biking trails and is a certified Built Green Community.  Its three golf courses - Prospector and Rope Rider Golf Courses and the private Tumble Creek Golf Course - were ranked among the top '10 Best New Courses in America' in 2006 and 2011 by Golf Digest.  Rope Rider was named 2011 Best New Course of the Year by Golf Magazine.
 
Suncadia Resort is operated by Destination Hotels & Resorts, a subsidiary of Lowe Enterprises, Inc.  For more information about Suncadia, please visit www.suncadia.com.
 
About Bicycle Adventures 
Scenic byways, four and five-star accommodations and local dining and visits to National Parks are trademarks of Bicycle Adventures, founded in 1984.  Types of tours include Classic (25-50 miles a day), Classic Plus (50-60 miles a day) and Epic (70+ miles a day with the most demanding terrain). Value-driven Casual category trips offer budget-conscious lodging and meals, with the same full van support.
 
Pre-set and custom tours embrace the Pacific Northwest into Canada, California and the Southwest, as well as Colorado, Missouri, Nebraska, South Dakota, New York, Hawaii and New Zealand. 
_________________________________________________________________
MAY 15-18 MILLE MEGLIA CLASSIC
Jaguar Heritage Racing tackled the legendary Mille Miglia classic car endurance event from 15-18 May with a line-up of top-name drivers, which traversed over 1,000 gruelling miles from Brescia-Rome-Brescia in ten of the most revered and sought-after historic Jaguar cars ever produced.
Household names from stage and screen, plus fashion, motor sport and music celebrities campaigned their assigned historic Jaguars through Northern and Central Italy for four tough but memorable days of hard driving.  Spectators enthusiastically lined the Mille Miglia route got the chance to see examples of historically-significant Jaguar XKs, C-types and D-types shooting past them with famous faces in the cockpits.
Leading American TV chat show host, Jaguar collector and classic car enthusiast – Jay Leno –drove the famous ex-Sir James Scott-Douglas 1951 Jaguar XK 120 roadster, raced as part of the Ecurie Ecosse team in period.
Another well-known 1951 XK 120 roadster – the ex-Duncan Hamilton racer registered LXF 731 – was shared by husband and wife team, Elliot and Erin Gleave. Elliot is better known as successful British musician Example, with his wife Erin being the Australian TV presenter that he first met when she interviewed him for MTV.
 Other significant Jaguar XK models on the Mille Miglia included the ex-Jim Swift racing XK120 roadster, which was driven by multiple award-winning British actor Jeremy Irons.
 Jaguar Vehicle Integrity Chief Engineer Mike Cross drove the well-known ex-Stirling Moss Monthlery record-breaking XK120 Coupé, which carries the registration LWK 707. Author David Blakeley and model-turned-TV presenter Jodie Kidd shared a stunning example of the Jaguar XK120, which was driven by Oscar-winning actor Daniel-Day Lewis in the 2013 event.
 Jaguar Heritage Racing also entered three famous C-type racing cars, driven by celebrities as diverse as Belgian singer-songwriter Milow (Jonathan Vandenbroeck) – who drove with Jaguar Land Rover Regional Director for Europe Bernard Kuhnt, and legendary AC/DC lead singer and car afficionado Brian Johnson. Ex-Jaguar Le Mans 24 Hours race winner Andy Wallace drove the Jaguar C-type which won the 1952 Reims Grand Prix with Formula 1 legend Sir Stirling Moss at the wheel.
Two motor racing greats – ex-Jaguar Le Mans and World Sports Prototype Championship winner, Formula 1 driver and SKY F1 TV pundit Martin Brundle, plus ex-Formula 1 racer Bruno Senna –shared the famous 'Long Nose' Jaguar D-type, the penultimate example built, registered 393 RW, as this legendary Jaguar model celebrates its 60th anniversary in 2014.
A number of new Jaguar F-TYPE Coupés supported the Jaguar Heritage Racing team, following the full Mille Miglia route through Italy with broadcast crews and VIP guests.
---