ME AND ROVER LOVE TOYOTA'S NEW VENZA!
By Laurence Vittes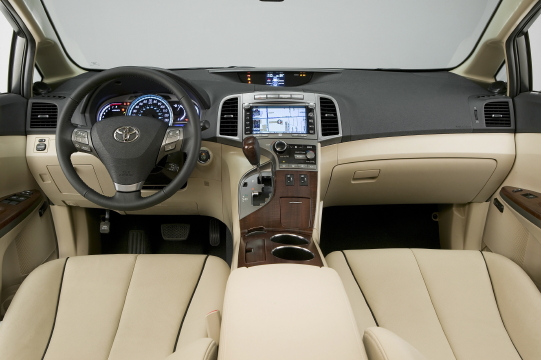 For a week in February, I had the pleasure of tooling around town in Toyota's fab new Venza.  It's one of those new breed of compact SUVs that has room for five passengers, can haul that new armoire you found in Stockton, and is as exceedingly pleasant to drive as an SUV can be.
Equally important to many of us, the Venza is very dog friendly!
Aware of the fact that more than 29 million Americans regularly traveled with their pets within the past three years, the Venza offers more than a dozen pet-friendly creature comforts through Toyota dealerships.
Of course, Venza's large cargo capacity and rear hatch already allow for easy entrance and loading of pets. In the Venza, however, that's only the beginning, as available products include a rear hatch pet ramp for even easier loading and unloading, a leash tether for securing pets in the vehicle, a pet booster seat with harness, a first/second row or cargo area pet barrier, pet seatbelt buckles and rear seat zipline-style harnesses.
There's more: Waterproof and removable, hammock-style seat covers are also available to fit Venza's bench and bucket seats.
I have included two photos of why dogs love Venzas. One shows Rover in the back seat, ready to hit the road. (Don't worry, I won't let Rover poke his head out of the car while we're driving; I know it looks cute, but vets tell me it's a number one cause of canine eye and ear injuries--ouch!)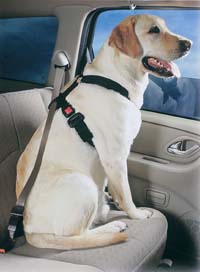 The second photo shows what Rover sees when he looks forward. It's a supremely handsome dashboard that matches the rest of this exceptionally beautiful vehicle.
The standard engine is a 2.7-liter four-cylinder that makes 182 hp at 5800 rpm, and can deliver mileage as high as 21 mpg in the city and 29 mpg on the highway. The optional engine for the 2009 Venza is the 3.5-liter V-6, which makes 268 hp at 6200 rpm, and 246 pound-feet of torque at 4700 rpm. The result is a very velvety amount of vroom!
Simply put, the Venza is a dream.
And you don't have to just take my word for it. Ask Rover!
---
GOLDEN CORRAL TO SPONSOR TRAVIS KVAPIL
IN THE
2009   DAYTONA 500
Golden Corral, America's favorite family buffet and grill restaurant chain, announced that the company will sponsor Travis Kvapil and the No. 28 Ford Fusion in the 2009 Daytona 500 on Feb. 15.  Kvapil is the driver for Yates Racing.
"Golden Corral is thrilled to be a part of this year's Daytona 500," commented Chris Kuehn, Chief Marketing Officer of Golden Corral. "Golden Corral customers and employees have been long time supporters and fans of NASCAR and to be with Travis Kvapil and Yates Racing in the Daytona 500 is a perfect fit for our brand."
Golden Corral will debut with the No. 28 Golden Corral Ford Fusion in the season opening practice on Feb. 7 at Daytona International Speedway, followed by the qualifying Gatorade Duels on Feb. 12.  
"It's great to have Golden Corral on board for the biggest race of the year," said Yates Racing driver Travis Kvapil.  "I've always been a huge fan of Golden Corral, and now to have them on the No. 28 Ford Fusion for the Daytona 500 is such a great opportunity for us.
"I can't wait to get back down to Daytona.  It's been a long off season without any testing, and I think I speak for all the guys on the No. 28 team, but we are all chomping at the bit to get back down there.  Doug (Yates) has been working solid hours over at the engine shop getting ready for the 500, and I know we'll have a ton of horsepower under the hood of the No. 28 Golden Corral Ford Fusion."
Kvapil is from Janesville, Wis., and has recorded six top-10 finishes and one career pole in the NASCAR Sprint Cup Series.  In 2003, Kvapil won the Craftsman Truck Series Championship.
ABOUT GOLDEN CORRAL
Founded in 1973, privately held Golden Corral Corp. is headquartered in Raleigh, N.C. Theodore M. Fowler Jr. serves as its president and chief executive officer.  Golden Corral currently has 485 restaurants in 41 states.  The company's vision is to be the leader in the family restaurant segment by making pleasurable dining affordable for every guest, at every restaurant, every day.  Golden Corral restaurants nationwide have long been strong supporters of the U.S. Military and the Disabled American Veterans (DAV).  Golden Corral helped raise more than $736,000 for the DAV in 2008 as part of its annual "Military Appreciation Monday" initiative.  For more information on Golden Corral, visit http://www.goldencorral.net/.
---
                  ALL LOVED UP AT GATWICK EXPRESS

We are all encouraged to love people especially during romantic times of year, but we can also love other things. Gatwick Express recently asked its
customers what they love about the service which goes to and from the airport,
and used the answers to make a short film, which was released on YouTube.

With so much love in the air, Gatwick Express also wanted to reward its most
romantic customers. So the first 100 couples, using the service to travel into
London or to the airport on Valentine's Day for a romantic date or getaway,
received a free bottle of champagne.

Gareth Jones, Head of customer service at Gatwick Express explained: "National
surveys have demonstrated the enduring popularity of our train, but we wanted
find out what it was that our customers love about us. Videoing our customers
onboard allowed us to collect anecdotal evidence which reveals all the reasons
why Gatwick Express is the most loved train in the UK."

See their short film of Gatwick Express customers explaining why they love
the service by clicking here http://www.youtube.com/watch?v=VCnEQH4YlOg
---
Trainshares Inc.
(www.journeysbyrail.com) is offering the private rail car experience with a unique twist – you can reserve a whole car or you can just reserve a single room on a vintage rail car on a weekly or timeshare basis.  Trainshares will begin 8-day vacation journeys aboard "private varnish" and the vintage cars in August 2009 over routes throughout the United States.  
The private rail car will be coupled together with the three cars that make up the American Traveler train to provide several vintage rail car options.
First, guests may choose to reserve the entire private car for a completely private experience with friends or family.  The vintage elegance of the car is rare.
Or, if guests prefer a more social excursion, or if they are a party not large enough to want all the space a private rail car affords, they can choose to ride on the accompanying American Traveler.  The American Traveler is a three car set with all the accoutrements of the private rail car experience.  Aboard the American Traveler, guests have the option to reserve just a single room with full bath for the journey.
While you're traveling like a president in your personal car or on the American Traveler your private chef will have you eating like a king.  Trainshares journeys will also have "ports of call" in the same vein as yacht excursions in the Caribbean or the Mediterranean.  These "ports of calls" will allow travelers to disembark to peruse the museums of Washington DC or to explore the natural wonders of the Grand Canyon.  Wherever your stop, at the end of a long day, you'll retire back to the comfort of your private railcar.
Cost of Single Vacation:  Trips start at $24,900 for a party on the Abraham Lincoln and room rates begin at $5,900, per person, for a room on the American Traveler for an eight day journey.  These vacations are available through selected travel agent rail experts. Website:  www.journeysbyrail.com
---