100 Years of Innovation
Gray Line honors not one, but three of its members by proclaiming them as forerunners in sightseeing during the Gray Line 100 Year Anniversary Celebration in New York City.
On August 24th, 2010, New York's Mayor, Michael Bloomberg, declares, "this day as Gray Line Day" to commemorate the company's centennial celebration. Shortly thereafter another great honor was bestowed, as Gray Line New York, Australia and Alaska were announced as the recipients of the prestigious 100 Year's of Innovation Award.
"This award is at the pinnacle of all great honors in our industry," said Brad Weber, President and CEO of Gray Line Worldwide. "It recognizes the three companies that have most positively impacted Gray Line's history. They are not only considered the best of the best, but their efforts have helped to nurture the growth, redirection when necessary and ongoing creativity of the entire Gray Line organization. Considering we've been in business for over a century, this award is unparalleled."
Months of research and deliberation went into determining which member of the Gray Line family would receive the award. The individual histories, customer feedback, contributions and overall organizational makeup of over 150 companies were meticulously reviewed and discussed. Ultimately, the organization that demonstrated exceptional work in each of these categories, plus some, would to be selected. In the eleventh hour of the final selection process, it was an undeniable stalemate with three recipients equally worthy of the tribute.
"It was impossible to choose between our final three nominees," said Mr. Weber. "Each company was our top choice for very different reasons, but even so, we could not differentiate a first, second or third place. New York's fleet of environmentally friendly double deckers is an integral piece of the fabric that makes up New York City. The operation in Australia captures the spirit of an entire continent and defines what sightseeing is all about. And finally, our customers from across the globe rave about their experiences in Alaska. So much in fact, that when they plan their next holiday they seek out the Gray Line brand."
On behalf of the entire Gray Line Family, bravo to Gray Line New York, Australia and Alaska! In our 100th year of providing sightseeing experiences around the world, you remain as best in the business and make us proud.
About Gray Line New York
Since 1926, Gray Line New York is the source for NYC's best double-decker bus and deluxe motorcoach tours.  This company operates the signature deluxe double-decker, hop-on, hop-off bus tours that include Uptown, Downtown, Brooklyn and Night loops, as well as fully escorted foreign language motorcoach city tours in German, French, Spanish and Italian.  Gray Line New York's one-day excursions to Niagara Falls, Boston, Philadelphia, Washington D.C., and Woodbury Common premium shopping outlet mall are visitors' favorites too.
In addition, this tour company sells tickets to all major New York City attractions and has trained FIT (For Independent Travelers) group, and charter sales staff. Independently managed and operated, Gray Line New York is ENTERTAINMENT.
About Gray Line Australia
Gray Line Australia is a long established Australian owned premium sightseeing company. The Driver Family has been operating since 1931 and have a fleet of over 85 vehicles with operations in Melbourne, Sydney, Adelaide, Tasmania, Cairns, Perth, Alice Springs, Darwin, Brisbane and Gold Coast. You can visit us at www.driverbuslines.com.au
About Gray Line Alaska
A division of Holland America Line, Inc., Gray Line of Alaska has been the premier tour operator in Alaska for more than 60 years. In 2011, the company will offer multiple-day package tours and a la carte touring options for independent travelers, as well as sightseeing tours in Fairbanks, Juneau, Skagway, Anchorage, Denali, Dawson City and Whitehorse, capital of the Yukon. Information: 800/544-2206; www.graylinealaska.com
About Gray Line
Serving over 700 destinations worldwide, Gray Line invented the art of sightseeing and serves as the industry leader in tours, activities and attractions. Founded in 1910, primarily offering excursions throughout North America, the company has since grown into a multi-faceted, global sightseeing powerhouse specializing in well-rounded destination experiences that include adventure and eco tours, luxury tour services, budget-friendly activities, as well as culinary, cultural and historical pursuits. The company is headquartered in Denver, Colorado. www.grayline.com
---
LAMBORCHINI THE STAR OF THE PARIS AUTO SHOW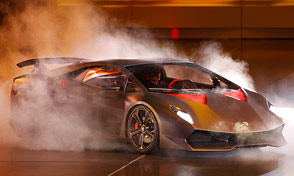 ---
Auction of IndyCar Driver-Drawn 2010 Road Course
Track Maps to Benefit Racing For Kids®
Racing For Kids® in conjunction with VERSUS cable network is holding a special online auction for a number of one-of-a-kind items for the ultimate open-wheel racing fan: hand drawn and driver -autographed maps of the road courses from the 2010 IZOD IndyCar Series.
After each of the road course races during the 2010 Series, one of the racers participated in a special event – drawing from memory a map of the road course.  Each driver was blindfolded and given a marker to draw the course they had just completed.  Their free-hand drawing was over a real map of the course – so when the blindfold was removed, they could see how well they did.  Each driver then autographed these wonderful keepsakes from the 2010 season.
VERSUS produced the maps and ran a feature promoting the auction prior to the  telecast of Saturday's Cafes do Brazil Indy 300 in Homestead, FL.
The drivers, who participated, are Tony Kanaan, Helio Castroneves, Simona de Silvestro, Dan Wheldon, Graham Rahal and Alex Tagliani and the tracks drawn were Mid-Ohio, Alabama Barber, Sonoma, Long Beach, Edmonton and Brazil.
Bidders can go to www.ebay.com to see photos of the maps and place their bids by using the search tool:  IndyCar Track Maps. 
Proceeds from the auction will go to Racing For Kids to help underwrite their season-long program of bringing IZOD IndyCar Series drivers to the bedsides of sick children across the country. The auction began on October 7 and will continue for 10 days.
Background Info:    
Racing For Kids, which celebrated its 20th anniversary last year, is a Detroit-based national charity founded in 1989. Racing For Kids uses the increasing popularity of motorsports to focus public awareness and funding on the health care needs of children. Racing For Kids has visited more than 22,000 children in more than 450 children's hospitals in the United States, Canada, Mexico, Japan and Australia. It has raised more than $5.2 million for the hospitals visited and other children's health institutions.
Major sponsors of Racing For Kids include Humana, Inc., Bridgestone Firestone Trust Fund, TranSystems, Z-Line Designs, Kona Deep and Benson Ford, Jr. Toyota Motorsports and The Grand Prix Foundation of Long Beach have made Racing For Kids a major charity of The Toyota Grand Prix of Long Beach.
____________________________________________________________________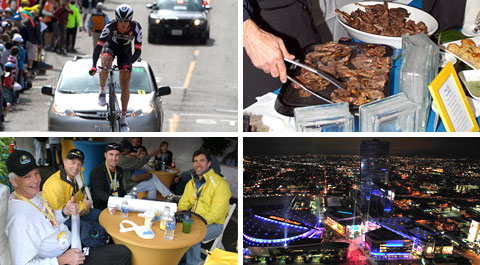 THE CLIMB STARTS HERE: city of Claremont SELECTED AS STAGE 7 HOST CITY FOR 2011 Amgen Tour of California
Most Important Cycling Race in U.S. to Generate Community Involvement and Positive Economic Impact to Los Angeles County's Eastern-Most City
America's most popular cycling event, the Amgen Tour of California, has selected the City of Claremont as the starting point for its grueling mountain Stage 7, which will occur on Saturday, May 21, 2011. The eight-day stage race from May 15-22, 2011, is considered the most important cycling race held in the United States, and draws many of the world's top professional cycling teams from RadioShack to HTC Columbia.
While the official course through Claremont has yet to be finalized, the route is expected to pass the city's historic Claremont Train Depot and travel through the city's Village streets before heading into the San Gabriel Mountains for a difficult winding climb to Mount Baldy.
Long known as a close-knit community with its prestigious colleges and quaint Village and neighborhoods, Claremont's dedication to providing bicycle-friendly opportunities for residents and visitors is noted with a designation as a Bicycle Friendly Community by the League of California Cyclists. The city's organizing committee consists of leaders from the Chamber of Commerce, former city council members, and cycling enthusiast groups who will prepare the city for the onslaught of cycling teams, thousands of visitors and local business and tourism opportunities.
"We look forward to hosting an enthusiastic audience that will enjoy our warm hospitality and breathtaking setting," said Local Organizing Committee Co-Chair Paul Held during a community rally celebrating the city's selection.
"Claremont's picturesque setting for Stage 7 is deceptive, because soon after the riders leave town, they face a long, brutal climb up Mount Baldy. I've done this ride and even for the most seasoned cyclist the changing course and weather conditions can break you," said Tony Cruz, former professional cyclist and competitor in the previous five Amgen Tour of California races. "This stage will rival the toughest mountains of Europe and could decide the eventual winner of the 2011 Tour of California. Claremont will be the focal point of the race."
Community Support
Serving as the start of Stage 7 in the 2011 Amgen Tour of California solidifies not only Claremont's position as a world class cycling destination but a magnet for economic success. The tour's notoriety, media presence and promotional activities will encourage thousands of visitors to stay, shop, dine, and be entertained from pre-tour practicing through the stage race. Economic returns are expected to be significant throughout the City of Claremont. Held said the city will host several community events leading up to race day to both build support for the race and to promote the healthy lifestyle that cycling provides.
"An event of this importance and size will require both strong volunteer support and well as corporate involvement," Held said. "We look forward to all of Claremont standing behind the 2011 Amgen Tour of California."
The sixth annual Amgen Tour of California will travel to and through 15 host cities. The more than 800-mile, eight-day stage race, considered to be the most important and popular race held on U.S. soil, will feature top professional cycling teams from around the world. 
Located just 30 miles east of downtown Los Angeles, the City of Claremont prides itself on being a showcase community in Southern California. Its tree-lined streets, Village shopping districts, distinctive hotels and spas, and stately college campuses have made it a destination for tourists and locals alike.
---