WHEELS MAY 2010

BMW Motorrad Celebrates 30 Years of Adventure

New 2010 GS Models Take to the Road…and Off-road

After 30 years of defining the adventure-riding segment of motorcycling, BMW has reinvented its venerable Enduro motorcycles with today's announcement of the 2010 R1200 GS and R1200 GS Adventure.  The capabilities of the GS-series enable riders to traverse the most difficult roads and allow for long-haul rides across the country, to the ends of the continent and even through terrains impassable with a conventional vehicle.

Drawing on its automotive legacy of high-performance luxury vehicles and racing and touring motorcycles, BMW Motorrad's 2010 GS and GS Adventure models now incorporate an even more powerful engine sure to carve new paths in the road as well as improved torque, offering a more dynamic ride both on and off the road.  Aesthetic enhancements, color varieties and optional accessories also offer the premium features typical with the BMW brand while maintaining the "go-anywhere" persona of the GS series.

The main features of the 2010 BMW R1200 GS and GS Adventure include:

·        New, more dynamic engine with double overhead camshafts per cylinder (DOHC)

·        Increased engine output to 110 horsepower at 7,500 rpm and maximum torque to 88 lb-ft at 6,000 rpm

·        Increased maximum engine speed with a wider range of power

·        Significantly improved torque and acceleration

·        New additional headlight with LED technology for brighter illumination

"CConsidering the number of unpaved roads in the United States alone, our riders are charting new courses each and every day and sharing them with their friends and fellow riders," said Pieter de Waal, Vice President, BMW Motorrad USA.  "That, combined with the features our GS-Series motorcycles offer, including ABS brakes, electronic suspension adjustment and traction control, makes BMW a decisive choice for the two-wheel adventurer."

A combination of German words, the term "GS" refers "Gelände" and "Strasse," or "terrain" and "road," respectively.  This dual-sport style of riding is becoming an increasingly popular sport within the U.S. and abroad, drawing the enthusiasm of celebrities like Brad Pitt, Ewan McGregor, singer-songwriter Jewel and her World Champion Cowboy husband Ty Murray into the fold. 

For riders new to adventure-focused dual-sport riding, the BMW GS-Series offers a bevy of features designed to offer the utmost safety and comfort while maintaining the gritty, get-dirty lifestyle associated with dual-sport motorcycling.  These optional features include Enduro ESA, which offers an on-demand adjustable suspension for smooth rides and increased road clearance; ABS for improved handling and safer braking in difficult street conditions; and heated handgrips for cold-weather riding, all allowing the R1200 GS and GS Adventure to tackle the elements with ease.

The ride doesn't stop at the exit ramp.  Many GS-riders have traversed the world from the saddle of their GS motorcycle, including the jungles of the Amazon, the deserts of North Africa and the hills of Bavaria.  The designs of the R1200 GS and the R1200 GS Adventure make it easy to add panniers and storage containers to the bike without sacrificing handling or maneuverability.  This adaptability allows riders to pack their necessities, supplies and even accommodations aboard the bike enabling an all-new way to commune with the outdoors. 

The new 2010 GS and GS Adventure motorcycles will be featured prominently at training programs at BMW's Performance Center in South Carolina and at RawHyde Adventures in California.  Additionally, the new models will have an important role at upcoming competitions like the Adventure Riders' Challenge and GS Trophy.  The U.S.-based Adventure Riders' Challenge pits teams of riders against one another in a timed obstacle course of epic proportions.  Likewise, the international GS Trophy, located this year in South Africa, will challenge delegations from around the world in a true test of adventure riding. 

 

For additional information about the R1200 GS, R1200 GS Adventure or any of BMW Motorrad's motorcycles, please visit www.bmwmotorcycles.com.  To find a local ride near you or connect with other riders, please visit www.bmwxplor.com.

 

BMW Group in America

BMW of North America, LLC has been present in the United States since 1975.  Rolls-Royce Motor Cars NA, LLC began distributing vehicles in 2003.  The BMW Group in the United States has grown to include marketing, sales, and financial service organizations for the BMW brand of motor vehicles, including motorcycles, the MINI brand, and the Rolls-Royce brand of Motor Cars; Designworks USA, a strategic design consultancy in California; a technology office in Silicon Valley and various other operations throughout the country.  BMW Manufacturing Co., LLC in South Carolina is part of BMW Group's global manufacturing network and is the exclusive manufacturing plant for all X5 Sports Activity Vehicles and X6 Sport Activity Coupes.  The BMW Group sales organization is represented in the U.S. through networks of 338 BMW passenger car centers, 335 BMW Sports Activity Vehicles centers, 142 BMW motorcycle retailers, 87 MINI passenger car dealers and 31 Rolls-Royce Motor Car dealers.  BMW (US) Holding Corp., the BMW Group's sales headquarters for North America, is located in Woodcliff Lake, New Jersey.

 
---
Hennessey Performance Announces New Partnership for Middle East and India

DiMora joins the team to sell 1000-HP Venom GT supercar and other legendary products

Hennessey Performance Engineering (HPE) today announced the partnership with Sir Alfred DiMora of DiMora Motorcar to become the exclusive distributor for its vehicle sales in the Middle East and India. DiMora, creator of the Clenet Series IV Sportster and Sceptre 6.6S owned by celebrities and royalty around the world has extensive contacts throughout the Middle East and the world that will allow for HPE vehicles to be displayed at exclusive showrooms. As one of the more wealthy areas of the world, the Middle East has become one of the top locations for automotive collectors, racers and enthusiasts.

"In recent years there has been much interest in Hennessey products from clients in the Middle East," said Don Goldman, CEO Hennessey Performance Engineering. "The partnership with Alfred DiMora will allow Middle East and India clients unique access to Hennessey vehicles, including the all-new Venom GT supercar."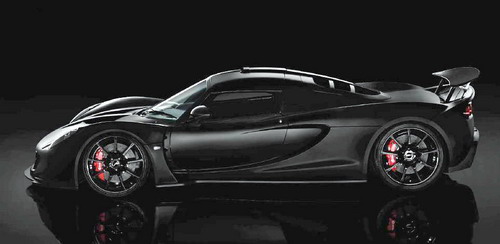 Hennessey Venom GT
Hennessey Performance (HPE) is the world's premier tuner for Dodge/Chrysler, GM and Ford vehicles including the famed Viper and the all-new Camaro. HPE has steadily grown over the last 20 years of business thanks in great part to the reemergence of the American musclecar. HPE has recently expanded its tuning portfolio to include top European brands such as Audi, Bentley, Nissan, Mercedes and Porsche. Of particular interest to Middle East customers is HPE's upcoming Venom GT supercar powered by a 725 bhp supercharged V-8 or an available 1,000 bhp and 1,200 bhp twin-turbocharged V-8.

About Hennessey Performance Engineering

HPE is the world's premier tuner for Dodge/Chrysler, GM and Ford vehicles, including the famed Viper and the all-new Camaro. It recently expanded its tuning portfolio to include top European brands such as Audi, Bentley, Nissan, Mercedes, and Porsche.

In 2009, HPE moved to its all-new 30,000 square foot facility located 45 minutes west of Houston in Sealy, Texas. Its 143 acre property includes Lonestar Motorsports Park, a fully operational 1/4-mile dragstrip facility that doubles as the Hennessey Performance proving grounds and test track. Plans are in development to add a 1.4 mile road course.

HPE also recently opened its West Coast facility in Lake Forest, California. In 2009, HPE started Tuner School, the first and only technical school that teaches the fundamentals of building and tuning modern high-performance vehicles. For information, photography, and videos on Hennessey Performance Engineering vehicles and other products, please visit www.hennesseyperformance.com.


About DiMora Motorcar and Affiliates

Based in Palm Springs, California, DiMora Motorcar (www.dimoramotorcar.com) crafts elegant luxury automobiles designed to exceed expectations in every aspect of automotive engineering. DiMora Custom Bikes (www.dimoracustombikes.com) takes the DiMora passion for technological innovation and uncompromising quality that is the hallmark of the Natalia SLS 2 sport luxury sedan and brings it to the motorcycle world. Its products are available worldwide through the growing DiMora dealer network.

Alfred DiMora produced two of America's finest luxury automobiles, the Clenet, as owner and Chief Automotive Designer, and the Sceptre, as co-founder. When President Reagan declared 1986 the Centennial Year of the Gasoline-Powered Automobile, the Clenet was selected as the Official Centennial Car, resulting in honors for DiMora and the Clenet at the Automotive Hall of Fame in Michigan. Clenets were owned by celebrities and royalty around the world, and DiMora continues to support Clenet owners and enthusiasts through the Classic Clenet Club (www.clenetclub.com).

Hennessey Performance Engineering is now nocated at Lonestar Motorsports Park.
Tel: 979-885-1300 - HennesseyPerformance.com - Fax: 979-877-0701
---
---