A few of the hot new cars for 2017 include something for everyone. I'm hoping Santa drops a Fiat Spider at my door for Christmas.
Volvo replaces the S80 at the top of its model range for 2017 with the new S90 sedan and adds a station wagon version, the V90. Featuring attractive new styling that's capped with Volvo's trademark "Thor's Hammer" headlamps, both are based on the XC90 crossover SUV. A 2.0-liter turbocharged four-cylinder engine with 250 hp and front-drive is standard, with a higher-performance 316-hp version and all-wheel-drive coming in top models; an eight-speed automatic transmission is included either way. Plug-in hybrid versions with around 400 hp will also be offered. The XC90's large tablet-like touchscreen display is featured prominently inside a roomy and well-finished interior. As befits the Volvo brand, a long list of standard safety features includes adaptive cruise control and the semi-autonomous Drive Control system that helps keep the car centered within highway lane markers via "gentle steering input." A new City Safety function will brake automatically to avoid hitting other cars, pedestrians, bicyclists, and even large animals like deer and horses that may cross its path.
Like a TV show that switches networks, the Toyota 86 is an updated version of the low-slung sports car that was formerly called the FR-S and sold under the defunct-for-2017 Scion brand. Incremental improvements for this lithe little coupe include a modest boost in power – now at 205 hp – for the 2.0-liter "boxer" engine it shares with the Subaru BRZ. There's also quicker gear ratios for the six-speed manual transmission along with revised shock tuning and spring rates that should sharpen the car's already impressive handling abilities a notch. Hill Start Assist Control is added to help prevent the car from rolling backwards on steep hills. The 86's exterior is tweaked to deliver a more aggressive look, with a new steering wheel and assorted cosmetic enhancements evident inside its snug cabin.
The first move in what we hope is Lincoln's shift back to bona fide car names, the new-for-2017 Continental replaces the MKS as the automaker's flagship sedan. It comes draped in formal, though sedate, styling with hidden door handles and exterior ambient lighting that engages as the driver approaches the car. It packs a new 3.0-liter twin-turbocharged V6 engine with an estimated 400 hp for brisk V8-like acceleration. A six-speed automatic transmission is standard with all-wheel-drive optional. The new Continental features a three-mode suspension and steering system with torque vectoring to help produce a smooth ride with effortless handling. Safety systems include forward collision warning with pedestrian detection and auto-braking. A richly cast and roomy five-passenger interior can be fitted with top-shelf amenities like a 360-degree camera system, an audiophile Revel sound system, and 30-way adjustable front seats that are heated, cooled, and can provide a relaxing massage.
Lexus' new line of sleek and decidedly upscale sports cars is based on the supple LF-LC Concept from 2012. About the size of a BMW 6 Series, the first entry will be the LC 500. It features the energetic 467-hp 5.0-liter V8 engine that otherwise enlivens the automaker's GS F sports sedan and RC F coupe; it comes mated to a new 10-speed automatic transmission and is said to motivate the car to 60 mph in less than 4.5 seconds. This is the first model to ride on Lexus' new premium rear-wheel-drive luxury platform, which the automaker says promises "enhanced dynamic capability and performance." The interior is driver-focused to the extent that the car was engineered so his or her hip point is as close to the vehicle's center of gravity as possible. A gas/electric version will follow, based on a new "multi-stage" hybrid configuration that's designed with high-performance driving in mind. A future convertible version is also likely. Expect sticker prices to start at around $100,000.
Jaguar debuts the new rear-drive XE compact sports sedan for 2017. This is not the first time Jaguar has tried taking on the venerable BMW 3-Series, but with styling cues borrowed from the larger XF, extensive use of lightweight aluminum, and a choice of three engines, it looks to be a more worthy contender than the Ford-based X-Type from 2002-2008. A 2.0-liter 240-hp four-cylinder engine is standard, with a 180-hp "Ingenium " turbodiesel also offered. Top models pack a punch with a 3.0-liter 340-hp supercharged V6 that can take the car to 60 mph in around five seconds. An eight-speed automatic transmission is standard with all-wheel-drive optional. A new All-Surface Progress Control system helps maintain traction at low speeds on slippery surfaces. Available gadgetry includes an adjustable suspension, head-up display, blind spot monitoring with closing vehicle sensing, forward auto-braking, and semi-automated parallel and perpendicular parking.
Fiat reinvents its classic open-air 124 Spider for 2017, with underpinnings courtesy of the Mazda MX-5 Miata. Bedecked with throwback 1960's styling touches, the rear-drive 124 Spider shares its 1.4-liter turbocharged four-cylinder engine with the Fiat 500 that generates a peppy 160 hp. A six-speed manual transmission is standard for short-throw throwback operation, with a six-speed automatic optional for the clutch-averse. The tight two-seat interior combines Fiat-specific trim with Mazda electronics, which includes the automaker's excellent infotainment system. Expect tenacious handling through the curves with plenty of rear-drive playfulness. The top Elaborazione Abarth model adds a sport suspension, a selectable sport mode and other upgrades for added performance. Optional equipment includes adaptive headlamps and a blind spot monitor.
General Motors hopes to give EV maker Tesla some serious competition with the new-for-2017 Chevrolet Bolt. About the size of a Chevy Sonic, it's a subcompact hatchback that promises as much as 200 miles on a charge from its 60 kWh battery system – that's about twice (or more) the range of most current EVs. Top speed is 91 mph. Chevy says the battery can be fully charged after a typical 50-mile commute in less than two hours; a full charge will take all night via a dedicated 240V circuit, though an optional DC Fast Charging system can infuse the pack with 90 miles' range in a half-hour. Its available navigation system creates driving routes to help maximize the car's range,and can find nearby charging stations if battery power is running low. Inside, the rearview mirror is actually an LED screen that displays an unobstructed wide-angle rearward view (Luddites can switch the display into a conventional mirror mode if so desired).
Every few months, a pilot somewhere in the world is stopped before a jet takes off because of suspicion of drunkenness. It makes headlines and gives nervous travelers another reason to avoid flying.
Despite their notoriety, such cases are extremely rare.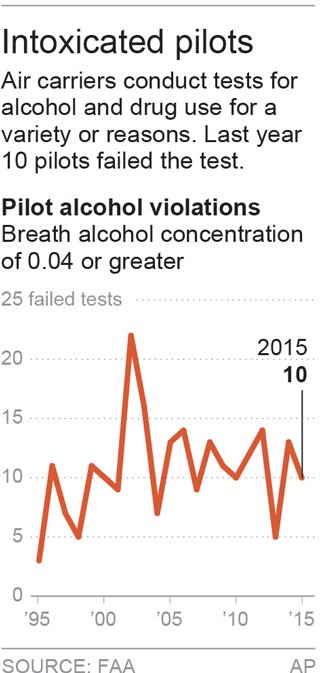 Each day, there are 90,000 flights around the world, carrying more than 8 million people. And the overwhelming majority of pilots in those cockpits are sober.
Pilots take being fit to fly seriously and act accordingly," says former US Airways pilot John M. Cox, now CEO of the consulting firm Safety Operating Systems. "Pilots know they are one of the most carefully monitored professions and therefore, are very conservative."
There are occasional lapses. The latest incident occurred Saturday morning when two United Airlines pilots were pulled from their flight — and arrested — as they prepared to fly 141 passengers from Scotland to the United States.
But don't think this will end the pilots' careers. United has removed both men from flying duties — for now. Many pilots caught drinking on the job have later returned to the skies.
The United pilots, Paul Brady Grebenc, 35, and Carlos Roberto Licona, 45, were released on bail Monday. Grebenc, from Columbus, Mississippi, and Licona, from Humble, Texas, made no plea and are free until a later court hearing.
The Federal Aviation Administration has a process that allows recovering alcoholics back in the cockpit if they pass a medical evaluation and stay clean during monitoring for the next five years. Since the union-backed program started in the 1970s, about 5,300 pilots — more than 100 a year — have gone through rehab and regained their licenses, according to a program official.
"Pilots aren't any different than other people in the respect of having occasions they probably regret," says airline analyst Robert Mann.
U.S. rules prohibit pilots from flying if they have a blood-alcohol content of .04 percent or higher. (The United Kingdom has a stricter limit of .02 percent.) By comparison, the legal threshold to drive a car in the U.S. is twice that level at 0.08 percent.
Pilots must also wait several hours after having a drink to fly. The FAA has a saying for this: "Eight hours from bottle to throttle." Last year, random alcohol tests were given to 12,480 U.S. pilots. Only 10 failed. Pilots in the U.S. and most of Europe are only tested randomly or if there is a suspicion that they are drunk. There are also random drug tests. But in India, all pilots and flight attendants are tested before departing. That's every single one on every outbound flight. With that stricter policy, 43 pilots tested positive for alcohol before flights last year, according to India's civil-aviation agency. India has about one-tenth the number of annual flights as the United States.
Fliers might take solace in knowing that the danger from drunk drivers is much greater. Each year, about 10,000 people are killed on American highways because of drunk drivers — almost a third of all driving fatalities — according to the National Highway Traffic Safety Administration.
But there is a mental disconnect between statistics when it comes to flying. There's something unsettling to many fliers about being buckled into a metal tube, racing through the air near the speed of sound without being able to see who is at the controls.
"If you are in a taxi and you think your driver is drunk, you ask them to pull over and get out," says John DiScala, who runs the travel advice site JohnnyJet.com . "You can't ask a pilot to pull over."
Since the 1970s, airline pilots have had a confidential program in which they can be treated for alcohol abuse and return to the cockpit. Those in the program, called the Human Intervention Motivation Study or HIMS, must be evaluated by an FAA-certified doctor. The pilot is interviewed monthly by a flight manager and a committee of other pilots. Because of the risk of relapse, monitoring usually continues for several years after a pilot returns to flying.
Paul Hayes, director of air safety for aviation consultancy firm Ascend, says that it is extremely rare that alcohol is a factor in an accident. But there have been a handful of crashes tied to drinking.
In 1977, the American pilot of a Japan Air Lines DC-8 cargo jet was drunk when he crashed the plane during takeoff from Anchorage. All five people onboard — all crew — died.
In September 2008, an Aeroflot flight within Russia crashed on its landing approach, killing 88 people. One of the factors, according to investigators, was that the pilot became disorientated as a result of his drunkenness.
Back in the U.S., there are a handful of cases where pilots were caught actually flying passengers drunk.
A JetBlue Airways pilot was charged with flying two flights between New York and Orlando in 2015 while under the influence. An Alaska Airlines pilot was charged with being drunk on two 2014 flights between Oregon and California.
The most famous case though might be a 1990 Northwest Airlines flight from Fargo, North Dakota, to Minneapolis. The three pilots had been out at a bar the prior night. One had more than 15 rum and colas while the other two shared at least six pitchers of beer. Their flight left at 6:30 a.m. but two of them had been out at the bar until 10:30 p.m., the other staying until 11:30 p.m. The plane landed safely; the pilots ultimately ended up in prison.
AP Story 8/16
_________________________________________________________________
BY SEA  .   .   .
CARNIVAL CRUISE LINE NAMED 'MOST TRUSTED CRUISE LINE IN AMERICA' BY READER'S DIGEST FOR THE SECOND YEAR IN A ROW

For the second consecutive year, Carnival Cruise Line has been named Most Trusted Cruise Line in America by Reader's Digest. 
The award is based on a poll of more than 5,000 Americans nationwide who were asked to rate products they trust across 40 different categories in areas such as quality, value, and reliability.  Carnival received more votes than any other cruise line.  The awards are featured in the October issue of Reader's Digest.
Carnival continues to enhance its onboard offerings, building upon its brand promise of providing fun, memorable vacations at a great value while keeping up with consumer trends and exceeding the expectations of its guests.
Earlier this year marked the debut of the line's newest, largest and most innovative ship, Carnival Vista, which offers such groundbreaking features as the SkyRide aerial attraction, the first IMAX Theatre at sea, the RedFrog Pub & Brewery that includes the line's first on-board brewery and the fleet's largest water park highlighted by the 455-foot-long Kaleid-o-Slide.  
Carnival has also expanded upon its exclusive partnerships with Food Network star Guy Fieri with plans to roll out the new Guy's Pig & Anchor Bar-B-Que Smokehouse on several ships and Dr. Seuss Enterprises, serving as the Official Seagoing Headquarters for The Cat in the Hat's presidential campaign, part of the fleetwide Seuss at Sea program.  
Carnival is also a major supporter of St. Jude Children's Research Hospital, raising more than $10 million for the hospital since launching its Care to Play:  Carnival for St. Jude Kids program in 2010.  As part of its Honor. Family. Fun. program honoring Operation Homefront, an organization that assists military families, Carnival will be hosting an exclusive shipboard concert for military families by seven-time Grammy Award-winning country music superstar Carrie Underwood aboard the new Carnival Vista when it makes its U.S. arrival in November.
The Carnival Journeys enrichment series is also expanding with more than 20 voyages visiting spectacular ports throughout Alaska, Hawaii, the Caribbean, and other destinations.
 "Vacations are more important than ever and as America's Cruise Line we consider it an honor that our guests entrust us with their well-deserved vacations year after year," said Christine Duffy, Carnival's president. "Being named America's Most Trusted Cruise Line by the readers of Reader's Digest for two years running is a testament to our focus on providing our guests with unforgettable vacations as well as the incredible effort put forth by our team members, both on board and ashore," she added.
            A full list of Reader's Digest Most Trusted Brands is available at www.rd.com/trust.
           Additional information and reservations on Carnival's cruises are available by contacting any travel agent, calling 1-800-CARNIVAL or visiting www.carnival.com.